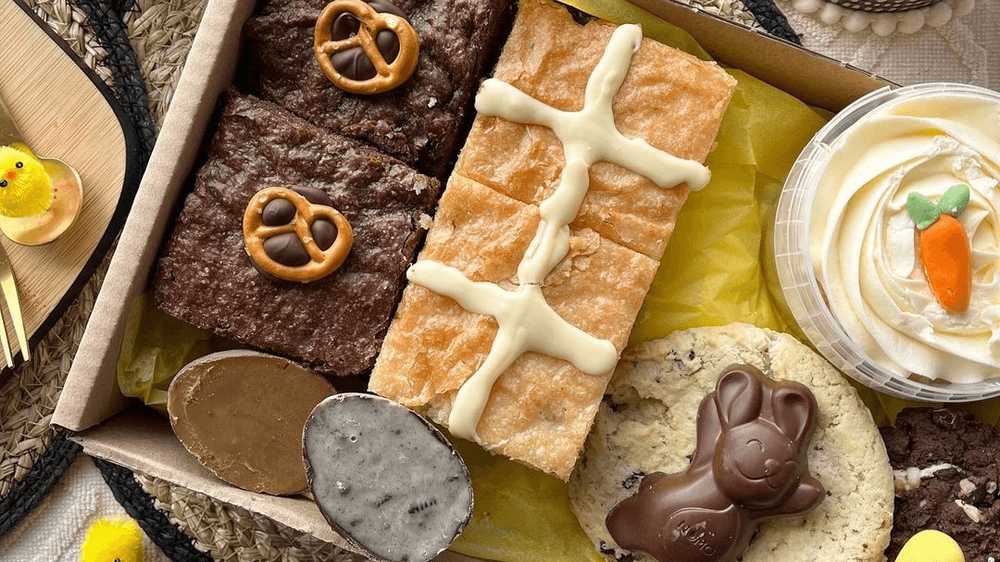 A Kind Mama Vegan Bakery
10 eggcellent vegan Easter gifts
With Easter right around corner, you'd be hopping mad to think that vegans have to miss out on everyone's favourite chocolate treats. 
With supermarkets such as Aldi offering Easter eggs for as little as £1.99, vegans and non-vegans alike can enjoy cruelty free alternatives to big brand confectionery.
We have put together a list of 10 wonderful Easter gifts to suit all budgets. From postal cake and brownie boxes to the most beautifully decorated eggs we've ever seen.
Compassionate Kitchen
Compassionate Kitchen's adorable Easter Treat Box includes a kreme egg brownie, hot cross blondie, carrot cake, a lemon and white chocolate cake pop and a slice of Easter tiffin for £14. You can also purchase a box of 6 hot cross blondies for £14 or a box of kreme egg brownies for £16. Available to order now on their Etsy.
A Kind Mama Vegan Bakery
A Kind Mama are offering their Easter Treat Box for £25. You'll receive 2 double chocolate & pretzel brownies, 2 hot cross bun blondies, 1 vanilla cookie topped with a Nomo cookie dough bunny, 1 mini egg chocolate cookie, 1 carrot cake pot, 1 oreo & white chocolate filled egg AND a biscoff filled egg! Available on their website, the boxes will be posted on 13th April to arrive in time for Easter.
Nomo
If you're looking to grab a last minute Easter gift on the go, popular Nomo eggs are available at Sainsbury's for £6. In creamy chocolate or caramel with an egg and bar, they also have a cookie dough crunch egg with cookie dough bunny, also £6.
Buttermilk
Buttermilk eggs are currently in stock for £6 at Sainsbury's in Honeycomb Blast and Zingy Orange Crisp. We absolutely loved the orange flavour in vegan milk chocolate. They have sold out online elsewhere so pick one up soon to avoid disappointment!
Wicked Kitchen
Another chocolate orange Easter egg is available from Wicked Kitchen at Tesco. They have a Dark Chocolate Orange Popping Candy egg, a Fruity Blackcurrant flavour chocolate egg and their 'Benny the Bunny' chocolate bunny all £5 each, they also have Benny the Bunny Bum Cupcakes featuring a cute rabbit butt burrowing into some grass-like frosting, four for £3.
Kind Hearted Chocs
If you're looking for a more luxurious Easter Egg, Kind Hearted Chocs have created beautifully hand painted eggs in salted caramel, smooth hazelnut praline and biscoff, all layered with creamy 'milk' chocolate ganache. Available to purchase on their website until the 11th April.
The Conscious Candy Company
It's difficult to know where to begin! The Concious Candy Company have an extensive range of vegan Easter chocolate and candy. For those of you who prefer candy to chocolate they have 1kg of vegan fried eggs for £12.99. They also stock H!P oat milk salted caramel Easter eggs for £8.99 alongside a great range of affordable and luxury vegan Easter eggs.
Drizzle City Bakes
Drizzle City Bakes have plenty of Easter cakes and their fondant cream eggs available on their website. A box of cream eggs is £14.50, their postal chocolate, cake and brownie boxes start at £16.50. They even make Easter Celebration cakes (collection only from Drizzle City's Ancoats kitchen in Manchester.)
Cake or Death
Cake or Death have sold out of their popular cookie dough Easter eggs, but don't despair! They still have tasty Easter brownie boxes available for £19.50. These fudgy chocolate brownies, judged 'Indy Best Buy' by The Independent, are topped with Love Raw white and milk chocolate hazelnut wafer pieces and Doisy and Dam 'Smarties'.
Bath'n'Fizz
Who says Easter presents have to be chocolate and candy? Gift some sweet scents with adorable vegan bath bombs from Bath'n'Fizz. Their Easter Bath Bomb Set is currently on special offer for £9.99. It includes a carrot bath bomb with a tropical fragrance, an adorable strawberry scented bunny, a mango bath bomb and a French lavender bath bomb. All of Bath'n'Fizz's bath bombs are vegan and packaged in eco friendly, biodegradable packaging.