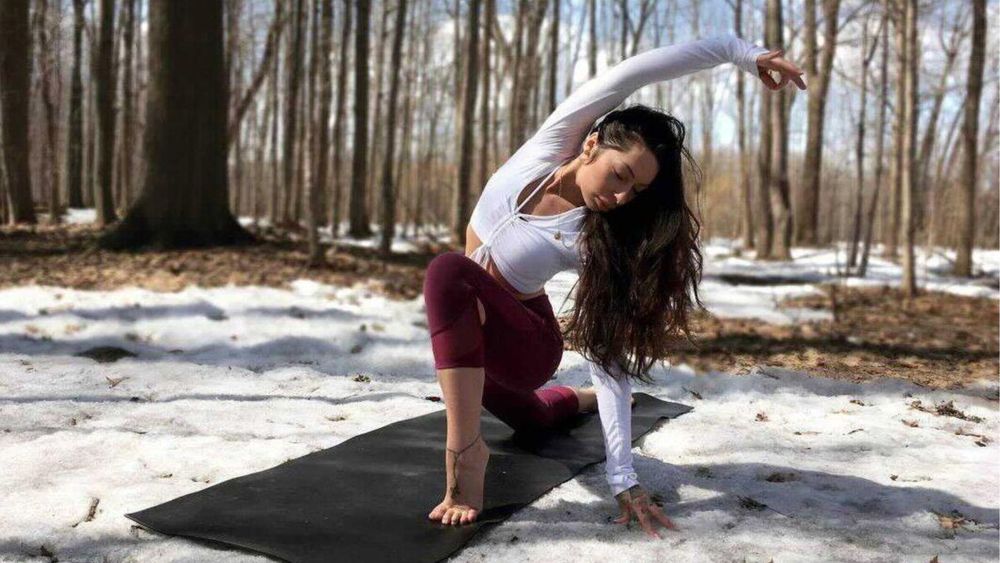 Yoga With Bird
5 YouTube yoga channels to try for International Yoga Day
In order to achieve a healthy lifestyle it's important that we eat well, exercise, stay hydrated, and get enough sleep, but so often we forget to take a moment to relax and really check in with our bodies. Yoga is a fantastic way to explore where we're holding any tension, strengthen muscles and improve posture. It's also a wonderful opportunity to slow down and take our minds off of daily tasks, work and anything else that needs to be done. A number of studies show that yoga helps to reduce stress, anxiety and symptoms of depression. YouTube yoga instructor Adrienne Mischler, otherwise known as Yoga With Adrienne, also says that yoga encourages childlike play and curiosity, exploring moving the body in ways that adults tend not to and strengthening muscles we sometimes don't use. 
Yoga is a fantastic activity for de-stressing, strength building, and can include cardio exercise. We have devised a list of five wonderful YouTube yoga instructors, and we'd love to share a little about each one with you. We've indulged in some self-care and done a short practise by each Yogi. We hope we can help you find the best YouTube yoga instructors for you.
Yoga With Adriene
Adriene Mischler, co-founder of 'Yoga With Adriene' is the all round best YouTube yoga instructor according to fans around the world. Adriene is sweet, funny, encouraging and offers yoga classes from five to ten minutes to over an hour, for all abilities and ages. All with the help of her trusty sidekick Benji. You will often see Adriene's adorable Blue Heeler dog Benji in her videos. We particularly enjoy her 30 day yoga challenges which really help to build strength and incorporate yoga into everyday life. We tried Yoga With Adriene's 10-Minute Yoga for Self Care, a short practice which encourages us to check in and discover how we feel today, including mindful breath and massage. We were very impressed with how simple to follow this video was, we felt like we had stretched our muscles while also feeling very relaxed.
Travis Elliott
Travis Elliot is a world-renowned yoga and meditation instructor. He teaches Yoga in Los Angeles at festivals and retreats around the world - and fortunately he has a YouTube channel just for us too. His channel includes yoga, guided meditation and 'daily wisdom'. We tried the 10 Minute Power Yoga Cardio, a fast-paced yoga flow with a lovely relaxing stretch at the end. This would be a great YouTube yoga session for when you need a quick pick-me-up!
Yoga With Bird
Bird is a certified yoga instructor from Canada. Her aim is to help others find inner peace, self love and happiness through yoga. Her gentle approach to teaching makes her videos suitable for all abilities. Bird is so knowledgeable and her calming voice talks you through sessions as if no time has passed at all. We tried Yoga With Bird's 10 Minute Yoga Full Body Stretch For Tension Relief, which definitely does what it says on the tin! A very easy to follow session which stretches out and relaxes the muscles, we find short sequences like this do wonders to calm the mind and break up a stressful day. On Bird's website you can find more information about the benefits of yoga. 
Breathe and Flow
Bre and Flo Niedhammer are yoga teachers from Silicon Valley who quit their day jobs to travel in their RV and teach yoga via their workshops and YouTube videos. They believe that yoga "is a beautiful healing system for health and happiness" and we couldn't agree more. Their channel includes 30 day yoga challenges, beginner, intermediate and advanced yoga and classes specifically aimed at a male audience. We were curious to try a guided meditation and so we chose Arrive, day one of their ten day guided meditation programme 'Expand'. We were surprised how quickly time passed, listening to Bre's inspiring words helped us to relax and lifted our spirits.
Cosmic Kids Yoga
We couldn't leave YouTube yoga for kids out of our list. Yoga improves children's emotional regulation, concentration and memory as well as all the physical benefits that improve their health and self-esteem. Schools in the US that have experimented with yoga instead of detention have reported improvements in children's behaviour, reduced rates of suspension and increased attendance. 
Cosmic Kids Yoga's mission is to make yoga and mindfulness fun for toddlers and kids, their themed interactive adventures "build strength, balance and confidence." Of course we had to enlist some little helpers and try it out! Our mini V-Landers loved Cosmic Kids' Jungle Safari Kids Yoga and Nursery Rhymes. It was so engaging and fun, although we learned that toddler yoga will likely end in predictable chaos, these videos are perfect for keeping kids' attention and getting them interested in trying it out. They really do feel like you're going on an adventure in your living room!
No yoga session would be complete without a healthy snack and hydration fix to truly relish the benefits that yoga has to offer. We recommend Spruce's nutritious hydration and Reboost smoothies for people on the go, or for a great snack, try Kooky freeze-dried fruit, the mangosteen option is out of this world!