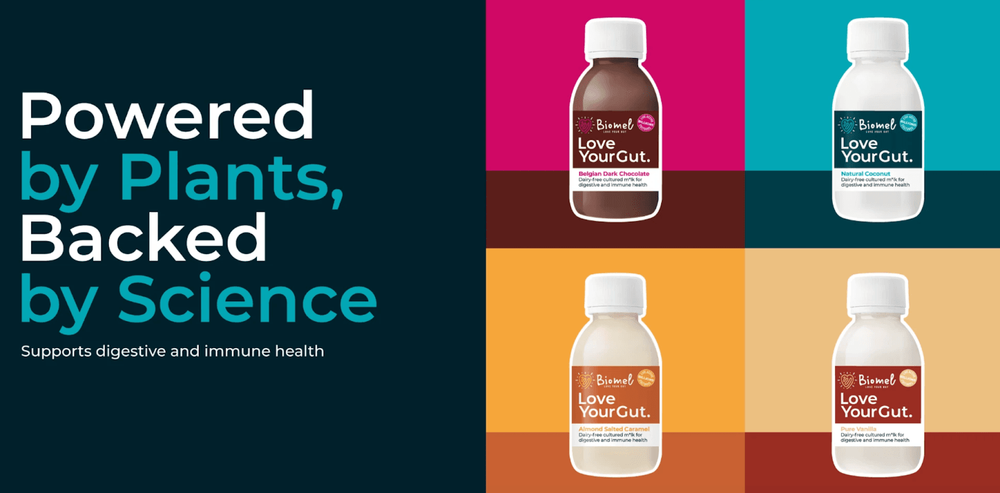 Biomel
Biomel, good for your gut, great for the planet
We all know how important it is to look after our bodies, and looking out for our gut means looking out for our health. Biomel claims to support digestive and immune health, with a tasty range of plant-powered probiotics, alongside other supplements.
Your gut is responsible for your digestive health, which plays a key role in supporting your immune system (which is definitely important now more than ever). Another benefit of looking after your gut is a boost in serotonin! With gut health being linked to positive mental health, through the production of essential hormones that regulate our moods. 
Biomel have sent us a selection of their "award winning", dairy-free probiotic drinks to try for ourselves. We received a range of tempting flavours, including; Pure Vanilla, Almond Salted Caramel, Belgian Dark Chocolate, and Natural Coconut. 
Pure Vanilla 
Starting off our review of Biomel's range of probiotic shots is their Pure Vanilla flavor. Where most vanilla flavored products can be very sweet, and often very artificial tasting, this coconut-based drink offers a subtle vanilla flavour that isn't overbearing. Reading the label, the product is low-calorie, and packed with vitamins B6 and D3, as well as over 200mg of calcium! 
Almond Salted Caramel
Salted Caramel is always a popular flavor. The salty-sweetness of the drink reminds us more of a milkshake than a health drink. This flavor may be the strongest in terms of taste, and feels like a delicious treat. The almond profile shines through as well, giving a nutty taste to the drink. If you're looking for something that is sweet, creamy and guilt free, this could be the perfect little shot of goodness for you! 
Belgian Dark Chocolate
Like the Almond Salted Caramel flavor, this too doesn't taste like a typical health drink – it's more similar to a milkshake. The chocolate taste is rich and silky, accompanied perfectly by the coconut flavor that compliments the drink. This is also a bonus if you are trying to curb habits of eating too many sweet treats, as it offers you a little bit of indulgence. This shot of dark chocolate flavor is just enough for a morning treat, and a wonderful way to start the day!
Natural Coconut 
This flavor ticks all the boxes for us. The drink went down smoothly, and rather than taking supplements, is an enjoyable way of packing in vitamins and calcium. It tastes natural and fresh, with the coconut flavor taking centre stage. Biomel Natural Coconut is delicious and creamy. The delicate coconut flavor isn't spoiled by additives or added sugar. 
Overall, we found these gut health drinks great. There is definitely a flavor for everyone, from the delicate taste of Pure Vanilla, to the rich, indulgent taste of Belgian Dark Chocolate. Unlike many health products, these creamy shots feel like a little treat each morning, that will give you a boost for the rest of the day.