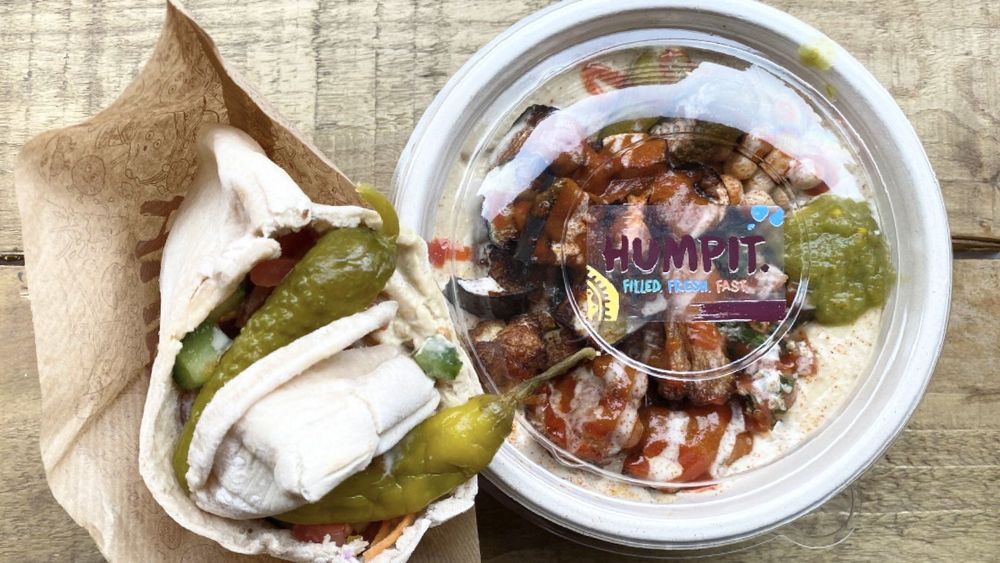 Sam Pitman
Hungry for heavenly hummus? You'll adore Humpit Sheffield
Are you on the hunt for one of the best vegan restaurants in Sheffield? Well, you're in luck: Humpit Sheffield is the one-stop-shop for all your hummus and pita needs. Humpit was founded in Leeds in 2014, winning the Virgin Start-Up Street Food Award at the 2015 Foodpreneur Festival, this inspired them to open their second branch in 2016 - Humpit Sheffield.
Friendly faces and cosy vibes
As you walk into the cosy bar you are welcomed by Humpit Sheffield's approachable and knowledgeable staff to talk you through their delicious and completely vegan menu.
It's a small spot right in the city centre. The decoration is modern and friendly, with a few bar stools along the window countertop where you can sit to enjoy your food. There is a constant footfall of customers, many of whom are regulars, and everybody is welcomed in. New customers are all given a quick but thorough run-through of the menu before choosing their dish, filling, salad and sauces.
Once you order your food it gets prepared in front of you in a matter of minutes, so it's the perfect spot to grab a quick lunch - but the staff are so nice you'll want to hang around and chat even if you're in a rush!


Delicious food
The base of Humpit Sheffield's menu is simple, do you want your hummus in a pita or a bowl? But after you've made this vital decision there are a variety of ways to customise your meal.
First you get to select your hummus. On our visit the options were Humpit's signature hummus or the olive hummus, all of which was made in-house. We chose the signature hummus in our hummus bowl and the olive hummus in our pita. The olive hummus had a much more intense flavour which really added to the pita, but might have been too much for a hummus bowl.
You then get to choose the type of pita you'd like to go with your hummus. Next is the toppings, here you get to choose between falafel, aubergine, spicy kebab, or our personal highlight fried cauliflower. The pieces of cauliflower were tender and had a mouth-watering smoky flavour. 
Then you get to select from a delicious selection of salad before finally picking which sauce or sauces you would like; these range from a tasty, sweet mango curry to an intense extra hot green chilli - the recommended trick is to ask for all of them!
Following this there are also a range of sides and drinks available as well as some delicious vegan snacks.
There are few major allergens used and the staff are very knowledgeable so can easily offer alternatives (such as gluten-free pittas) if you have any specific requirements.
Want more Humpit?
One of the best parts about Humpit is that you don't have to be in Sheffield to get to experience it. There are two stores in Leeds where it was originally founded as well as another in Huddersfield.
They also offer a loyalty scheme, so if you enjoy the food there is all the more reason to make a second visit!
If you're after more delicious pita-based cuisine you might also be interested in these delicious vegan kebabs in Manchester or if you're nearer Bristol there are some great vegan restaurants there too.