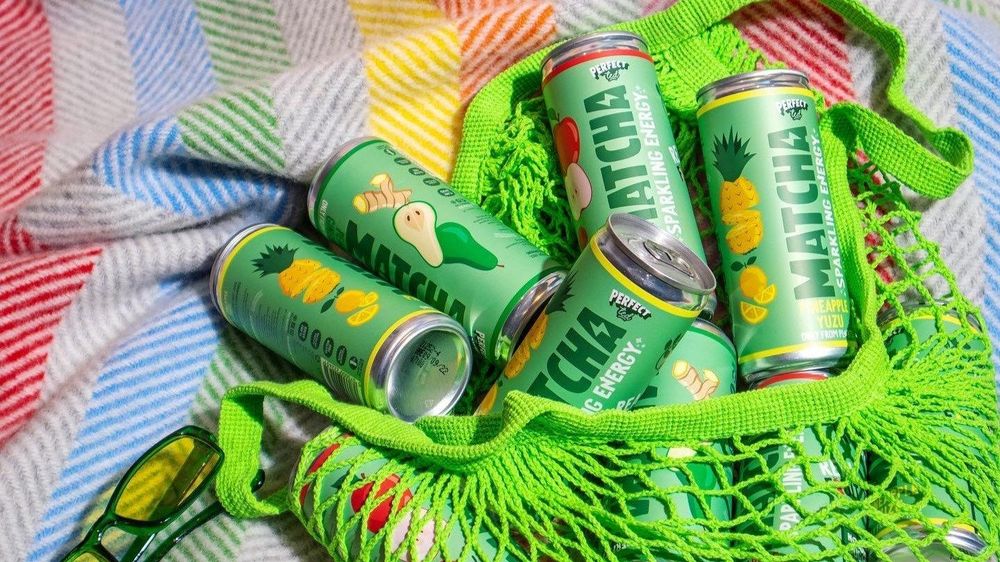 Perfect Ted
PerfectTed Matcha: A refreshing, sparkling matcha drink
Many people living busy lives indulge in a caffeine fix to get through the day, whether that be through fizzy drinks or cups of coffee. However, the short-term benefits often seem outweighed by the shakes and crashes that follow the surge of energy afforded by these beverages. Surely the solution to this would be to turn to a healthier alternative with longer-lasting effects? 
This is exactly what the team at PerfectTed thought when they turned to matcha, a fine powder created from specially grown green tea leaves. Originally working in finance, the team behind PerfectTed, Teddie, Marisa, and Levi swapped from coffee to a fresh cup of homemade matcha each morning. But when out and about, they found store-bought options to be bitter and disappointing. This was the inspiration to take it upon themselves to create a great tasting, great quality, alternative green tea matcha drink for on the go.
Here at V-Land, we were able to sample some of the flavoured matcha drinks that Perfect Ted has created, including Pear Ginger, Apple Raspberry and Pineapple Yuzu. From the get-go we were excited to try as they were coming from a company committed to sustainability, sourcing their matcha from farmers that care about the environment and the people that work for them. 
Before you even take your first sip the eye-catching packaging grabs your attention. With a fun font and illustrations of the flavours used within the drink, the honest message of the brand is made clear. The vibrant green of the can immediately connect you to the natural and plant-based contents of the drink. Each sparkling flavour is unique and refreshing and gives your morning a totally different kick than a cup of coffee. Instead of feeling slightly heavy, you feel ready to go. 
On top of all that, the drinks have genuine health benefits as well. Matcha is antioxidant-rich with a high content of amino acids and polyphenols. It is also a source of clean caffeine as the amino acid L-theanine contained within it helps to distribute caffeine in regular doses which helps to avoid the jitters. Matcha drinks provide all the benefits of caffeine without the drawbacks of coffee, making it perfect for hard workers of all kinds.