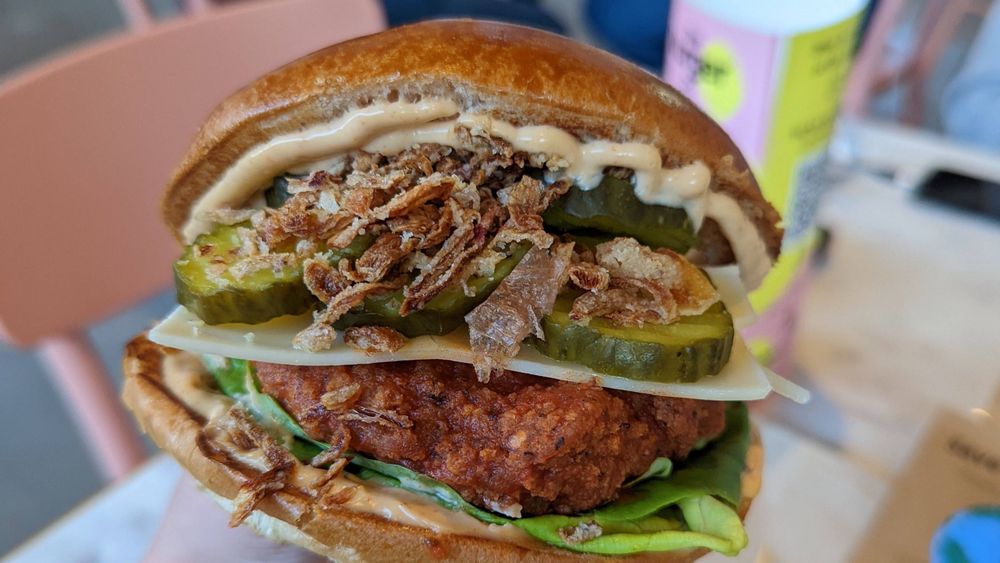 Lucy Ireland
The Vurger Co open their doors in Manchester
We were so excited to be invited to The Vurger Co launch in Manchester. Located in the Northern Quarter next to Afflecks, the new restaurant is minimalist and so Instagrammable!
We ordered a Buffalo 'Chicken' burger with fries and a New York Melt burger with 'bacon' mac and cheese and a Dream Egg milkshake. 
First of all, we have to tell you, the Dream Egg milkshake has been living in our heads rent-free ever since! The Vurger Co's classic creamy milkshake with chocolate, topped with a generous helping of vegan whipped cream, chocolate sauce and their house-made fondant sauce. Onto the main event, the burgers were absolutely delicious. We particularly enjoyed the Buffalo 'Chicken'. The house-made Buffalo sauce had a nice kick to it, layered with vegan mozzarella, gherkins and crispy onion.
V-Land caught up with The Vurger Co's Co-Founder Rachel Hugh to find out how she was feeling about launch day and what she'd recommend from the menu.
V-Land (V-L): How are you feeling about opening your doors to Manchester?
Rachel Hugh (RH): We're feeling pretty humbled. It's been a really tough two years for the industry. The pandemic hit the hospitality industry really hard and to be standing here in our brand new Manchester restaurant is a dream come true. We could not be more excited!
V-L: What inspired you to open the first Vurger Co?
RH: We started The Vurger Co back in 2016! Neil, my co-founder, actually suffered with a stomach condition that no doctor could figure out the solution to. After several attempted procedures we took a trip to California to really try and figure it out. Back in 2016, the landscape for plant-based food in California was extremely advanced when compared to London, with restaurants producing vegan food with delicious flavours and textures that we hadn't discovered before. It was through eating these delicious foods - not necessarily fast food - we realised Neil started to feel better than ever! So we adopted a vegan lifestyle ourselves and haven't looked back.
We wanted others in London to experience amazing vegan fast food, in a way that they had never discovered before. Our Manchester store is a testament to our mission of revolutionising fast food through the power of plants.
V-L: What is your favourite thing on the Vurger Co menu?
RH: I absolutely adore our Hunny 'Chicken' burger, mac n cheese, tater tots and strawberry shake – that's always my go to order!
V-L: What's next for Vurger Co, do you have your sights set on your next location?
RH: We are ALWAYS on the look out for amazing sites, it has definitely become our favourite pastime. To be honest we always get feedback from our customers, so the more that we get a request from a particular location the more that we dedicate time to really look at that particular place.
We were so pleased to see The Vurger Co open up in Manchester and we can't wait to see where The Vurger Co pops up next! In the meantime check out their online shop for sauces, merch and gift cards.
If you love burgers you may like to read best vegan burgers to sink your teeth into.