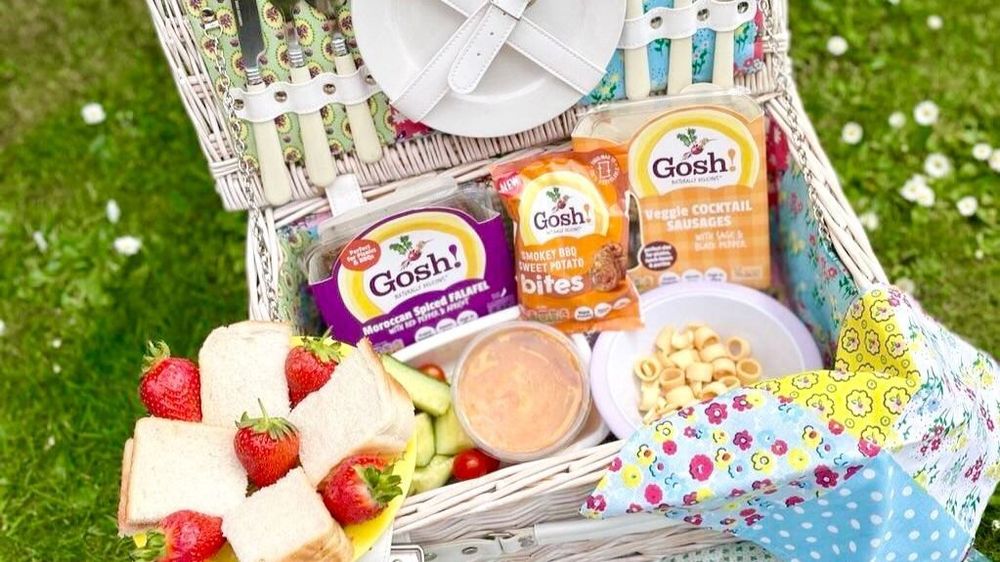 Plant Based Mum
Vegan picnic essentials: Pack the perfect vegan picnic hamper
Summer is just around the corner, and we plan to make the most of the glorious sunshine by eating alfresco wherever possible. Struggling for ideas for vegan picnic food? Look no further, we were dreaming up ideas for the perfect vegan picnic hamper all winter long! 
Homemade sandwiches
You can't have a picnic without sandwiches! Whether you're a simple cucumber sandwich lover or you like to get experimental with your fillings, sandwiches are an easy and filling meal or snack that you can make at home. We love Marks and Spencers' new Plant Kitchen cooked ham slices in our sandwiches as it's so versatile and easy to enjoy with salad, coleslaw or mustard, but you can find lots of inspiration for vegan picnic sandwiches, wraps and more on the BBC Good Food website.
Easy to pack snacks
Our go-to vegan picnic snacks have to be cheese and crackers. Boursin released their creamy plant based spread in the UK last year and it would definitely be on our list to enjoy with some cracked black pepper crackers. We'd also include a selection of fruits, some of our favourite crisps such as Sheese & Red Onion Kettle Chips, Cauldron Falafels and Gosh! Cocktail Sausages, all available at Sainsbury's.
Summer salads
There's nothing quite like enjoying a fresh salad on a hot day. If you're looking to buy an assortment of salads, look no further than Marks and Spencer's Plant Kitchen, who offer a range of whole grain and pasta salads including their Nutty Super Wholefood Salad, vegan Potato Salad and No Chicken or Bacon Pasta Salad. 
You could also check out Peng Vegan Munch on Instagram and try his Orzo Summer Salad.
Sweet Treats
No picnic is quite complete without some sweet treats. We love Tesco's Wicked Kitchen chocolate chip cupcakes. If you're keen to impress, we'd recommend trying Meg Long's Vegan Pavlova recipe on Instagram.
Cheers!
For many of us, the main event! Make sure there's space in your cool bag because vegans don't have to miss out on a beer or a glass of wine in the sun. Tesco's own brand Cava is vegan friendly and affordable at £5.75, lots of lagers including San Miguel, Stella Artois and Carlsberg are vegan. Old Mout cider is fruity and delicious and all flavours are vegan.
If you'd like to have a go at making your own picnic treats, we'd also recommend checking out V-Land's perfect brownie recipe and this melt in your mouth chocolate cake.