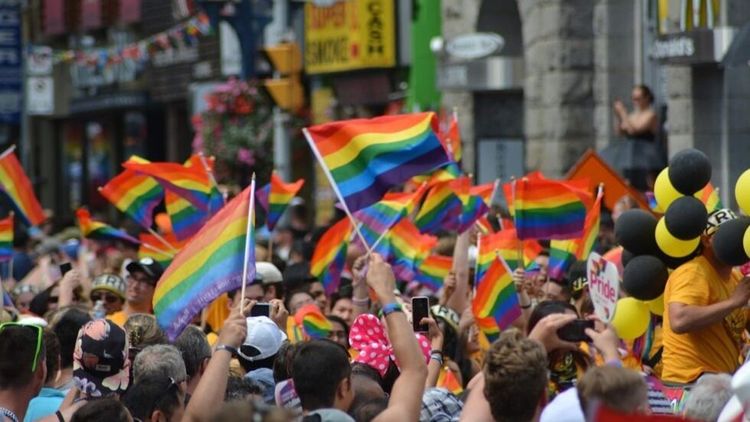 naeimasgary/Pixabay
10 amazing LGBTQIA+ to follow
To celebrate Pride Month 2022 and the 50th anniversary of the UK's first official Pride march it seemed apt to highlight some inspirational LGBTQIA+ who we recommend following.
Robbie Lockie
Originally from Zimbabwe, and now residing in London, Robbie is the co-founder of Plant Based News, a vegan advocate and ethical digital media creator who works alongside the vegan charity Viva. Robbie was the mind behind the film Swine. A documentary created to raise awareness of the rise in Antibiotic resistance caused by factory farming.
Alan Cumming 
Alan has many phenomenal performances on stage and screen, including as one of the X-Men, as a Bond baddie and in the much missed hilarious sitcom The High Life. He has also been vegan since 2012, and has been a very vocal advocate for animal rights. In 2021 he petitioned that the COP26 meeting serve only vegan food – likening serving meat to a global conference on the climate crisis to serving alcohol at an AA meeting.
Kate Louise Powell
Kate is a highly accomplished and successful Artist/Illustrator who creates deliberately provocative works aimed at challenging people's perceptions of non-human Animals. She wants to use her work to shed light on animal abuses and animal rights activism. Earlier this week she celebrated her 7 year Veganniversary. 
Kirsty Conway Dixon
Kirsty is a hugely successful creator and designer who sells her phenomenal range of pop culture related items on Etsy under the name KDHalloween. She is a rainbow enthusiast and uses them extensively in her creations. My personal favourite of her range are the Simpsons fridge magnets. Kirsty also uses a portion of her profits to rescue chickens.
Katrina Fox
Katrina is the author of Vegan Ventures: Start and Grow An Ethical Business, host of Vegan Business Talk podcast and founder of VeganBusinessMedia.com. She is a phenomenal force of nature, who at the age of twenty was chased by riot police when she and some friends tried to close down a farm that raised kittens for vivisection – AND played a lesbian vampire in a short film. I've never met her but I love her already!
Jack Monroe
Jack Monroe is the bestselling author of the book A Girl Called Jack. They are also responsible for the phenomenally successful food blog "Cooking On A Bootstrap", which they created as a single parent trying to cook for themselves and their child on £10 a week. Jack has become a leading campaigner for food poverty rights and is a true force for good in the world.
Gina Yashere
Before embarking on her career as a stand-up comedian and actress, Gina was a lift maintenance technician and engineer! She changed career path when she became a finalist for Hackney Empire's "New Act of the Year" competition in 1996. Gina has since risen to fame on stage and television in The Richard Blackwood Show, Lenny Henry in Pieces, the first British comedian on Def Comedy Jam, Live At The Apollo. She is co-creator and writer of "Bob hearts Abishola" on CBS in America. Gina thanks her raw food vegan diet for curing her lupus symptoms.
Chas Newkey-Burden 
Chas is a freelance journalist and writer of the comic self help books Running is Cheaper Than Therapy and Help I'm Turning Into My Dad. He has also written unauthorised biographies of Simon Cowell, Amy Winehouse and One Direction. As well as this, he was a columnist for Attitude magazine, Time Out and The Jewish Chronicle. In vegan circles he is best known for his article "Dairy Is Scary" which caused unfortunate backlash, leading to him being threatened.
Frankie Mouche
Frankie describes themself as a Transmasculine Nonbinary Radical Autistic Queervegan. They also are the founder of the queervegan.com blog where they discuss fitness, food and metal. They are an increasingly important voice in Trans rights and the fight against the gender critical.
Sean O'Callaghan 
Sean became famous for his blog Fat Gay Vegan, reclaiming the words that used to hurt him. He is now a bestselling author, with his book that is named after his blog, and subtitled Fat Gay Vegan: Eat, Drink and Live Like You Give a Sh!t. He wants vegans and non-vegans alike to look beyond the plate and see how we can all live a little more compassionately.
If you enjoyed this article you may also like to check out our article about business who support LGBTQIA+ and vegans in Brighton.