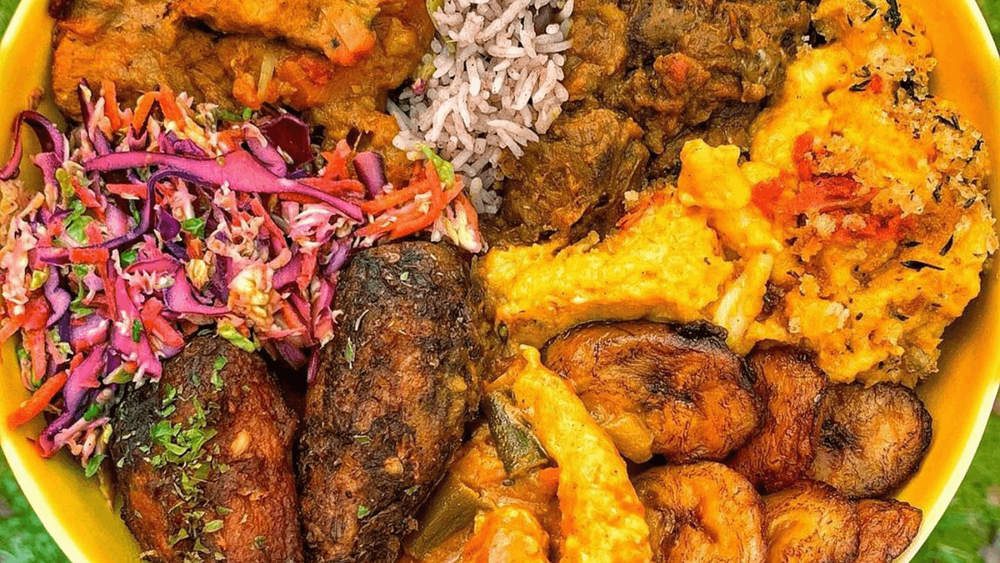 Mark Flood
5 best restaurants to get your Afro Caribbean vegan food fix
Interest in Afro Caribbean food has skyrocketed in recent years and London is the epicentre of this growth. To meet the exciting new demand for this culinary delight, there are an increasing number of eateries offering plant-based versions of this hearty, mouth-watering cuisine, and we're thrilled that the culture rich dishes make for some of the tastiest Caribbean vegan food too.
To showcase the best London has to offer, here are our top vegan Afro Caribbean restaurants and food in the UK's capital.
Jam Delish
Jam Delish currently holds the title of being London Soho's first vegan Caribbean restaurant. This brother and sister founded business wants to demonstrate that you do not need to compromise on quality and taste when it comes to choosing plant-based, and they deliver. The menu is packed with authentic Caribbean flavours with many notable highlights. This includes their 'chicken wings' which come with a sugar cane 'bone'. There are several flavours to choose from, but for those with a hardier palate, then the jerk is for you but the heat from the chilli is not for the faint of heart - you have been warned! 
Other options include plant-based crispy Caribbean prawns, ackee & codfish and curry goat. Now three months into their six month residence at The Sun & 13 Cantons you have a limited window to book a table. Given they have also created Caribbean inspired cocktails to compliment the pub's usual offerings you can be sure you will leave well-watered and satisfied.
Eat of Eden
Eat of Eden offers an extensive menu using fresh organic ingredients to create wholesome hearty dishes with a home-cooked feel. Their menu is inspired by Caribbean Ital and European recipes, and includes curries, stews, patties and dumplings. For desert there is a cake in a jar option. How else would you want cake served? Their popularity is evident from their growth and they now have a number of locations across London; Clapham, Brixton, Shepherd's Bush, Lewisham, Walthamstow and Croydon. Do not leave any of these restaurants without sampling their wheat meat, as an option on a platter, or as a burger. You will not be disappointed.
Deserted Cactus 
Esme Carr, a popular blogger, made the Deserted Cactus a reality. Based in Holdrons Arcade in Peckham, she serves lunch from 1pm to 4pm on Thursdays and Saturdays only. The charm of the place is that there is no set menu. You turn up, simply ask for a platter and you will be served up a dish overflowing with whatever Caribbean delights she has created for that day. The southern fried jackfruit, mac no cheese and dumplings are always popular items but whatever you are served you will leave happy and beyond satiated.
All Nations Vegan House
East London is a hotbed of vegan eateries and All Nations Vegan House has been at the heart of this since 2017. This Dalston based Ital Caribbean restaurant and takeaway is brimming with home-cooked dishes, smoothies and sugar-free desserts. Combine your grain choice with the likes of pepper pot mushroom, ackee & butterbean or callaloo & chocho, to name but a few. For that additional health lift it is worth considering their sea moss boosted drinks. This superfood has a large list of credentials and being high in iron and antioxidants it is great for your gut and immune health. Feeling good has never tasted so delectable.
V-Source 
V-Source is a Herne Hill based takeaway that sits opposite Brockwell Park. This makes it the perfect source of sustenance to help you while away the morning or afternoon at one of London's largest green spaces. Fare such as jerk jackfruit and butterbean curry can be found on the menu. A nice twist on the usual is their Ital brunch Caribbean style that consists of fried dumplings topped with ackee, spicy beans, vegan sausage, mushroom, seaweed fritter, plantain & salad. This hearty and substantial dish also comes in a smaller portion for adults wanting something lighter and a cute kids portion that omits the spicy beans. For a thirst quenching sweet and zesty hit, their homemade freshly squeezed lemonade is a must. No doubt we'll see you in the park too.