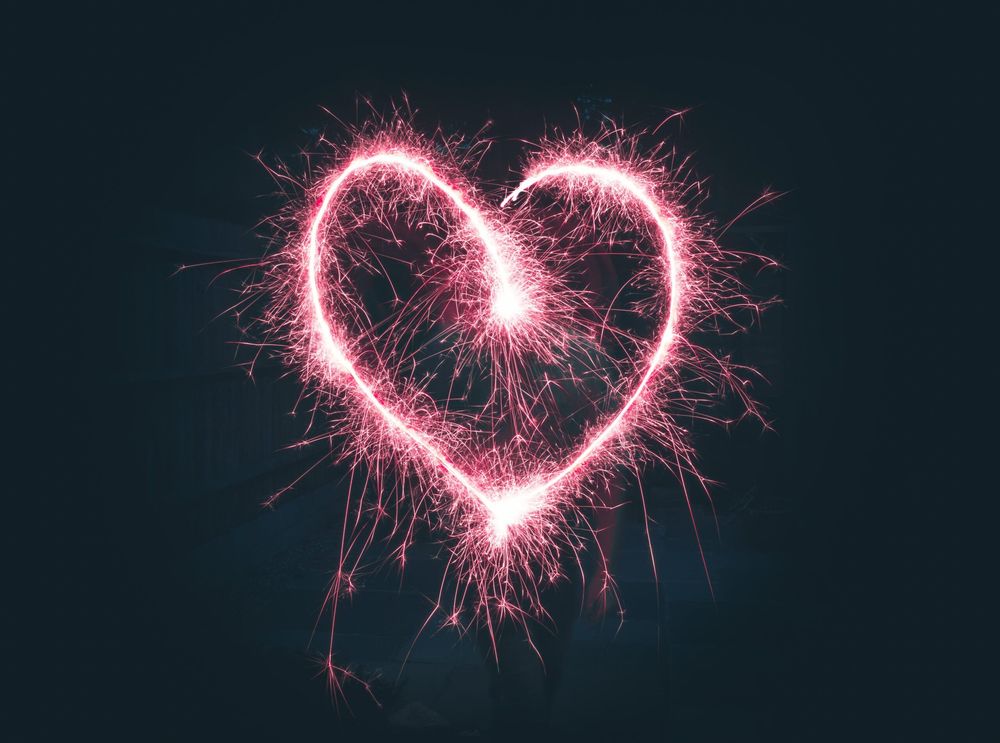 Jamie Street/Unsplash
5 reasons to go vegan for Valentine's Day
You love your body
Last year at around this time, I was having some health issues, and I reached out to a friend for help. She is a soul sister to me, someone who is also a writer and who sees the world through gentle eyes. Her parents and sister are all physicians, so she also keeps up with the latest findings from the global medical community. She told me about Undo It - a book by the Ornishes that offers a program to reverse chronic illnesses. Reading it, I sensed deeply that a low-fat, vegan diet would help me improve my health. I went on to do further research, and I made the decision to go vegan because I wanted my body to be happy and healthy.
Of course, I couldn't do this alone, so I discussed it with my wife, and here are a few documentaries we watched together that taught us about the health benefits of veganism: The Game Changers, Over Knives, and What the Health.
You love your partner
I lost 2 stone in the first 3 months after going vegan. And I've kept it off for the past 10 months. I also found that having lost weight helped my body want to move more, so it was a win-win proposition. All of this meant that I had better self-esteem and felt good in my body.
We all want a partner who is happy and healthy in her body; supportive and self-assured in her mind. I found that the best way to achieve this was to make myself the priority first. I could not expect anyone else to do these things for me if I were not doing them for myself.
Yoga, either alone or as a couple, can be a beautiful way to move your body in calm and nourishing ways. Here are some of the apps that have been helpful during this process: Asana Rebel, Glo Yoga, and Insight Timer.
You love your budget
The price of groceries has gone up in the past year. Even before going vegan, my wife and I realized that buying staples such as grains and nuts in bulk, as well as making our own meals at home, was a huge money saver. 
Each week, we look at what food is in the house and create a meal plan using the staples we already have and then add to it with fresh fruits and vegetables. 
This has allowed us to have extra savings in our budget for other purchases that bring us great happiness, such as the red kayaks we bought for each other at Christmas this past year.
These are a few foundational foods that are extremely versatile and easy to prepare in many vegan dishes: black lentils, cashews, and farro.
You love your couple time
You might think that veganism is bland and boring and that cooking at home is a bothersome chore. We have found the opposite to be true. 
Making the commitment to going vegan together means that date night can be every night. The care we put into the procurement of spices and ingredients, the weekly meal planning we do, and the shared responsibilities of cooking and cleaning - these are deep acts of love.
It's a sensual delight to taste and smell everything intensely that we have made together. Sweet potatoes are lush and hearty. Spinach is tart and lemony. A strawberry has all the layers of springtime in it. And when tofu, seitan, tempeh, and other plant-based proteins are seasoned well, they are scrumptious and don't leave you feeling heavy and tired. 
Here are my top three favourite cookbooks: Afro-Vegan by Bryant Terry, But I Could Never Go Vegan! by Kristi Turner, and Cool Beans by Joe Yonan.
Also, The Homemade Vegan Pantry by Miyoko Schinner is essential to learn how to make your own staples such as nut milk, plant-based butter and cheeses, bread, and soup stocks.
You love the earth
I remember one day, early in that first spring of quarantine, when I sat in our backyard and all I could hear were the birds singing and the breeze in the newly green leaves. No traffic. No sirens. No airplanes. Not even any trains - we have a track right behind our house, and herons and egrets started roosting there that year. 
Veganism wasn't on my mind when the pandemic first struck, but eventually I came to see it as the one thing I could do daily to help our earth recover and have a chance to live in balance again. I knew for certain that a pause in our collective patterns of consumption and compulsive doing might just be what the earth needed to heal. These past few years have been a time of great healing for me and for the planet collectively. 
As the poet Audre Lorde said, "We cannot live without our lives."
My wife and I have come to embrace veganism because we cannot love each other without first loving ourselves and the earth.
Now all you need is some delicious vegan grub to cook for your significant other, check out Casse's recipe, dessert for your valentine.
Cassie Premo Steele is a poet and novelist and the author of 16 books, including Earth Joy Writing: Creating Harmony Through Journaling and Nature. You can access free audio meditations and video workshops based on the book on this website and learn more about her writing at her website.