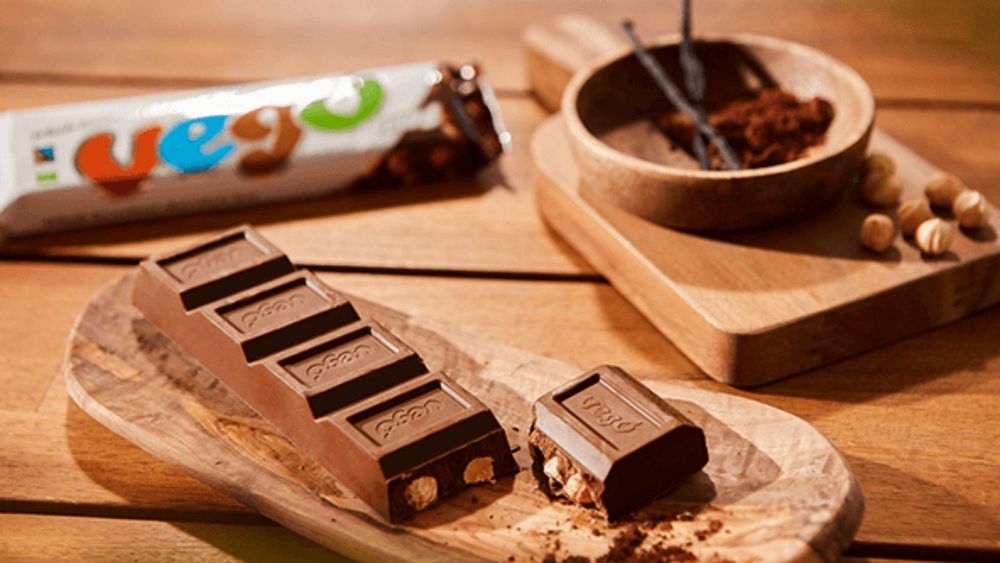 VEGO
5 vegan chocolate bar brands to add to your shopping list
Here at V-Land, we love chocolate. Our Staff Writer Mark Flood, our sweet tooth expert, gives us the inside scoop on which vegan chocolate brands he puts in his shopping basket.
I personally cannot get enough of the smooth and silky texture of chocolate. One peak in my cupboard easily validates that statement. It can be embarrassing when I have new visitors over and I open the cupboard only to hear them gasp audibly. It's a clear indicator they do not share my passion, or rather – obsession. As a self-appointed chocolate connoisseur, I think I am well placed to make recommendations for vegan chocolate brands for your shopping list. 
VEGO
VEGO is an award-winning chocolate and firm favourite in the vegan community. If you haven't heard of them, Google your nearest stockist without delay. As an independent, vegan and socially conscious business they certainly tick a lot of boxes for ethical consumers. They premiered with their chunky and nutty Whole Hazelnut Chocolate Bar but have added many more products to their range. Do give their VEGO White Almond Bliss a go, especially if you are a white chocolate lover. With some of the best vegan chocolates out there I just know you won't be disappointed.
NOMO
NOMO is an all vegan-friendly brand. Their name is an acronym for 'No Missing Out' as they specialise in 'free from' chocolate, therefore their products are suitable for dairy, egg, gluten, peanut and tree nut allergy sufferers. Their Caramel Bar is my go-to. And for those who want to experience the taste and texture of a nut-filled bar without the nuts then there is always the Hazelnut Crunch – a one of a kind product.
Moo Free
Moo Free is a vegan brand that is, by the very definition of its name, dairy-free. Started in 2010 and now based in Devon, they offer up 'everyday' bars as well as a more indulgent premium organic selection. In addition to their bars, they also offer speciality options such as chocolate eggs at Easter and advent calendars at Christmas, and all year round 'bunnycomb' for kids. I must admit to being a little partial to their 65% dark chocolate bar. Plain and dark, it's a winner of the lot. And speaking of winning, it is worth noting that Moo Free are another award-winning chocolate brand and have accumulated numerous accolades for their products.
RHYTHM 108
Looking a little further afield than Devon, RHYTHM 108 is a vegan brand using organic, gluten-free, ethical and natural ingredients. Inspired by the wonders and slowed pace of the Swiss Alps, they specialise in bars filled with all sorts of deliciousness. Their signature offering is Hazelnut Truffle Bar but with other options including orange, mint and praline, you are spoiled for choice. Their range also extends to biscuits and filled cookies which are worth a try.
Plamil
Plamil's claim to fame is as the longest running plant-based business in the UK. Dating back to the 1960s, they started their business with nutrition, ethics and the environment as the foundation of their brand. Their range is extensive and is sure to cater to different palates. Plamil offers sugar-free options and even bars that are made using 100% renewable energy. Plamil also offers Easter eggs and advent calendars at Easter and Christmas respectively. While there are lots of dairy-free milk options to choose from, their organic 72% cocoa dark chocolate bar (or two) is never excluded from my shopping list. These are vegan chocolates at their best.
For more vegan chocolate bar goodness you might want to check out what we thought of the creamy oat milk chocolate bars from H!P or get inspired to do a little home cooking with our melt-in-your-mouth chocolate cake recipe.