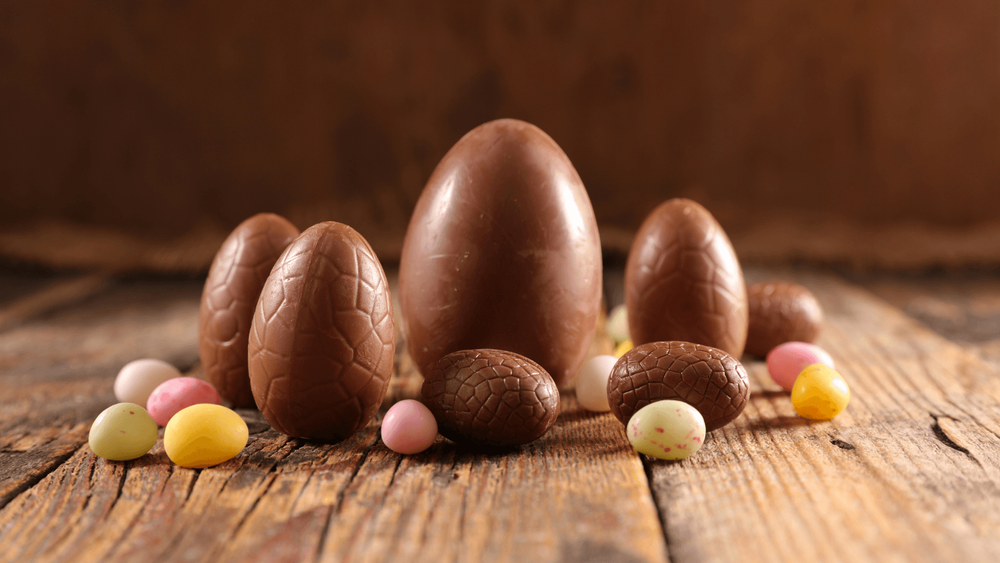 margouillatphotos/Getty Images
8 best vegan Easter eggs in the UK
Chocolate lovers, we have egg-cellent news! V-Land have searched high and low for the best vegan Easter eggs in the UK and this year's selection will not disappoint. We are so egg-cited to share our list of the best vegan Easter eggs to suit any budget.

H!P Chocolate
H!P Chocolate's salted caramel oat milk chocolate Easter egg is a creamy chocolate egg made from single-origin Colombian chocolate mixed with oat milk and infused salted caramel. Their vegan Easter eggs also come in Salty Pretzel and Cookies No Cream flavours. £10 from H!P Chocolate and check out their other stockists here.
Tesco
New for 2023 Tesco have released Cluckie the Chocolate Chick and Cluckie the White Chocolate Chick alongside their vegan Easter egg range. Pick up a Cluckie the Chocolate Chick for £3.50
Wicked Kitchen 
Wicked Kitchen's Poppin Candy Orange Chocolate Egg and Salted Caramel Flavoured Chocolate Egg have returned with Benny The Bunny, all £5 from Tesco. Wicked Kitchen have also released some new Easter cupcakes, which are carrot cake flavour for £3.50.
Hotel Chocolat
Hotel Chocolat's Unbelievably Vegan* Chocolate Easter Egg is made from their 45% Nutmilk vegan chocolate which has a uniquely smooth and mellow flavour. This geometric egg is certainly one of the best vegan Easter eggs when it comes to looks with its artistic design and coconut white spot decoration. £15 at Hotel Chocolat.
NOMO
We can guarantee there'll be no missing out with NOMO's Orange Crunch Chocolate Egg & Bunny. NOMO chocolate is vegan and suitable for people with milk, egg, gluten, peanut and tree nut allergies. Their vegan Easter eggs also come in caramel, caramelised biscuit, cookie dough crunch and creamy chocolate flavours. £6 from the NOMO website and find other NOMO stockists here. For kids, NOMO offers Little Monsters Egg & Lollies for £3.50.
Marks & Spencer
This year Marks & Spencer have released an Easter bunny in their Plant Kitchen vegan range. The foiled, hollow vegan bunny is available for just £2 from Ocado and Marks & Spencer.
Moo Free
Alongside their range of full-sized vegan Easter eggs, Moo Free also offer an Easter Egg Hunt Box, available for £4.75 from Vegan Town.
ASDA
ASDA has vegan Easter eggs in milk, white and marble chocolate in their Free From range, they also offer an ASDA Extra Special Free from Dark Chocolate Egg with Vanilla Flavour Truffles and an Extra Special Free From selection ranging from £3.50 to £5.
Vegan chocolate lovers may also want to check out 5 vegan chocolate bar brands to add to your shopping list and this recipe for melt-in-your-mouth chocolate cake.