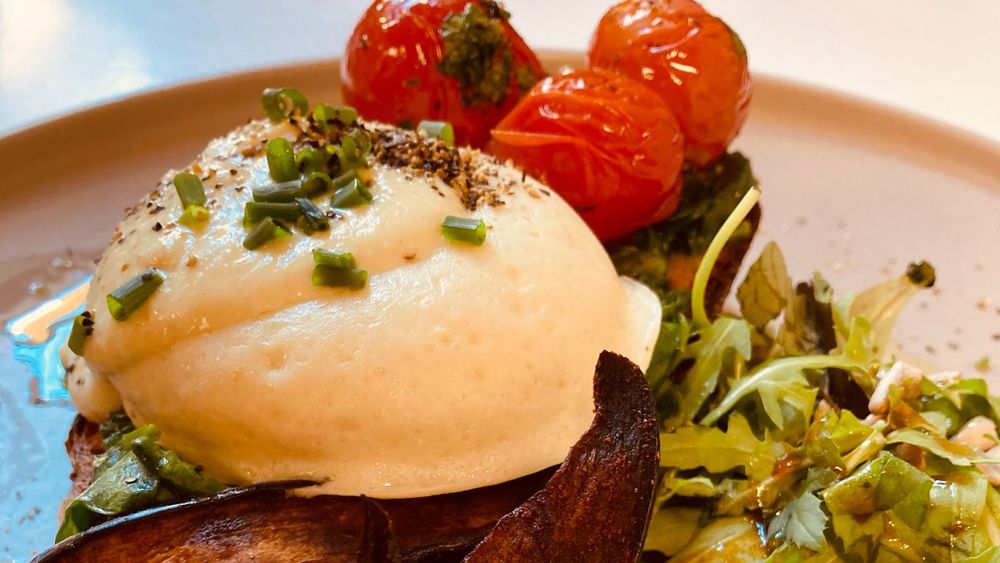 Mark Flood
A vegan dish with a difference: Eggs Benedict anyone?
The last couple of years have been far from normal. There have been highs and lows for us all and this find was certainly a high. As the world grappled with varying restrictions on local and global movement, many opted for a staycation to take a break and get away. I was no different. As fate would have it, this resulted in me stumbling across my favourite dish of 2021. Spoiler – it was one of the best vegan egg substitutes this country has to offer.
Foodies, and vegan foodies in particular, plan their every activity around food. Us folks most definitely live to eat. This meant that a trip to Cornwall from London necessitated a sustenance stop en-route. With several vegan options and a reasonable distance from London to justify a break, Exeter appeared to be a good choice. And as it turned out, it was.
Tucked away at the back of an unassuming shopping arcade is Sacred Grounds. The historic arcade is home to many independent businesses and the café itself is designed to be bright and welcoming. Decked out with upcycled materials and powered by renewable energy, it is enhanced with living plants and prints. On this they say, "The artwork was designed as a homage to our logo and which means sunrise over Sacred Grounds".
They are a plant-based brunch café offering something for everyone from freshly prepared food and drink to summer evening events and a range of made-in-house nut butters and syrups. Upon arriving, we were welcomed with a warm smile and a heart-warming greeting. We were given a choice of tables and settled on one at the edge of the atrium. This gave us the perfect view of the arcade as we relaxed into our seats. With fascination and intrigue we were immediately drawn to their 'Sacred Benedict' dish. This vegan egg alternative menu item promised us a homemade poached 'egg', avocado, roasted tomatoes, spinach, aubergine 'bacon' and hollandaise sauce. We were not able to resist.
When it arrived, it was impeccably presented. The vibrant contrast of the tomato and avocado combined with the unnervingly realistic poached 'egg' drew me in immediately. After slicing into the egg, the runny yellow yolk was revealed. The aesthetics and texture was similar to an egg but the taste was much subtler. The smokiness of the aubergine and healthy chunk of sourdough complemented it really well. I commented to my companions that a pinch of black salt would have elevated the egginess although it was by no means a necessary addition. Just look at that 'yolk' - a realistic vegan egg replacement both in look, and in taste, it was delicious.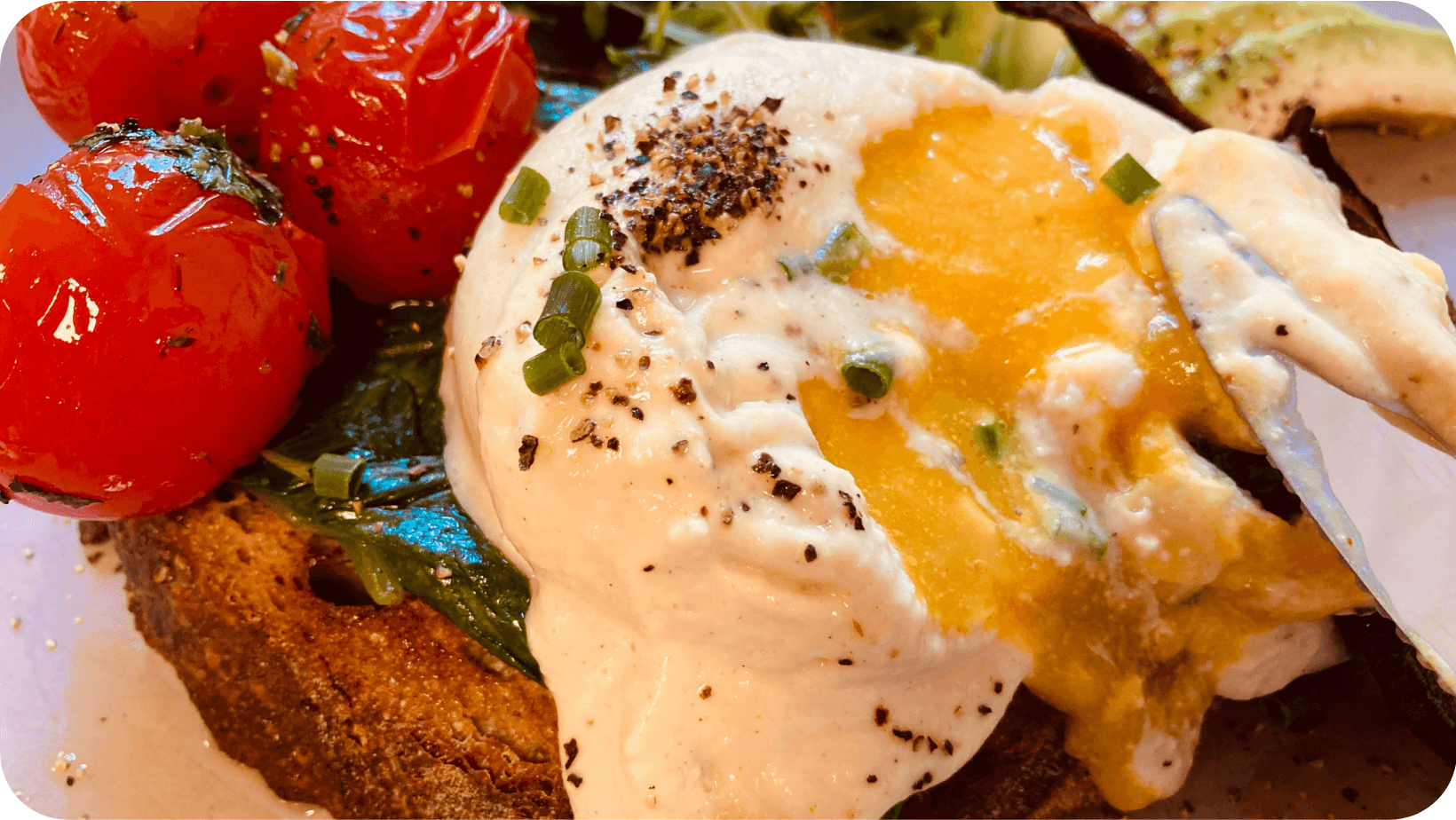 Mark Flood
Sacred Grounds certainly tops the league table for best vegan egg substitute and is one of the highest ranking Eggs Benedict variations in our opinion. Their version of Eggs Benedict is a dish I didn't know I needed in my life before this trip. Now I just need an excuse for another trip to Exeter. While vegan Eggs Benedict is a more unusual find, there are many equally wonderful dishes and restaurants to experience across the UK.
If like me, you end up in Cornwall, you will definitely want to head to The Cornish Vegan in Truro.