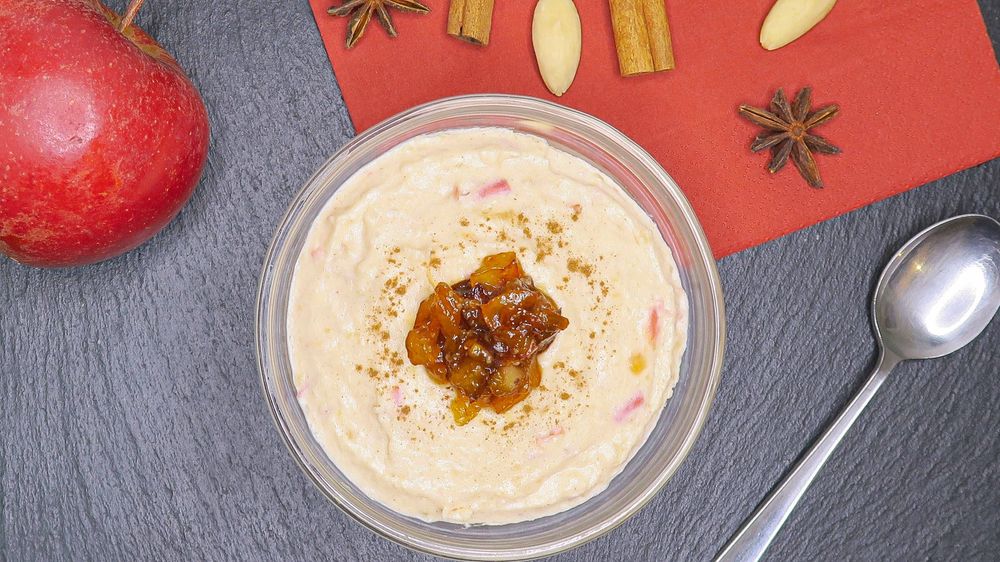 Peter Jung
Apple crème: Quick and easy vegan dessert
As the year comes to an end with shorter days, Christmas markets have opened with twinkling lights for us to enjoy festive food and gifts. Shop windows are stacked with goodies, and the first people are choosing Christmas trees to take home.
Cosy Christmas nights indoors with friends and family aren't complete without watching Christmas movies, decorating the tree, baking biscuits or Christmas stollen. But many vegan Christmas dessert recipes require a lot of preparation and time, so we have a delicious quick and easy vegan dessert, without baking which is based on baked apple. 
We're here to show you don't need eggs or dairy to prepare a scrumptious dessert.
Ingredients for 2 portions:
2 red apples
100g vegan whipped cream
100g vegan crème fraîche
100g vegan butter
40g blanched or ground almonds
3 tbsp brown sugar
Dash of brown rum
Pinch of cinnamon
Method:
• Wash the apples and remove half the peel. Remove the seeds and dice the apples into small cubes. 
• Put the vegan butter in a frying pan over medium heat, add the apple cubes and let them fry for about 5 minutes until they are golden-yellow ish. Increase the heat, add the brown sugar and a dash of rum to let the apple chunks caramelise, then take them off the stove. Make sure they stay soft and juicy.
• Whip the vegan cream (100ml is approx. 100g) or use store-bought whipped cream. If you use a vegan cream that's unsweetened, add a bit of sugar before whipping it. Afterwards, mix the cream together with the vegan crème fraîche in a mixing bowl.
• Grind the blanched almonds using a blender or mortar and pestle, or use ground almonds. Add to the apple chunks and add a good pinch of cinnamon.
• Add everything together in a bowl and mix. Then use a hand blender to blend everything until the mix becomes creamy. 
• Pour the mixture into dessert bowls and leave them in the fridge for about 10-15 minutes before serving.
• To garnish, caramelise small apple cubes in vegan butter with brown sugar until they become sticky.
Enjoy this vegan treat with your friends and families. 
Want to bring more sweetness into your home? We have another easy vegan dessert - our decadent brownies and who can resist a vegan cream liqueur over winter? Check out 3 of our favourites.