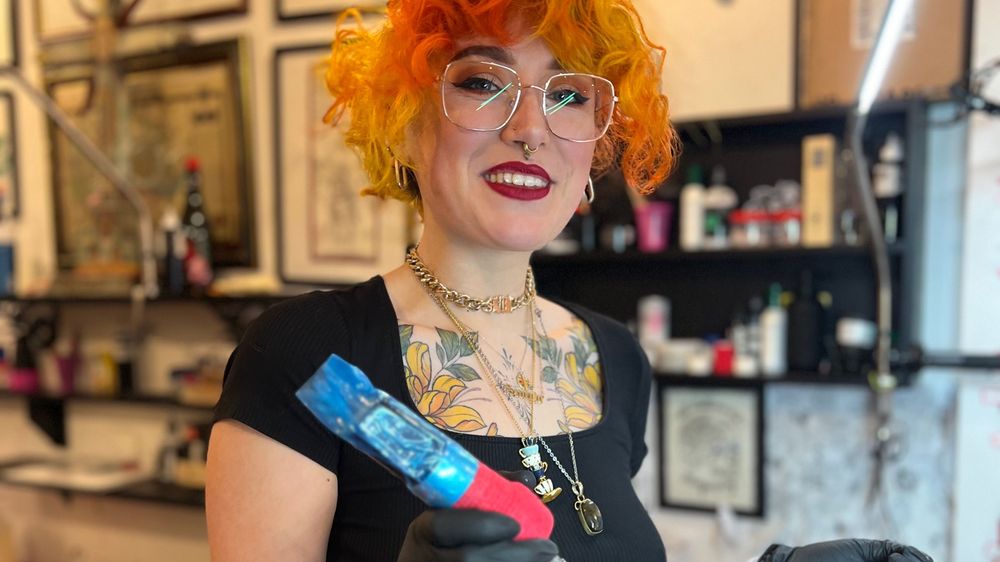 Will Callaghan
Are tattoos vegan? Vegan tattoo artist Mogg fills us in
Are tattoos vegan? V-Land chats with London-based vegan tattoo artist Mogg to find out and discusses their journey from going vegan at university to living and tattooing in Dubai. Creating bold and strikingly colourful depictions of nature from Scorpio Mars Tattoo, an artist collective in Farringdon, you can check out their portfolio here.  
V-Land UK (V-L): How would you describe your tattooing style? 
Mogg (M): I started out wanting to do neotraditional designs, but it deviated from that because of my fine line work and varied use of colour. Botanical and illustrative describes it best.  
V-L: What has been your favourite design you've tattooed so far? 
M: My favourite tattoo to date is probably a goose in full Marie Antoinette get-up! I love tattooing anything silly and anything to do with nature, so animals in wigs are a good time for me.
V-L: Do you often find that clients are concerned about whether their tattoos and aftercare are vegan? 
M: All the time and interestingly, most of the tattoo products I come across are vegan. I don't think I've ever seen an ink that isn't vegan. Vegan-friendly alternatives like Hustle Butter, which is a vegan replacement for petroleum-based products, are used as a moisturising glide during tattooing, and they replace products that can contain beeswax or lanolin, which are the only things I've come across which aren't vegan.  
V-L: How about aftercare products, is it easy to find vegan alternatives? 
M: I used to use specific tattoo butters which were quite thick, and if I gave those away to customers, they could put too much on and end up with irritated skin and so now I recommend Palmers Cocoa Butter. I use it myself, it's vegan-friendly, cruelty-free, family owned and easy to pick up anywhere. 
V-L: When did you first start tattooing? 
M: I started tattooing after I graduated from my fine art degree. I was the first person in my family to go to university. I wanted to have that experience; it felt really special to me. I don't need a degree to tattoo, but I'm so glad I did it. I went to Winchester School of Art, it was quite a small community, and it wasn't far from home in Portsmouth.  
After the first lockdown, I had just finished my degree and had always wanted to get into tattooing, my dad is covered in tattoos, and he used to take me to appointments with him, but I wanted to do my degree first so that I had something to fall back on. I actually moved to Dubai straight after that lockdown and did my apprenticeship there at a studio called Dubai Hills Tattoo. To my knowledge, they were the only tattoo studio at the time who were operating legally out there. They took me on, and I worked long days and met loads of awesome guest artists and had lots of talented people to learn from. I was there for about a year and a half. 
V-L: Very spontaneous! 
M: It was! A couple of weeks before my flight, my parents turned to me and said, "Wait, you're actually going?" - I only moved back to the UK last April, so I'm still settling into London life but I'm loving it.  
When I came back I started working at a studio called Flora and Fauna which is in East London. When I was there I did lots of guest spots at different places, mainly in Brighton and London. I did three guest spots at Scorpio Mars, and I really gelled with everyone there. It was a lovely place, so eventually, I asked them if there'd be an opportunity for me to work there permanently and they said yes, they'd love to have me, which was great! I've been there ever since and I really love it, Emily is the best boss ever and Lauren is the most amazing manager. It's such an inclusive space which is the dream really!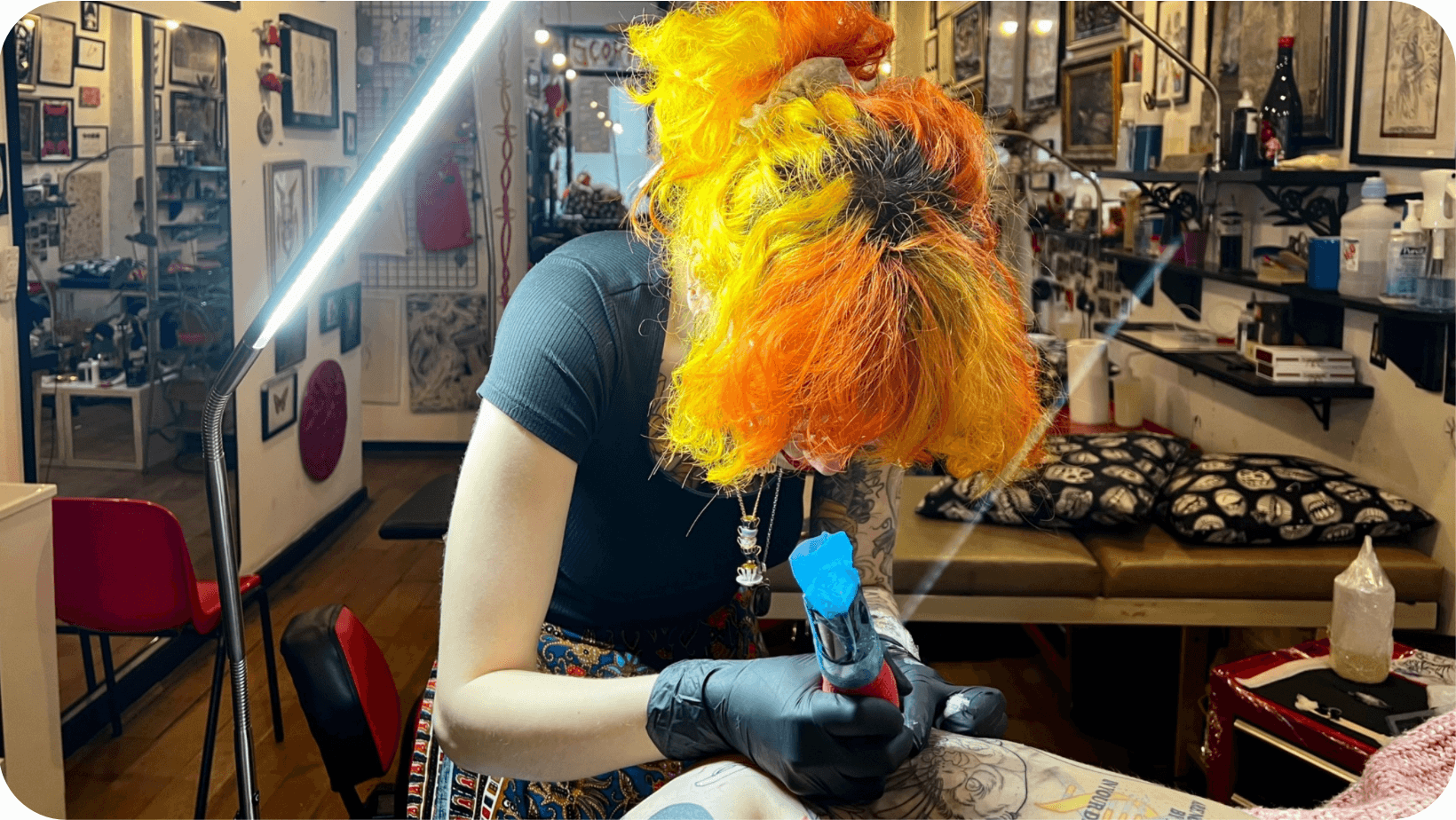 Will Callaghan
V-L: Was it easy to be vegan in Dubai? 
M:  It was actually very easy! It's very cheap to buy bulk ingredients such as lentils, grains and nuts. Tofu and tempeh are much cheaper there too, whereas meat replacements are expensive. Restaurants almost always have a vegan option, and there are some vegan places out there. Neat Burger recently opened up a restaurant in Dubai Mall, but that was after I left. 
V-L: Aside from your dad inspiring you to become a tattoo artist, which artists have inspired you along your journey? 
M: Dolly who owns the Doll House in Brighton with Georgina Langford. When I was learning I'd reach out to Dolly and she was so friendly and helpful, I did my first guest spot at the Doll House. I have such a long list of people in my mind and I probably don't have time to tell you about them all but there's Beth Rose, Kat Abdy, Hannah Flowers and Keely Glitters to name a few.   
V-L: Where are your favourite places to eat vegan food in London? 
M: I love going to Box Park in East Croydon, which is a huge dining hall with different street food stalls. It used to have a What The Pitta there which I loved, but they left, I was gutted! They've got a few vegan places there. My favourite vegan restaurants in London would probably be Rudy's Vegan Diner or Temple of Seitan. 
V-L: How long have you been vegan? 
M: I went vegan six years ago, I was vegetarian beforehand. I remember finding out when I was very young that 'chicken' was actually chickens and being devastated. I must have been around five years old. As soon as I started cooking for myself, I knew it was time to stop eating meat. I was vegetarian for a year and I found it easy, a lot easier than I thought it would be, then I met a vegan at uni who really held a mirror up to me and talked to me about the dairy industry. They helped me a lot when I was switching to vegan alternatives because vegan cheeses etc. weren't as good back then. It inspired me to cook and bake more, I had to get more creative, and learning to cook more dishes ignited more of a passion for food. It made me experiment more.  
V-L: What's your favourite vegan dish to cook? 
M: I love making ramen. My favourite comfort food would be a bowl of satay udon noodles, I love spending time making home-cooked meals like Lasagna. The BOSH! cookbook has been my go-to for a few years now.  
To read more about vegan skincare products, check out our interview with Demi Colleen and cook up your own vegan comfort food with Holly's simple yet decadent carbonara.