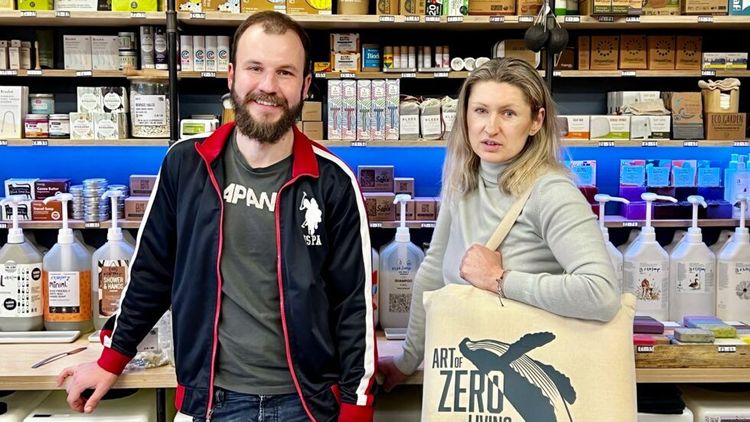 V-Land UK
Art of Zero Living celebrates 1 year anniversary
Art of Zero Living first opened their doors one year ago today. Founded by plastic-waste-conscious owners Justas Kanapeckas and Vita Viskackaite, the store aims to make sustainable, plastic-free living, more accessible within Greenwich and surrounding areas. We recently gave Art of Zero Living a visit to learn a little more about their store, and the importance of living a sustainable lifestyle. 
The store is family-owned and operated, offering customers an impressive range of over 400 sustainable products which are free of plastic packaging. Their top priority is to help eliminate unnecessary plastic waste, reduce carbon footprints, and support the green industrial revolution. The inspiration to open the store came to Justas and Vita after living in Greenwich for 9 years, having recently transitioned to a zero-waste lifestyle themselves, they realised how inaccessible sustainable and plastic-free products were in their area. 
Now, thanks to Justas and Vita, that is no longer the case. Art of Zero Living has set a precedent for what will hopefully, in time, become the new normal, as many Greenwich locals are thrilled and appreciative to have a sustainable store within walking distance. Being passionate about a plastic-free future, the V-Land team support this whole-heartedly, and hope to see more stores adopt the Art of Zero Living stores ethos.
When we visited the Greenwich Market based store, customers were happily singing their praises:
"We are so happy to finally have a zero waste store in Greenwich."
"The owner's are lovely and really helpful!"
"They have a wide variety of stock, especially the grains and nuts – I recommend the beluga lentils, such a unique flavour and great in a cauliflower curry. We found everything we needed for our regular shop here."
"The owner's will try to stock anything you cannot find too which is great."
Art of Zero living practices a closed-loop economy, which is an economic business model in which no waste is generated and things are always repaired, reused, or recycled. The store also purchases products in bulk to minimise their carbon footprint. For items such as washing up liquid, they empty the container and return to their supplier to refill with more product when they require it rather than disposing and repeatedly buying new ones. This practice is applied throughout the store where possible to align with their zero-waste ethos.
They ensure that all of the products in store are organic, sustainable, and do not use unnecessary plastic packaging. One of our favourite features of the store is their water dispenser which is open for public use, encouraging people to avoid using single use plastic bottles. The dispenser also keeps track of how many plastic bottles it has saved too.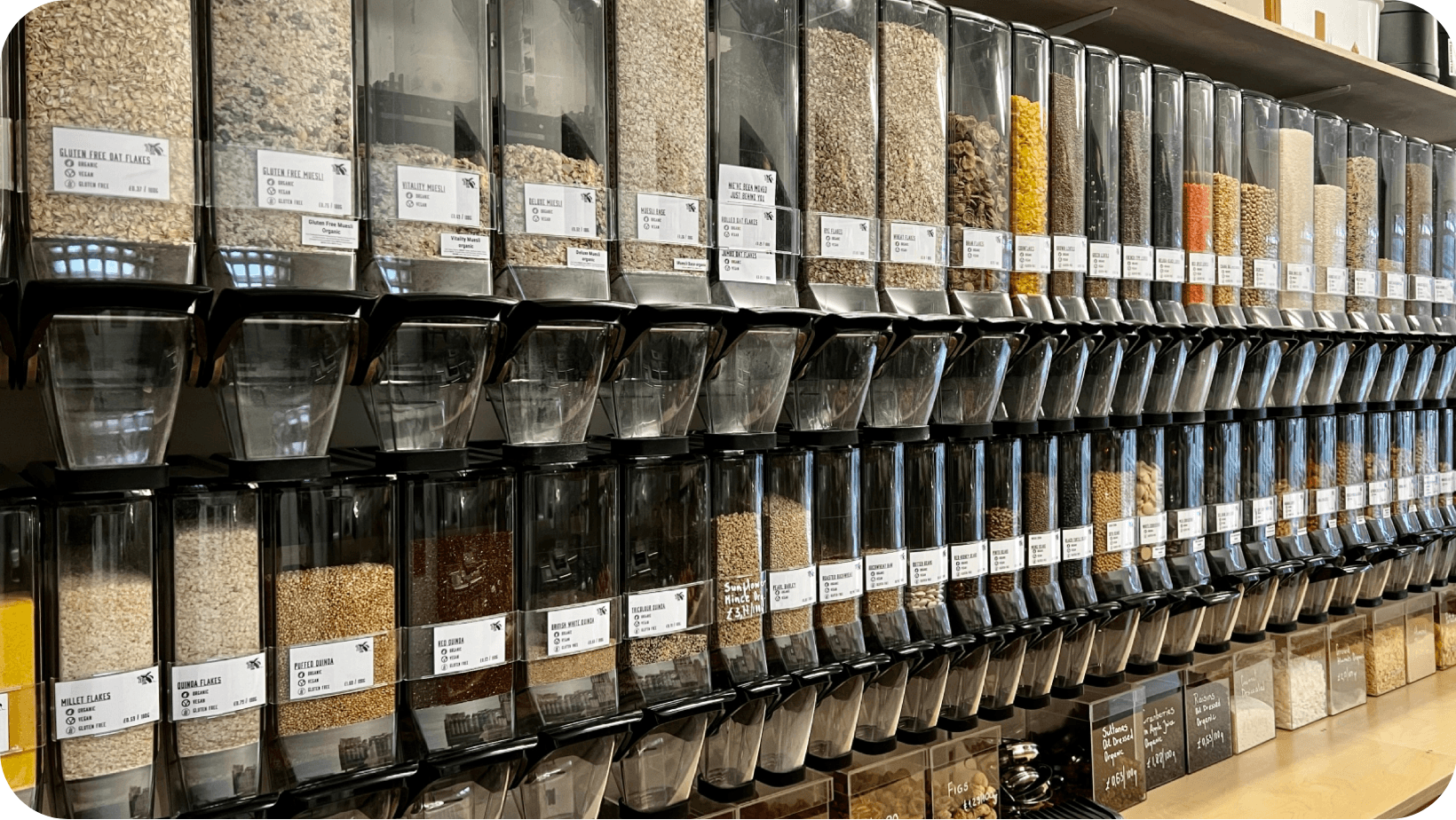 V-Land UK
You can find a whole range of products at Art of Zero Living, including organic and sustainable dry goods, peanut butter ground in store to order, fresh oat milk, and even sustainable, eco-friendly gifts. Here are some brands that stood out to us in the store:
The Raw Chocolate Company, who sell hand-crafted, award-winning chocolates, which are vegan and organic. The chocolate is produced with minimally processed cacao, which lends a deliciously rich and natural flavour. They source ingredients ethically and prioritise making a positive impact on the world and environment. 
Zalmon, a vegan alternative to smoked salmon. Zalmon goes perfectly on bagels, stirred into salads, and is ideal for a savoury bake or pasta dish. Created by coffee shop owners Sazzy and Fran in 2017, it quickly became a top selling product, so they decided to make Zalmon available for you to enjoy at home. 
Kleen, handmade vegan soap on a rope. They only use high-quality, natural ingredients with packaging that is recycled and recyclable. Kleen soaps are made in small batches and cured for a minimum of 6 weeks, for a hard and long-lasting bar with a beautifully creamy lather. 
Art of Zero Living is well worth visiting to stock up on your shopping list must-haves if passing through the Greenwich area. In a time where plastic pollution is a serious threat both to our environment and our beloved wildlife, we hope to see more food stores and supermarkets taking accountability for their produce and offering sustainable options to customers. The store opening times are listed below, be sure to check them out!
Opening hours:
Monday – Closed
Tuesday – 10am – 5pm
Wednesday – 8:30am – 5pm
Thursday – 10am – 7pm
Friday – 10am – 5pm
Saturday – 10am – 6pm
Sunday – 10am – 5pm
If you would like to find out more we encourage you to visit their website and/or Instagram.