Black Garlic
Black Garlic brings the flavour
Katy Heath founded Black Garlic in 2008, after being introduced to Korean aged garlic from a supplier of her small produce business. She experimented with aged garlic and found that it improved dishes immensely, without overpowering them. Aged garlic was an incredibly exciting and unique ingredient, with a long and rich history. Katy set out to learn more about the history and use of aged garlic, travelling to Jeju Island in Korea, where the ingredient is thought to have originated. She learnt that aged garlic was used as a health product, as it retains all the health benefits of fresh garlic, without the potent smell and flavour. 
To make this ingredient, premium white garlic is expertly aged with nothing but heat and humidity for a long time, until it produces delicious, sweet and savoury Black Garlic. In production, the ingredients are carefully chosen so that only high-quality garlic is used, providing fantastic taste. Black Garlic is completely different to traditional garlic, with a more mellow, but complex taste. The ingredient offers a sweet and savoury, umami flavour, with tasting notes of molasses, tamarind, caramel, dates and more. 
We tried out 3 different Black Garlic products: the Whole Bulb, Peeled Black Garlic Cloves; and the Paste Pot. We discovered that this ingredient was very versatile, and found the black colour to be rather appealing - dare to say, a little posh. You can use this ingredient in 100s of ways, whether for soups, dinners or desserts. We found Black Garlic was an amazing addition to pizza sauce, tomato and garlic gnocchi and our favourite, mushroom steaks. The information that came with the products said that you could even use Black Garlic in chocolate muffins - we are definitely excited to try that soon!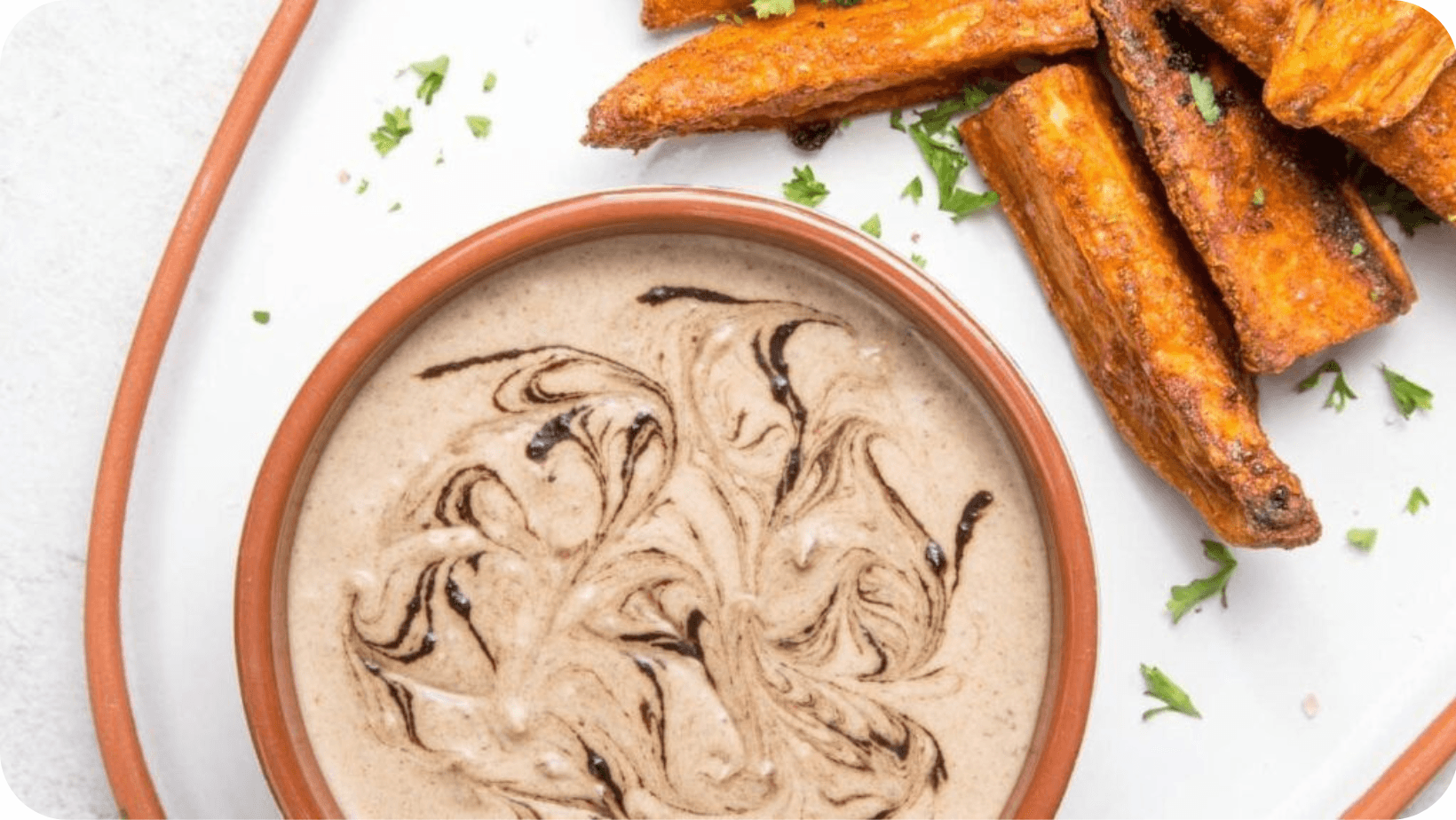 Ingredients:
100g coconut cream
2 tablespoons of water or coconut water
3 teaspoons Black Garlic Paste
1 teaspoon whole grain mustard
1 teaspoon agave 
Pinch of cayenne pepper
Salt to taste
Method:
• In a small bowl, mix all the ingredients with a hand whisk until well combined, and that's it!    
You can purchase Black Garlic in many forms, whether you prefer a paste, peeled cloves or a whole bulb. You can find Black Garlic in Sainsbury's, or check out their website or Instagram, you won't regret it.