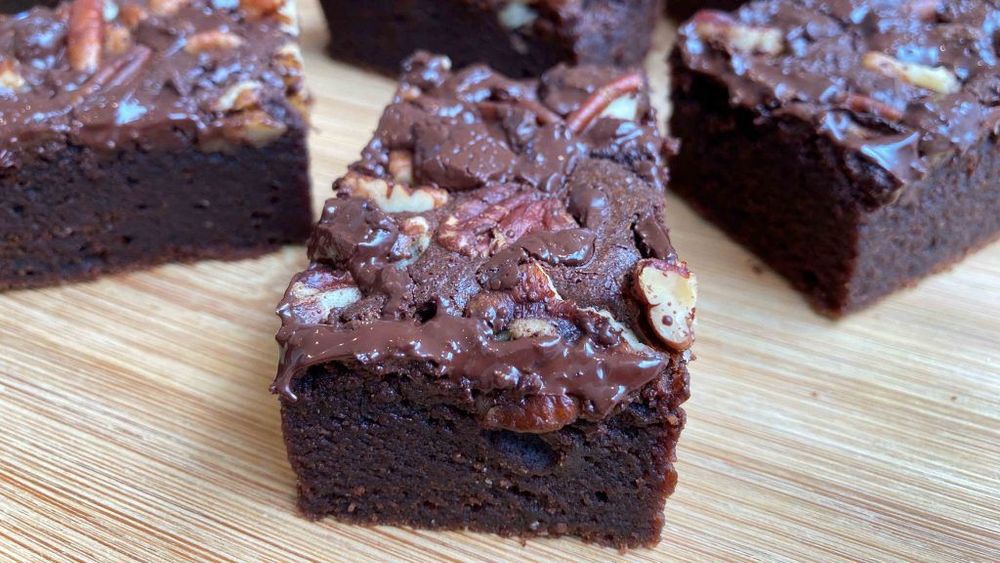 Mark Flood
Brownie recipe you are going to want to try
According to Wikipedia we have a Chicagoan socialite named Bertha Palmer to thank for inspiring the creation of the brownie. The legend dates back to 1893 when she asked the pastry chef of the Palmer House Hotel, owned by her husband, to create a dessert suitable for the ladies attending a local exhibition. She asked for a piece of cake that could be more easily packed for their lunches and the brownie was the result. 
Today, brownies are ubiquitous and have an almost universal appeal. What is thrilling about this sweet treat is its diversity around the possible taste and texture combinations. It can be cakey, chewy or fudgy depending on how you proportion the key ingredients. The topping options are also almost endless. Pecans, jam, peanut butter, chocolate chunks, raspberries, to name but a few.
Here at V-Land we think we have the perfect brownie recipe that flawlessly balances the flour-to-fat ratio with all our chocolatey and sweetness needs. We top with a borderline utopian mix of nuts and even more chocolate. However, if this misses the mark for you, once you have mastered the brownie base you can top with whatever you like. Go solo with a single ingredient or get experimental and mix 'n' match in varying quantities. You are in full control of your topping destiny.
Ingredients:
¾ tbsp ground flaxseed
2 tbsp lukewarm water
260g plain flour
50g cocoa powder
125g caster sugar
100g brown sugar
½ tsp baking powder
¼ tsp salt
¾ tbsp vanilla extract
200ml soya or rice milk
210ml rapeseed oil
80g pecans
80g dark chocolate – chips or chopped
Method:
• Preheat the oven at 180°C.
• Combine the flaxseed and water and set aside.
• Grease and line a 10" by 7" baking tray using oil or vegan margarine.
• Add all dry ingredients to a bowl, mix and hollow out the centre before adding the wet ingredients including the flaxseed/water mixture. Stir to combine before transferring to the baking tray.
• Evenly spread the brownie mix and sprinkle the nuts and chocolate over the top, distributing uniformly including the edges.
• Bake for 25 minutes. Leave in the baking tray for 5 minutes before removing to cool. Once cooled, cut to the desired size and shape and enjoy.