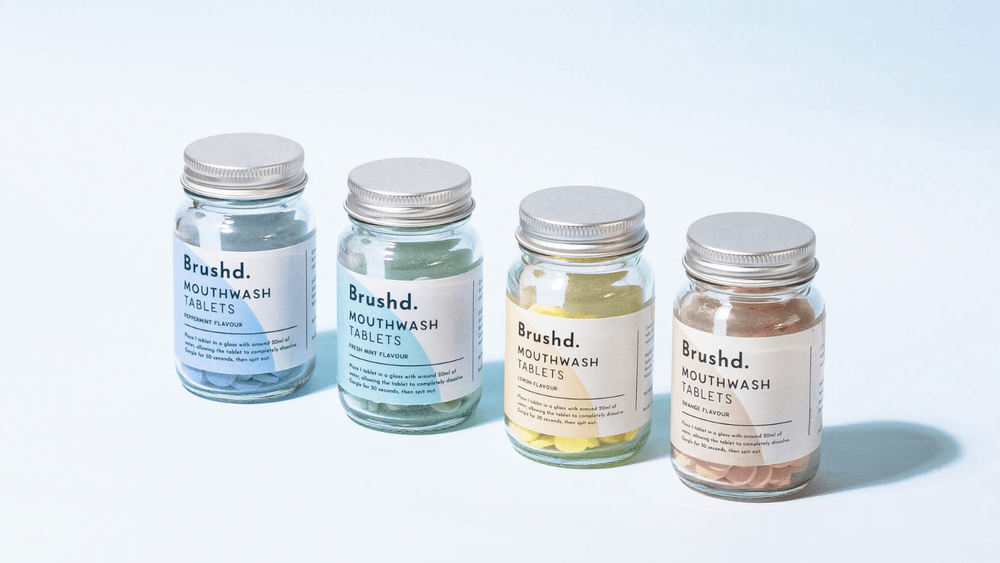 Brushd.
Brushd. oral care and planet care
Keeping our teeth clean is a daily routine that most of us do on autopilot, but, recent studies are showing that oral care, unfortunately, is a major contributor to plastic pollution across the globe. With the majority of toothbrushes being made from plastic, it is estimated that over 260 million toothbrushes are thrown away every year in the UK alone. Whilst almost 90% of people claim to regularly recycle in their kitchens, when it comes to bathroom products, an estimated 50% of people opt to dispose of bathroom waste in the bin instead - even the recyclables. Currently, most common toothbrushes are made from plastic, but thankfully, eco-conscious brands like Brushd. are pioneering to provide the public with eco-friendly oral hygiene solutions to our ever-increasing plastic problems.
According to National Geographic, every toothbrush that has been produced since the 30s still exists on the planet. Oceana highlights that plastic is washing up on beaches at an alarming rate, harming marine life. A haunting story from Wieteke Holthuijzen, a wildlife researcher, recalls "seeing an adult come back to feed its chick, it was having a hard time regurgitating something - then it regurgitated a toothbrush, and the chick ate it". This is one of many reasons that it is more important than ever to consider what we are doing with our plastic waste, especially in the bathroom. 
We all know how crucial it is to reduce plastic waste, and thankfully there are more and more eco-friendly options out there to make it more accessible to cut down our personal plastic usage. Brushd. are an amazing brand that offer a complete range of oral hygiene products, from toothpaste tablets to electric toothbrush heads. The majority of toothbrushes are made from plastic, dental floss is usually coated in plastic and toothpaste is housed in plastic tubes. If each person in the UK replaced their toothbrush every three months as recommended, that is 320 toothbrushes used in one lifetime. 
Brushd. produce bathroom necessities for happy teeth, gums and most importantly, a happy planet. For every member of their subscription service they also plant a tree, as well as offering a recycling service if you return your toothbrush heads. Each pack of electric toothbrush heads comes with a prepaid compostable pouch so that the heads can be returned and properly recycled. Brushd. are all about sustainability and it is woven through their ethos and all of their products.
After trying their products and using them for a couple months, we have realised the amount of plastic waste that can build up in the bathroom. We are definitely more concerned about what kind of products we are buying and how they affect the planet. Along with being sustainable, Brushd's products are a welcome addition to any bathroom, with a clean, sleek and modern design. 
Head on over to the Brushd. website where you can see their full range of products, insightful journal articles from registered dental hygienists, and many articles focused on sustainability. You can also check out their Instagram to take a look at all their amazing products.