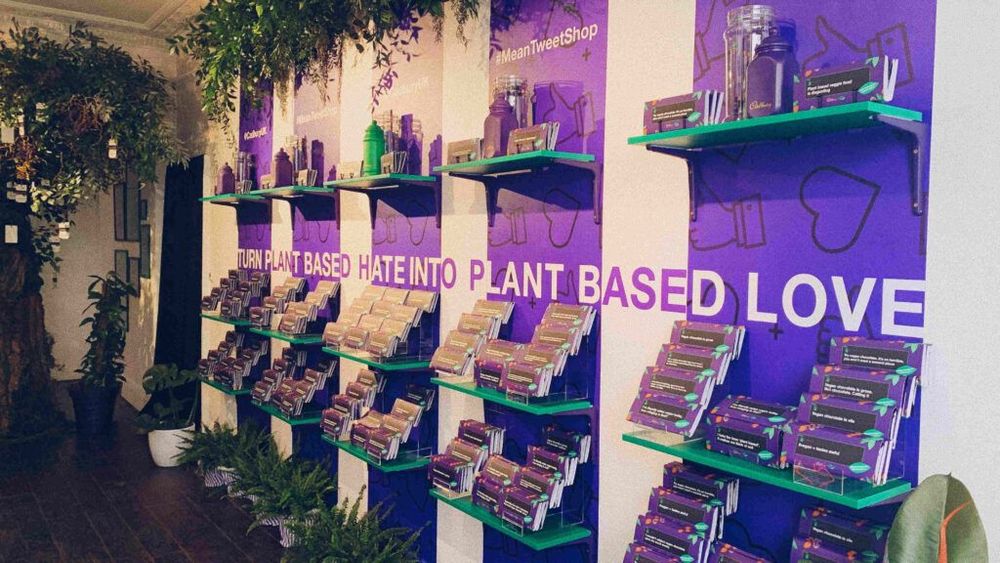 Plant-based chocolate
Cadbury turns plant-based hate into plant-based love
This week, V-Land was exclusively invited to check out Cadbury's new plant-based pop-up shop in Soho, before opening their doors to the local Londoners. Already being huge fans of their Plant Bars, we were excited to see what they had in store!
Cadbury have carefully chosen the wording around their Plant Bars being wary of specifying the word 'vegan', because of the stigma that often comes with it. They want their chocolate to be a more accessible, alternative option for anyone and everyone, including vegans, non-vegans, and those with dairy intolerances. And after the release of their first Plant Bars back in November 2021, a mixed bag of responses gave them the idea of turning plant-based hate into plant-based love.
Cadbury's 'Mean TweetShop' invites the public to witness a hilarious selection of anonymous hate-filled tweets stemming from the launch of their plant bars, such as: "I wouldn't subject vegan chocolate upon my worst enemy!" and 'I've literally eaten vegan today, how minging is that?' hit home just how much of a stigma is still tied to veganism. With limited edition chocolate wrappers emblazoned with tweets, they're encouraging people to 'eat their words'.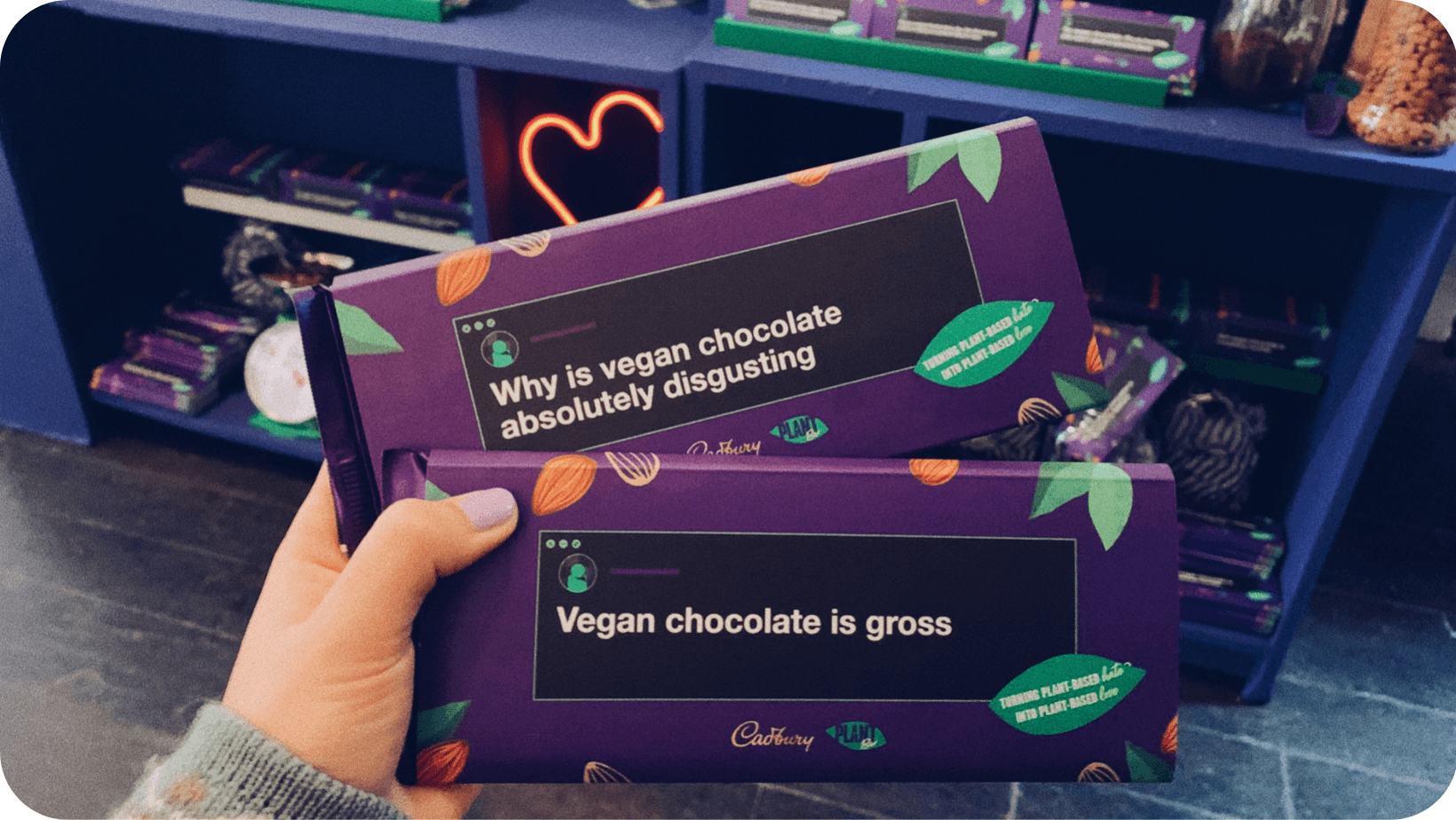 We tried Cadbury's two Plant Bar flavours; Smooth Chocolate and Salted Caramel. Both are made with almond paste to give that smooth and creamy texture, they did not rush the release in order to get it just right. Whilst the Smooth Chocolate offers an amazing creamy alternative to their classic Dairy Milk with a very subtle almond taste, the Salted Caramel is amazing for those who are after a little more crunch with a hint of saltiness. We absolutely love how close these are to the original, offering a much nicer texture in comparison to some of the more waxy or crumbly vegan chocolate bars on the market. What's more, they're also wrapped in 100% plant-based packaging, which we love to see. We would love the Plant Bars to be slightly thicker as you'd find with Dairy Milk, but for a first iteration from Cadbury's, we're blown away.
After you've picked up your free Plant Bar, you're invited to take a seed-paper tag (each highlighting a mean tweet) and plant it at home to grow into wildflowers, once again encouraging us to 'grow love from hate'. You then replace the mean tweet with a positive one, creating a tree full of vegan love. 
As a vegan, it's easy to appreciate a concept store that's waving the flag and standing up for veganism. So it was really interesting to overhear some of the general public who were non-vegan, to understand their thoughts on the concept and more importantly, the chocolate. When picking up your free bar, you're asked "Have you tried this before?" and if the answer is no, "So, what do you think?" - many of the responses we heard were positive, delicious, everything you'd expect. A few also said "I can't really taste the difference" - which is exactly the point. 
So much of this hate is stemmed from the stigma around veganism, whether it be that people are afraid of change, afraid of what others might think, afraid of the stereotypical 'weakness' that is often associated with veganism, when in fact chocolate, by nature, was always vegan. And in reality, it's just an alternative way of living that encourages kindness to ourselves, others and the planet. So if there's an alternative chocolate bar out there that makes this more accessible whilst also tasting delicious, why not open your mind and give it a try?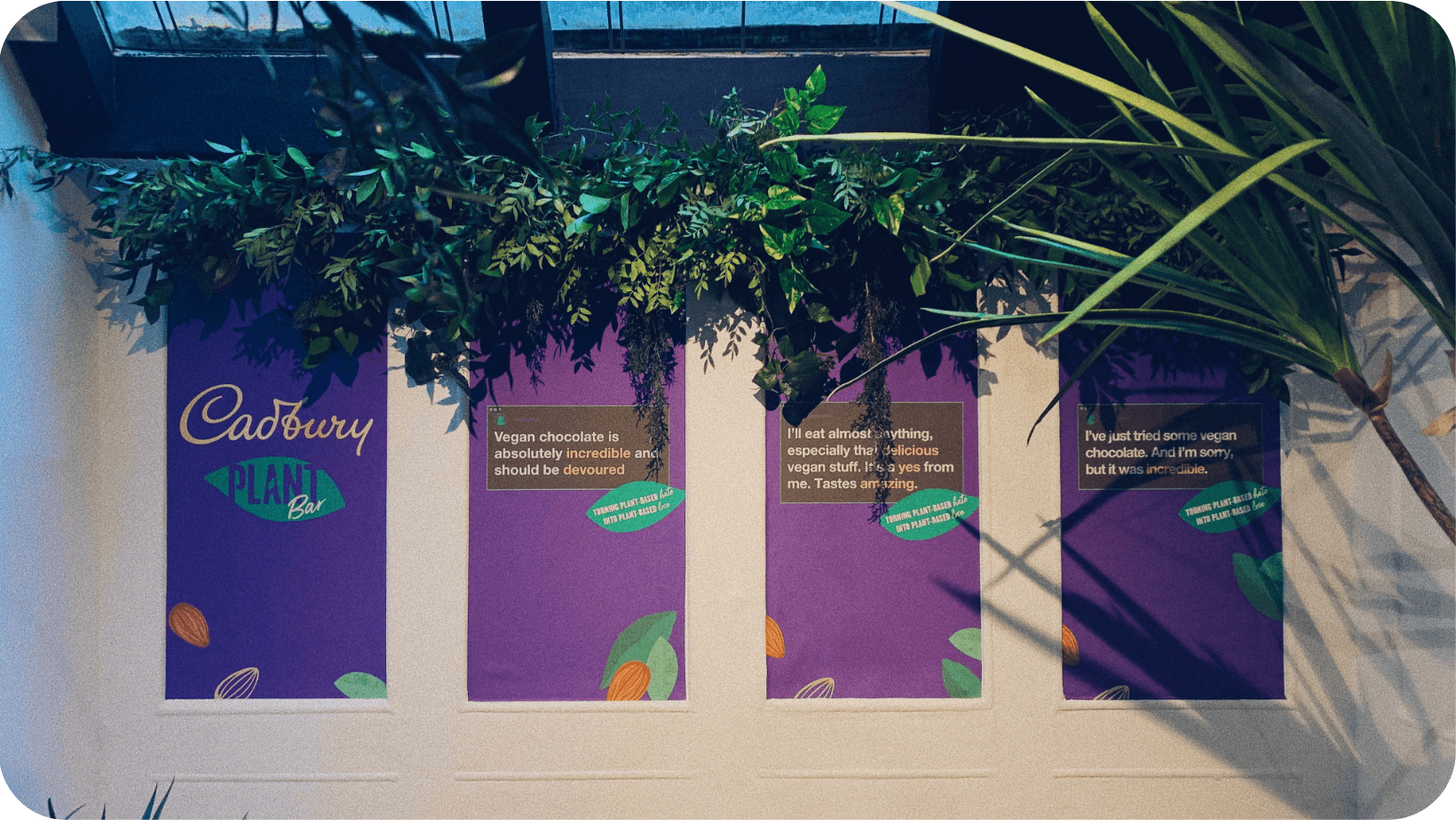 We can't wait to see what's in store for the future of Cadbury's plant-based range and would love to see some of their other iconic chocolates brought to life (vegan creme egg anyone?) as well as some alternatives for nut-allergy sufferers. 
But in the meantime if, like us, you can't get enough of these Plant Bars, head down to the Cadbury pop-up and explore their innovative and empowering concept store and pick up your free Plant Bar. 
Cadbury Mean Tweet Shop is open from 22nd-27th March 2022.
Opening Times: 12pm-6pm. Open 12-4pm Sunday.
Address: 15 Bateman Street, London, W1D 4AQ.