Pexels 2286921/Getty Images via Canva Pro
Can haute couture subvert fast fashion?
Couture is possibly the most sustainable end of the fashion spectrum, says Stewart Parvin, couturier to HRH Queen Elizabeth. It's also the most expensive. But can a "couture mindset" transform the industry into eco-friendly fashion for us peasants? Joanne Yulan Jong, who helps fashion businesses become more ethical and sustainable, believes in the "philosophy of buying less, but better. It's the first thing we can control in terms of sustainability." 
Haute couture refers to luxury fashion brands and designers. Exclusive, trend-setting garments. Meticulously crafted for quality and longevity. A couture mindset equates to slow fashion: bespoke, reusing, borrowing, respectfully looking after, and carefully choosing the perfect garments to love and pass down as treasures. And although our pockets may not be deep enough to buy haute couture, there are plenty of second-hand forums, whether you enjoy hunting through charity shops, either online or in vintage stores. 
Couture is the most photographed and iconised. Carefully cultivated collections utilised to shock, tantalise and capture audiences - catwalks frequented by A-listers like Madonna, Rihanna, and Anna Wintour, and brands styling such celebrities for red carpet events translate into mass-produced copies flung into high-street stores. 


Fashion as activism?
Vegan Fashion Week founder Emmanuelle Rienda declared "Fashion is Activism" in an interview with LiveKindly. "We need all kinds of activism because different groups can touch people in various ways." Rienda's visionary Vegan Fashion Week is an inclusive movement to "welcome each individual regardless of where they are in their sustainable journey." Emphasising the importance of educating and inspiring. "It's my goal to reach mainstream brands — of course, I also include vegan brands, but it's different," Rienda explains. "I don't need to convert them; my goal here is to grow their sustainability."
Clothes are political, often oppressive: from laws in Ancient Greece mandating that women wear veils to women in the 19th century arrested for wearing trousers. Historically, clothes codify status and power: royalty wore expensive purple dyes and endangered furs to exploit the precious. And in response, citizens subvert culture through the symbolism of what they wear: ripped t-shirts and safety pins worn by the anti-capitalist 1970's punk movement provided visual anarchy representing concerns over the normality of war, racism, and the climate of economic crises. 
The late Alexander McQueen was a great example of fashion designers using catwalks to challenge the status quo. In 1999 McQueen's show No. 13 disrupted conventional beauty standards by featuring Paralympian Aimee Mullins wearing prosthetic legs, which was unheard of in fashion at the time. In 1994 he shocked the tabloids by projecting England's violation of Scotland in his show entitled Highland Rape. Perhaps McQueen was championing activism or possibly exploiting and baiting to gain media attention. 
As vacuous as fashion can appear, it exerts influence. When Love Island partnered with fast fashion label I Saw It First, their sales increased by 67%t. Now Love Island is sponsored by eBay, which aligns with their demographic of 18-30 year-olds, who wear more pre-loved items than other age groups. This move recognises that consumers are concerned with sustainability.
To an extent, modern fashion has democratised and provided, for some, increased autonomy over their person. However, that shouldn't be at the expense of worker rights, animal rights, and the planet. Not to mention insidious beauty standards spewed all over us. Fortunately, some brands focus on inclusive clothing, body-positive, vegan and sustainable fashion, which are positive steps toward a more psychologically mature industry.
"If manufacturers don't do something, consumers won't choose them," says Chizuru Muko, Editor-in-Chief of fashion industry trade journal WWD Japan. "Especially Generation Z or the digital generation. They tend to take a hard look at companies to see if they're making products that are environmentally friendly."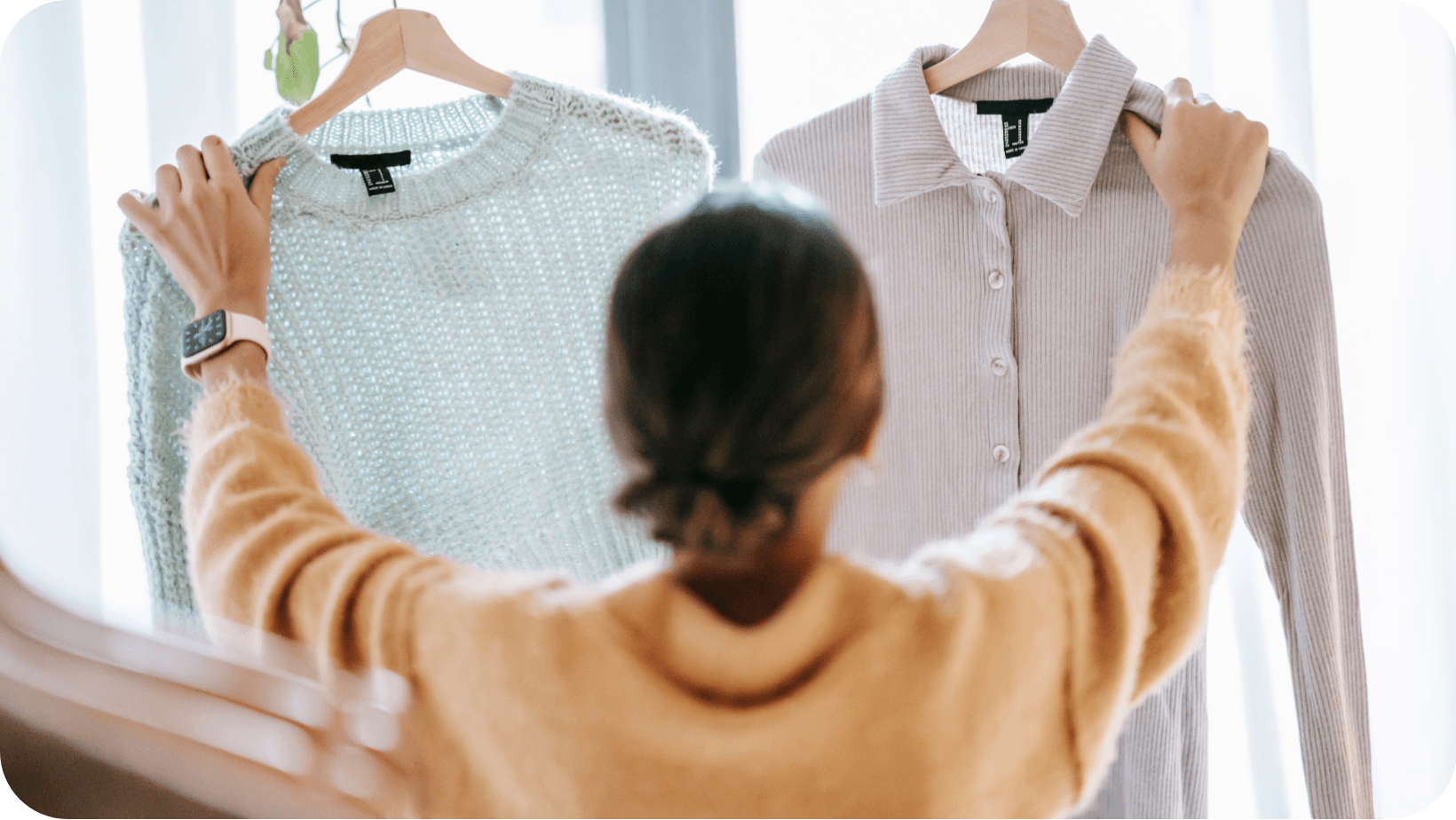 Liza Summers/Pexels via Canva Pro
The paradox of sustainable fashion
Traditional fashion business models rely on continual consumption and globalised production, producing the second most polluting industry next to oil. It's not only fast fashion that has an impact.
In 2018 the luxury brand Burberry burned over 28 million pounds worth of unsold stock, contributing to pollution. This sacrificial burning is common practice to prevent luxury garments from being "sold at knock-down prices which could harm brand value". Today's ethically conscious consumers do not appreciate such waste. Burberry has since declared a focus on corporate responsibility, including animal welfare and sustainable cotton farming, seeking to win over socially conscious consumers and investors.
Buying sustainable products has a positive psychological impact on consumers. Research by Szmigin and Carrigan suggests that sustainable consumption provides a sense of personal growth, well-being and experiential pleasure. Additionally, it's exciting to find a unique garment - one a stranger asks you about in a cafe; you imagine its history. You love the creative stitches applied by the artist upcycling it.
Sustainability means being innovative, which we see with companies that embrace ethical business models. The Renaissance Project, a French non-profit association, campaigns for the reuse of luxury ready-to-wear clothing and trains job seekers through workshops on creating sustainable couture. Their catwalks have inspired Marylin Fitoussi, who designs the costumes for Netflix's Emily in Paris and has used couture from Renaissance Project workshops.
Stella McCartney, who is collaborating with students from Columbia University to innovate new techniques, has always been committed to creating desirable products "with the least impact on our environment". In 2017 Stella McCartney launched the first garment made with Bolt Threads' Microsilk™, cruelty-free and plant-based silk. In 2010 the brand was ahead of the curve and went PVC free. In 2018 they banned the use of mohair, released the first vegan Stan Smith and created the first handbag made by Bold Thread's Mylo™ mushroom leather.
Modern brands are looking at ways to solve collective problems, such as ocean waste. The Spanish brand, Ecoalf, which is gaining traction in the fashion world, hires fishing vessels to dredge trash from the ocean floor and uses whatever plastic it salvages to create yarn. Such collaborative approaches are vital in caring for the planet, the creatures and humanity.  
Vegan fashion
Vegan fashion is both cruelty-free and animal-free, with no fur, leather, feathers, wool, silk, or other animal-based materials. Wool is sometimes labelled as 'welfare-certified', attempting to misguide consumers into thinking of happy sheep, when in reality they are subjected to cruelty. Unfortunately, many luxury brands are still exploiting animals. 
This year, PETA and the public condemned Chanel for opening their runway with a model riding a horse. Not only are animals not our props, but this attention-seeking exploit is unimaginative and out of vogue. Luxury vegan fashion designers embracing veganism include Los Angeles-based line Susi Studio, which has become the vegan choice worn by Miley Cyrus and Emma Watson; New York-based Olsen Haus, a luxury vegan shoe designer worn by Natalie Portman and Cameron Diaz. Founded by former Calvin Klein designer Elizabeth Olsen, born out of her passion and concern for animals; Designer Joshua Katcher launched the first-ever luxury all-vegan menswear brand Brave Gentleman in 2010, and features 'future-leather' and 'future-suede', made from microfibres superior to animal-derived leather that is weather-resistant and biodegradable. 
You, influencer, you! 
It is becoming more apparent with each passing day, that we, the consumer, are changing the industry by demanding transparency. So keep speaking up and challenging harmful practices, praise and share content where brands are disrupting fast and unethical fashion and utilise the collective voice of social media. There is power when we stand together and dress to protest.
For more on vintage clothing, check out fashion doesn't need to cost the Earth, and for the breakdown on vegan leather options, check out 5 plant leather alternatives.