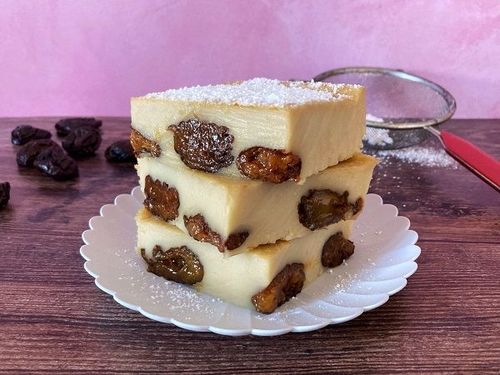 Elisabeth Lyman
Dessert for your valentine
Far Breton is a time-honored dessert from the region of Brittany in northwest France. Far is the word for flan in the local dialect, while Breton refers to the region's French name, Bretagne, so the name means "flan from Brittany." This delectable treat made with liquor-infused prunes is something that would appear on the menu at La Dame Verte, the restaurant Léa runs in The Green and the Red. It could also be a delicious and unique part of your Valentine's dinner this year!
Due to the chilling time required, you may wish to make this flan one day before, or at least a few hours ahead of time.
Far Breton:
(Makes 6 servings)
Ingredients:
200 g plain or cake flour
25 g corn flour/corn starch
⅛ teaspoon salt
770 ml soya milk
2 tablespoons (20 g) melted unsalted margarine/vegan butter
75 g caster/granulated sugar
3 teaspoons vanilla extract
225 g pitted prunes (about 25)
60 ml cognac or rum
Icing/powdered sugar for decoration
Method:
• Preheat your oven to 180°C (350°F). Grease the bottom and sides of your baking dish with margarine and dust with flour, tapping out the excess. I used a 1.1 litre rectangular dish measuring 25 x 15 x 5 cm; a square dish of the same volume would also work.
• In a small saucepan, warm the prunes with the liquor over medium heat, stirring occasionally, until most of the liquid is absorbed. Remove from heat and set aside to cool.
• Sift the plain flour, corn flour, and salt together into a medium-sized mixing bowl. In another bowl, combine the soya milk, melted margarine, sugar and vanilla extract. Slowly incorporate the liquid mixture into the dry ingredients, whisking gently until incorporated and taking care not to overmix.
• Place the prunes evenly in a single layer over the bottom of the baking dish. Carefully pour the batter over the prunes. Bake in the preheated oven for 40 to 45 minutes. Remove from oven, let cool to room temperature, and then chill for at least two hours before serving to allow the flan to set.
• Cut into squares and, immediately before serving, dust with a bit of icing/powdered sugar. Chill remaining flan and eat within two or three days.
Discover 5 reasons for going vegan this Valentine's Day.
Elisabeth Lyman is the English translator of The Green and the Red by Armand Chauvel, a romantic comedy (and comedy of errors) set in a small French town in Brittany in which the lives of Léa, the idealistic owner and chef of the vegetarian restaurant La Dame Verte, and Mathieu, the carnivorous marketing director of the town's biggest pork producer, collide and take them to unexpected places.