DoGood: Dog food, for good
Feeding dogs a vegan diet is a somewhat controversial topic amongst both mainstream consumers and the vegan community. If I'm being completely honest with you, it's something I've struggled with myself in the past, and whilst I wanted to delve straight into how amazing DoGood dog food is (which it is – I'll be getting to the product review shortly) I wanted to share my experience with vegan dog food in general, as others may relate to my experience too. 
I have two animal companions who are my world, Phoenix and Freyja, both are mix-breed rescues and I try to ensure I do what is best for them at all times, just as I would any other family member, from giving lots of love and affection, ensuring they get plenty of exercise, to maintaining a healthy diet. The moral issue I faced is that whilst I thrived on a plant-powered diet, Phoenix and Freyja are omnivores and might not. This was a huge issue for me as whilst I am fully vegan in every aspect of my life, I was catering to two canines that weren't. 
Vegan dog food is widely available online (not so much in stores) and advertises that a plant-based diet can have huge health benefits (if done correctly) for dogs, but is this true? Dogs have a different anatomy to humans and whilst it's clear to see that our own bodies were designed to consume plant-based foods, a dog's intestinal system is very different to our own which gave me pause to think; can dogs be vegan? 
A recent study published in The Guardian found that the answer to this question, surprisingly, is that; yes, they can. Out of a study of 2,596 dogs, the study concluded that 'the pooled evidence to date indicates that the healthiest and least hazardous dietary choices for dogs are nutritionally sound vegan diets.' Dogs fed a vegan diet had fewer trips to the vet, fewer dietary-based and general illnesses and appeared to be thriving. Further research showed that one of the oldest living dogs in history, Bramble, a border collie, lived to be 25 years old in human years, which is a staggering one hundred and 75 years in dog years - she was a fellow vegan!
But do dogs want to be vegan? We might love a chickpea curry, three bean burrito or beetroot burger, but how do we feed our dogs a plant-based diet that meets a canine's nutritional needs, and tastes good enough that they actually want to eat it? In previous years, I had tried to feed Phoenix and Freyja with a vegan dog food brand and they point-blank refused to eat it. I was left feeling deflated, wanting to feed my waggy-tailed family members plant-based and being unable to do so. They love a vegan sausage as a treat but the healthier options they won't eat unless mixed with a plant-based meat alternative - I eat these as a treat myself, I can't feed them this on a daily basis without neglecting their health.
When the opportunity to trial a new vegan dog food brand came up, I was excited and nervous to try it, not wanting to get my hopes up in case the same thing happened again. The brand I tried this time round was DoGood dog food, founded by Steve and Christina, and their two rescue beagles, Bella & Watson. Their story began while living in Cambodia, where dogs are considered food as opposed to friends. Walking past the dogs in cages soon to be sold as ingredients made the couple question; if eating dog meat is so unthinkable to us, why do we eat other animals? And why do we feed our dogs the meat of other animals too? 
On returning to the UK Steve and Christina were horrified to learn what went into commercial dog food, whilst we are aware of how our own food choices affect our health, the environment, and the lives of other animals - this is often overlooked when it comes to feeding our companion animals, and this is where DoGood dog food was born. Working with top canine nutritionists (and a Michelin star chef!) the couple developed recipes that combine locally sourced, organic plant-based ingredients to provide nutritionally complete meals and eco-friendly packaging, on a mission to disrupt the ethically questionable and increasingly unsustainable meat-based dog food industry. 
Phoenix and Freyja were lucky enough to try the complete range of products from the DoGood mixed box including chickpea and pumpkin, buckwheat and squash and quinoa and sweet potato. It was apparent from opening the neatly packaged box that DoGood care about using ethically sourced sustainable packaging, everything in the parcel is either made from recycled materials, recyclable or biodegradable, not a piece of plastic in sight which is a rarity amongst human food, let alone dog food. This was one of many reasons they received a five star rating on trustpilot from us.
When it came to the food itself, it genuinely smelt good enough to eat and Phoenix and Freyja were instantly drawn to the strong aroma, tails wagging and eager to gobble down their meal. From the moment the food was filled high in their bowls, they could not wait to eat and their bowls were thoroughly licked clean in less than five minutes. I was so relieved having had the complete opposite experience with other vegan dog food, DoGood not only met their nutritional needs but Phoenix and Freyja genuinely enjoyed eating it too. A recent study also found that vegan pet food does not have reduced palatability so they can enjoy a plant-based diet as much as we do.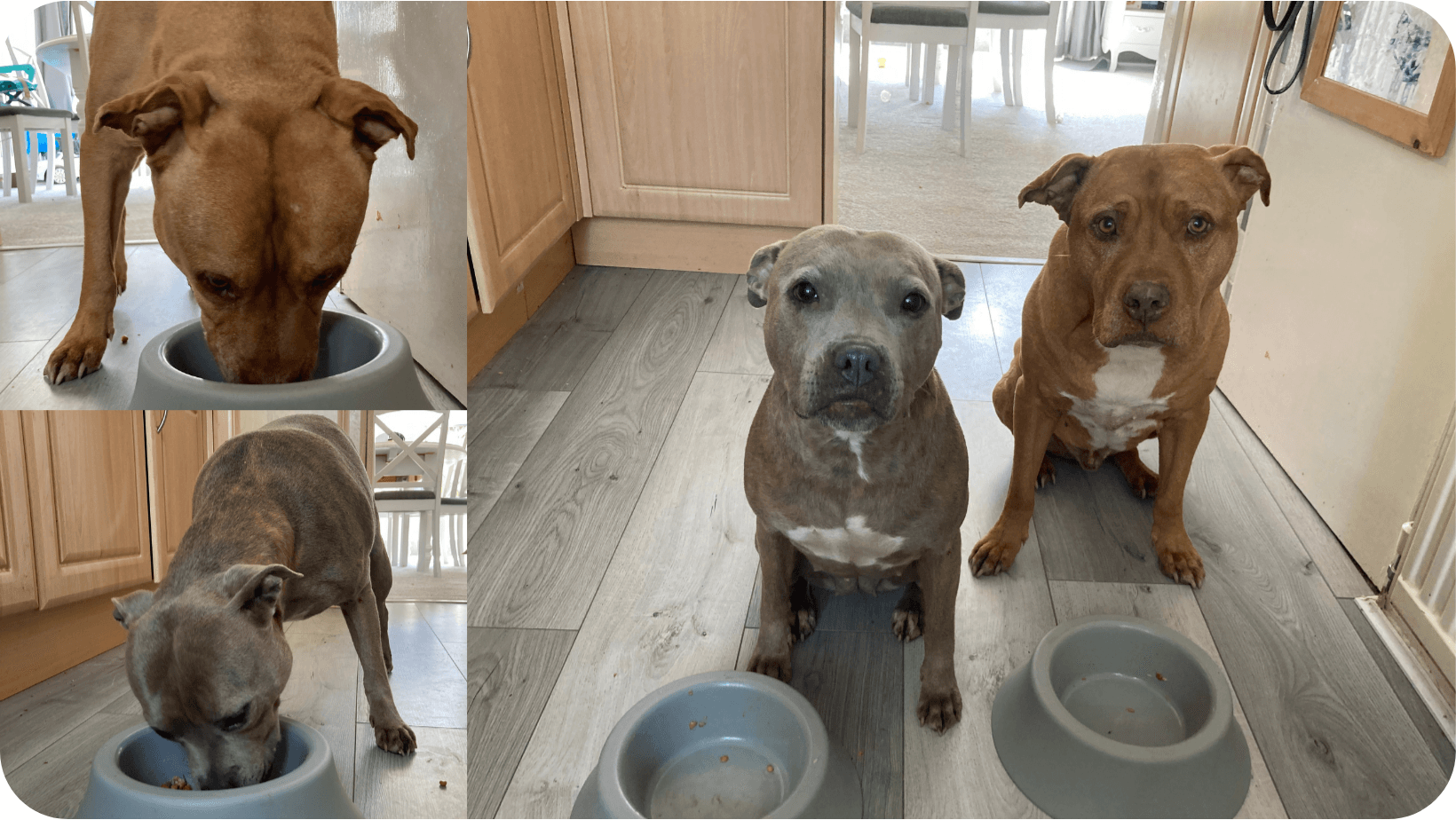 Ray Star
DoGood get a tail-wagging, lip-smacking five out of five from Phoenix and Freyja and we'll most definitely be ordering from them again. We caught up with the team behind DoGood to find out more about this amazing product and their journey to becoming pioneers of vegan dog food.
V-Land UK (V-L): The story behind DoGood really resonated with the V-Land team, can you tell our readers what inspired you to launch DoGood?
DoGood (DG): Living in Cambodia for a few years really opened our eyes to what we were consuming, and how that varies in different cultures. In Cambodia, the locals eat dog meat and this started us questioning if eating dog meat is so unthinkable to us, why do we eat other animals? And why do we feed our dogs the meat of other animals too? We rescued Bella and Watson from a cage at the side of the road being sold for meat, and it was heart-breaking for us to have to walk them past the spit-roasted dog meat stall at the end of our road every day. This was the start of our personal plant-based journey, and because there was no such thing as commercial dog food in Cambodia, we did a lot of research and learned that dogs were able to thrive on a vegan diet – so we started cooking up plant-based meals for them too! 
When we got back to the UK, we explored the options available to feed our dogs – and we were horrified to learn what went into commercial dog food. We found out the ingredients lists mention unknowns such as "meat and animal derivatives" code for slaughter-house left-overs which include ground down skins, horns, feet, pig bristle, heads of poultry, hatchery waste, day-old chicks and blood, placenta, wool, feathers, hair and hooves! We discovered that ingredients are processed mechanically at high temperatures meaning many nutrients are destroyed in the process, and artificial preservatives are added to provide a long shelf life. We were not convinced this would allow Bella and Watson to remain healthy and thrive. So we continued to cook plant-based meals for them and worked with a canine nutrition consultant to ensure these were nutritionally complete and balanced. 
Bella & Watson were clearly thriving when we compared them to other dogs eating supermarket-shelf kibble - they always have SO MUCH ENERGY, lovely soft coats, firm stools which didn't smell too bad (sorry), and a lovely temperament. Not only was it good for their health, but also the environment and the lives of other animals - something we felt was overlooked by people when it came to feeding their companion animals. And so began our mission to bring our dog food to market and disrupt the meat-based dog food industry, with our aim being to sustainably nourish all of the dogs in the UK - one plant-based bowl at a time! 
V-L: Along with being vegan-friendly and cruelty-free, the effort that's gone into sustainable packaging was a huge thumbs up from us - how did you decide which packaging methods to use?
DG: We put sustainability at the heart of our business - so every decision we make stems from asking ourselves if what we are doing will help contribute towards a sustainable future for our pets and planet: this was really tough when it came to packaging, as the whole industry is set up for using cheap single-use plastic. After much searching and testing, we chose food containers made from sugarcane pulp - the stalk residue remaining after the sugar has been extracted from the cane which would otherwise be burnt, thereby saving CO2 emissions. They're fully recyclable and compostable, also they are suitable for freezer and microwave use, so we're really happy with our choice.  
Our container sleeves and cardboard boxes are made from certified FSC cardboard, which ensure and promote the endorsement of sustainable forestry practices, and are fully recyclable. We seal our boxes with DoGood paper tape, which is fully curbside recyclable as well (not many people know that a cardboard box covered in plastic tape is not easily recycled and often won't be!).  
To keep the food freshly frozen for delivery, we use insulation in the boxes upcycled from the fashion industry - predominantly made from the off-cuts and waste produced during denim manufacturing. Produced within a circular supply chain, we have diverted this material from landfill and given it a new life as insulation. The additional advantage of this is that the amount of energy, water, and dye use is reduced from using a product that has already been processed.   
The only plastic we had to use was for the ice packs - so we used ones that are made with plastic recovered from the ocean! This not only helps preserve the natural habitats of our aquatic friends, but also produces a 5x lower carbon footprint. So as you can probably gather, we obsessed about every little detail of the packaging!
V-L: Any advice for other businesses that wish to be more eco-friendly?
DG: It is often the easier and cheaper option to go with single use plastic, however it's totally worth the effort to search for sustainable alternatives. Just think of that amazing feeling you'll have knowing you're leaving the smallest possible carbon footprint as your business grows. And also bear in mind that your customers are looking into all of these details as they become more climate change aware.
V-L: What are your goals for the future?
DG: Our ultimate goal is to disrupt the meat-based pet food industry and build a sustainable future for our pets and planet. Through education and empowerment, we aim to sustainably nourish all of the dogs in the UK - one plant-based bowl at a time!
In working towards that, we've got some innovative additions to our product line coming out in the next year, including a new type of food for your dogs that has never been seen before but we believe is totally going to transform the health and lives of people's dogs. We'll also be doing some exciting collaborations with other sustainable brands to provide a whole-health solution for your furry bestie!
V-L: How are Bella and Watson adjusting to life in the UK?
DG: When they first touched UK soil on a cold winter's morning, they almost froze stiff as they couldn't understand the temperature! But they've adapted well and it's been lovely bringing them back to the UK - there is so much amazing countryside to explore. In Cambodia, it was too hot to take them out in the middle of the day so we were quite restricted - and because of the stray dogs and crazy traffic, we could never let them off-lead. Now, they run free and have amazing amounts of energy considering they are seven years old! This is because they are thriving on their DoGood diets, of course!   
V-L: Anything else you'd like to share with V-Land readers?
DG: DoGood is the only freshly cooked, nutritionally complete and balanced dog food in the UK, and we passionately believe this is the most optimum way to feed your dog to safeguard not only their health, but also the health of the planet and of other animals.
Thanks for chatting with us Steve, we love DoGood dog food and I'm sure our readers will too. To grab a 20% discount on your first order click here and scroll down, and to keep up to date with all things DoGood, follow the team on Instagram or Facebook.