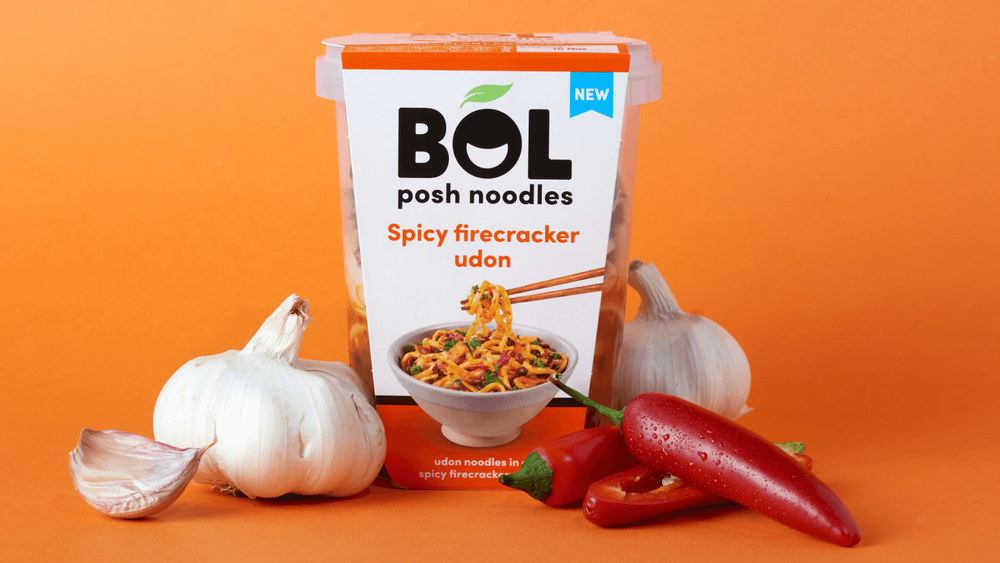 Bol Foods
Enjoy eating more plants with BOL Foods
With its simple mission of making it easier for everyone to enjoy eating more plants, BOL Foods have created a range of plant powered meals that deliver on awesome taste whilst taking care of the planet.
Their current range boasts a tasty selection of meal pots and shakes that are perfect for on the go, including their Posh Noodles, Fresh Veg Pots, One Pot Meals, Power Soups and Power Shakes, all of which you may have spotted in your local supermarket. Since starting in 2015, BOL have continued to innovate and improve their products in order to make plant-based eating more accessible through providing healthy and ready-to-go options on our local supermarket shelves. 
We were excited to give their products a try, opting for the Spicy Firecracker Udon Posh Noodles, Creamy Coconut Turmeric Daal One Pot Meal and their Creamy Chick'n Power Soup. These are such great options particularly for taking to work or for a super easy dinner option that you don't have to think about - simply pop them in the microwave for under five minutes and you have a deliciously nutritious vegan ready meal to tuck into. We love that BOL offers such a diverse range of cuisines that are packed with fresh vegetables and flavours, to show just how tasty a plant-based diet can be. We also can't wait to give their Power Shakes a try, perfect for breakfast as you're rushing out the door. 
Not only does BOL promise to be 100% plant powered and deliver on awesome taste, they also promise to care about people and the planet in everything they do - from using the latest plastic-free packaging to reducing their carbon footprint. As well as supporting those less fortunate, having donated every penny of their first year profits to Action Against Hunger. They are also proud to be one of the sixty certified B-Corp food and drinks companies in the UK, meaning they are harnessing the power of business as a force for good for their employees, communities and the environment. If you can't wait to get your hands on BOL Foods, check out their store locator to find your local stockist. 
Looking for even more on-the-go meal options? Check out our review of Re:Nourish soups and our guide to vegan meal deals.