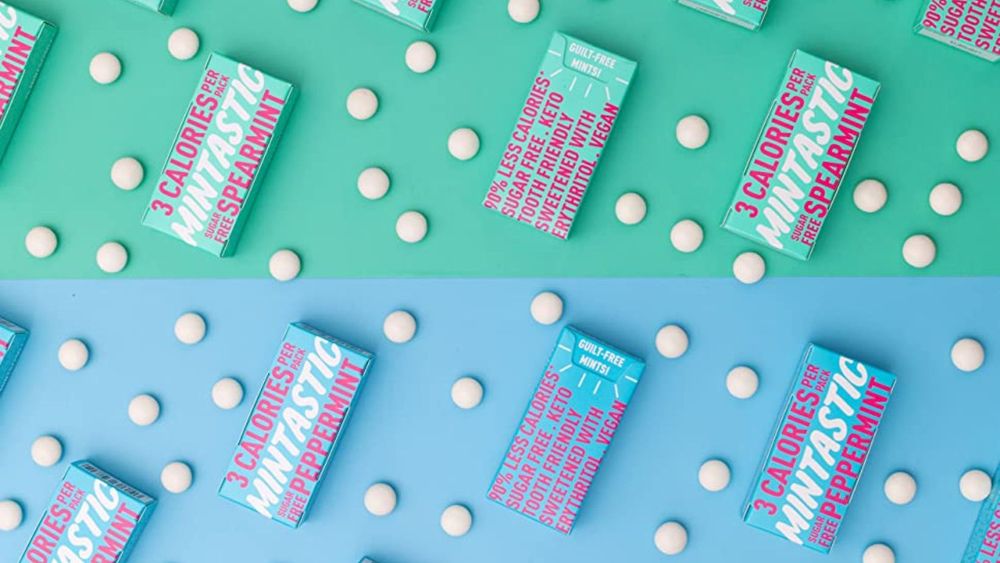 Mintastic
Enjoy the sweet life with Mintastic: Vegan fresh breath sweets
Even if you're keeping on top of your brushing and flossing, bad breath can strike at any time. Chewing gum can help us maintain fresh breath, and even prevent tooth decay, though they can often be packed full of sugar, or even made from single use plastics. In fact, one hundred thousand tons of gum is chewed every year! Mints are a great solution to combating coffee breath in the mornings, and better yet, much less damaging to the environment. Mintastic provides great vegan friendly sweets and mints without any of the sugar and calories and better yet - they're vegan! Mintastic products are naturally sweetened with plant based erythritol, which is zero calories and zero carbs, making them 90% lower in calories than other mint brands. They are also aspartame, gluten and soy free with no nasties, no nonsense, and no artificial ingredients.
Although erythritol may seem like an intimidating ingredient from the name, it is actually found in sweet fruits like pears and grapes. It is a natural sweetener that tastes just like 'regular' sugar, but calorie free. Mintastic is the only company to produce mints with this plant-based sweetener. Unlike some other sweeteners, erythritol doesn't affect blood sugar levels, or cause bloating. They are also tooth-friendly, using Mintastic Mints can help reduce tooth decay and plaque build-up.
We tried Mintastic mints for ourselves and we're big fans of the low calorie, zero sugar sweets. These pocket sized boxes of goodness definitely curbed the urge to have chewing gum, and helped to keep up fresh breath. Mintastic comes in four delicious flavours including spearmint, peppermint, cinnamon and strawberry, so even if you don't love strong minty sweets like we do, there is something for everyone.
Mintastic is a small, British brand that likes to do things differently. Their love for mints runs deep, and they've successfully made it possible to enjoy sweets without worrying about the calories or sugar. So whether you're looking for a post-workout treat, watching your weight or following a special diet, Mintastic mints are the perfect way to maintain fresh breath and enjoy the taste of the sweet life. For optimal oral hygiene check out Brushd. oral care too, a fantastic vegan brand helping keep our teeth healthy - and the planet too!