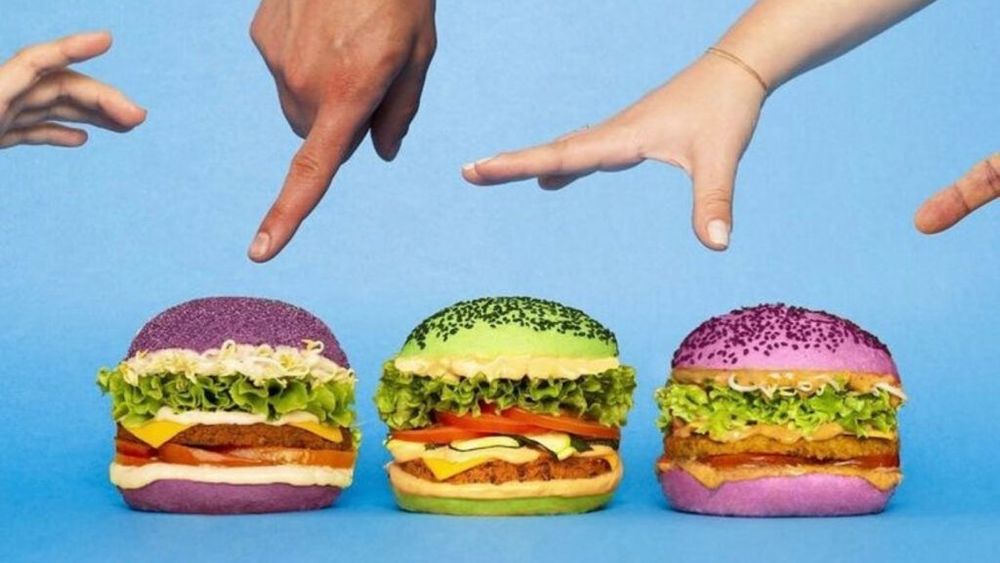 Flower Burger
Flower Burger: Beautiful burgers full of goodness
Within the rapid evolution of modern-day vegan culture, a good vegan burger is easy to find. Whether you fancy a healthy vegan burger option made from beets and pulses, or an indulgent fast food craving from your favourite takeaway, there is a vegan burger for everyone. But, more often than not, we have to choose between the two; the healthy option, or the not-so-healthy option.
Many vegans, ourselves included, in an ideal world would like a burger that ticks both boxes; healthy, and downright, indulgently, delicious. Luckily, Flower Burger ticks them all.
Flower Burger launched in 2015 in the heart of Milan and was the first fully vegan Italian burger fast food restaurant. Since then, their stunning culinary creations have taken Italy by storm, with restaurants opening throughout the country. In spring 2021 we welcomed Flower Burger to the UK, nestled in the heart of London at 43 Charlotte Street in Fitzrovia, the friendly atmospheric hippie burger joint has found a perfect home, with newly opened branches now in Brighton and Amsterdam too.
We were thrilled to be invited to the Fitzrovia location to have a taste of their amazing burger creations, with slider samples from each burger available in store, a tasty selection of sides, and an introduction to their equally moreish dessert options. How could we say no?
Upon arrival we were welcomed by a friendly staff team, eager to seat us and share their scrumptious food with customers. A selection of chilled drinks were located by the kiosk, ranging from prosecco, to beer, and a selection of soft drinks available to choose from. Once seated, we couldn't wait to have a tour of the 70s inspired decor with psychedelic graphics dominating the walls, funky seating, and meaningful messages displayed throughout. Our personal favourite was located downstairs:
I love colourful food
Deep flavour
And amazing fragrances
I pursue the healthy happiness
I connect people to the earth
I am a modern hippie
I am a flower burger
Next, came the fun part. The food.
There are six resident colourful burgers on the Flower Burger menu with a special edition Ocean Burger recently added, which we were excited to be one of the first to try! First, came the sides. A generous serving of lightly salted savoury potatoes (wedges) and crunchy edamame beans, with a duo of dips (tomato ketchup and vegan mayo) to dunk and enjoy. 
The first burger slider was the Classic Chickpea; a chickpea patty with gentilina lettuce, tomato, ketchup and vegan mayo, in a brilliant bright-yellow seeded bun. The moment our table took their first bites, we collectively began nodding with enthusiasm, the classic burger was an instant hit. Wholesome and hearty in flavour, not so much as a drop of oil present, and oozing with complementary flavours. It set the bar high for the remaining sliders, each of which were equally as tasty, in distinctly different ways.
The Flower Burger, our Editorial Assistant's personal favourite, was a magik-filled delight. A seitan and red kidney bean patty, with gentilina lettuce, tomato confit, soybean sprouts, flower cheddar and critically acclaimed 'magik' sauce, housed in a violet whole flour bun. This was the most 'meaty' (but 100% meat-free!) burger. 
The Cherry Bomb, the restaurant's most Instagrammed burger from the menu, consisted of a lentil and basmati rice patty, gentilina lettuce, tomato confit, soybean sprouts, flower cheddar, 'rocktail sauce', and a pretty pink bun - a truly unique flavour, we completely understand why this is Flower Burger's most craved burger!
The Spicy Chickpea, a mouth warming twist on the classic burger, had a chickpea patty, gentilina lettuce, tomatoes, jalapenos, onion tartar, and a spicy tomato sauce, nestled in a classic bright-yellow bun. One of us (no names mentioned!) had to remove a jalapeno or two, but the rest of our table gobbled the lot, spicy peppers and sauce included!
The Tangy Chickpea, equally tasty and as per the name, tangy in taste, was a chickpea patty with gentilina lettuce, tomatoes, flower cheddar and caper inspired tartarella sauce, housed in a purple seeded bun which left our mouths watering for more - even though our bellies were starting to feel full!
The Jungle Burger, both our Founder and Staff Writer's firm favourite, was an oat and red bean patty with oven-baked courgettes, gentilina lettuce, tomatoes, flower cheddar, crunchy onion and 'wild' sauce, in an animal-friendly jungle green bun which was complemented with smokey barbeque flavours.
Then last but certainly not least, came the new special edition Ocean Burger, not all of our table managed to indulge due to thoroughly full tummies, but those that did, got to enjoy a mushroom patty, marinated red cabbage, spiral carrots, guacamole, and ethically sourced truffle mayo, housed in a sea-blue bun. This went down as one of our all-time favourite 'fish-free' fixes. Delish.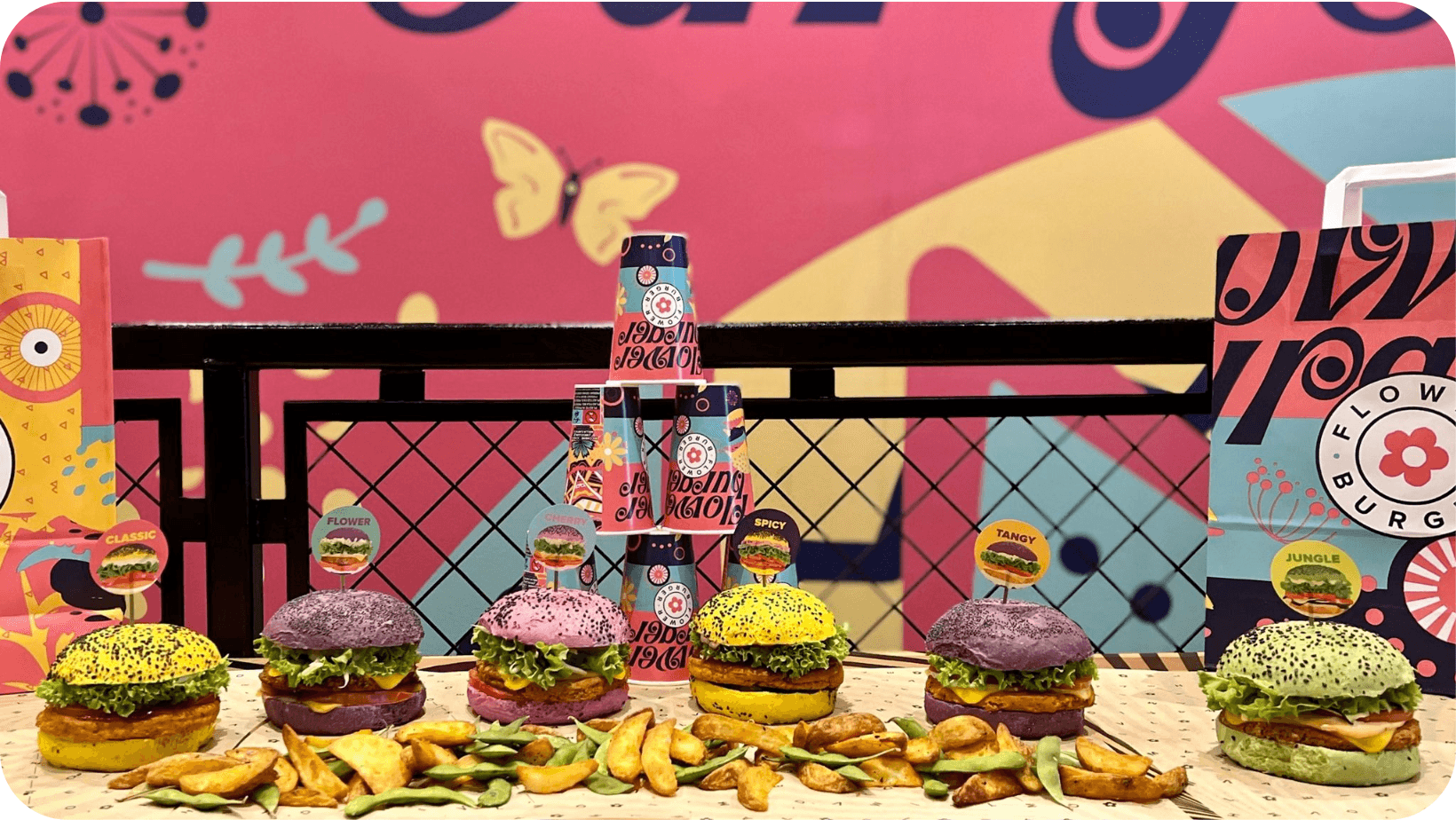 To finish off a truly enjoyable evening we were happy to indulge in a selection of home-made desserts, sampling Tiramisun, Coco-nuts, Crunchy Raspby and Chocolate salami. Even those of us with previously full stomachs helped finish these off, not a crumb was left in sight.
Flower Burger has something for everyone and whether customers are craving fast food or healthy food choices, their menu incorporates both aspects into every dish, making their burgers a guilt-free treat to eat - and beautiful to look at too.
The instantly Instagrammable burgers won't need any filters added with their eye-catching colours which we can confirm are created using plant-based colourings, from beetroots, carrots, spirulina and turmeric - not a nasty in sight.
If you're looking for a satisfying tasty burger that is junk food free, Flower Burger is the place to be. With both eat-in, takeaway, and delivery options available via Uber Eats and Deliveroo you'll be able to tuck into one of their pretty burgers in no time. Enjoy!