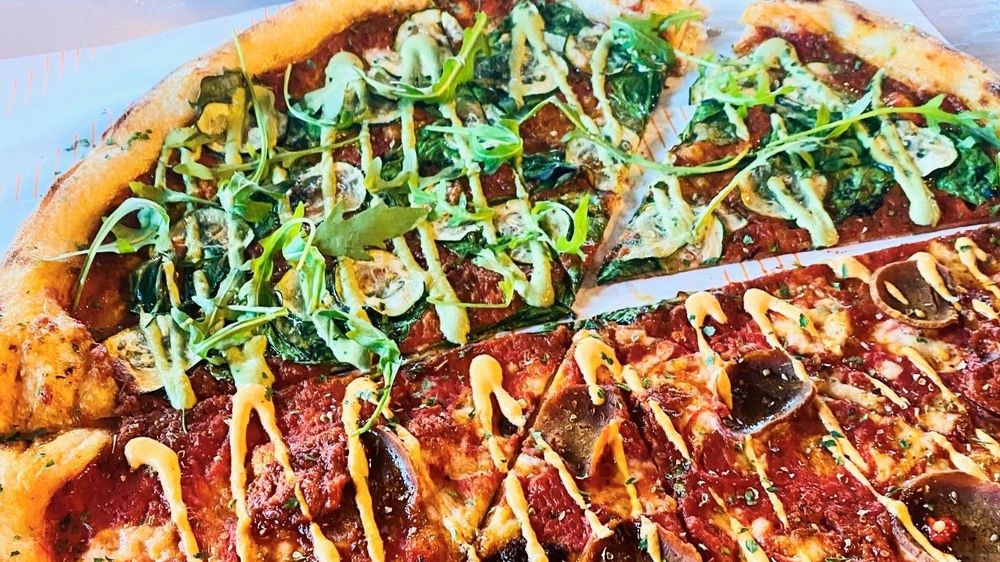 Alia Halstead
Flower Power Pizza: Brighton's groovy vegan pizza
Founders Oli Hill and Harriette Walker left full-time jobs in 2022 to give Flower Power Pizza 'the best shot we could, and we wouldn't change a thing'. And V-Land is pleased they did, as we had the pleasure of trying their already iconic vegan pizza.
Flower Power Pizza has been busy hosting their pop-up kitchen at various sites, including Coast Cafe Worthing, multi-award winning Ethical Vegan Events, and The Geese Brighton. Being in demand, you can catch their artisan pizzas at Reading Festival this year, as well as at their permanent Brighton residence at Fountain Head. 
The menu
Flower Power Pizza offers traditional toppings as well as some delightfully unique ones. Choose a 12" Neapolitan style or an 18" sharer option. The 'Sharer' also allows you to choose half & half toppings and comes on a New York-style base, which can be hard to find as a vegan. 100% plant-based, with the option of gluten-free, available for the 12" pizzas. 
With a nod to psychedelia, the menu includes aptly named 'Shroomin', consisting of a trufftomato base, plant-based mozzarella, mixed 'shrooms', candied red onions, and freshly picked parsley; 'Flower Power' uses plant-based mozzarella, basil oil and edible flowers; 'The Godfather' has a tomato base, vegan mozzarella, pepperoni and basil oil; 'The Italian Job' is on a pestomato base, and features plant-based mozzarella, olives, capers and sundried tomatos. 
Flower Power Pizza also offers sides and puds. We tried the Pesto, 'Nduja, and Classic Mac 'n' Cheese Bites with a roasted tomato and chilli mayo. These three balls of macaroni goodness are deep-fried, perfectly crisp on the outside and provide three unique flavours, which are well thought out. These are also great for sharing.
Sharing pizza
V-Land tried a half & half Sharer with two toppings: 'Green Peace' and 'SGT Pepper'. Sharing a pizza is an opportunity to connect and catch up with friends and loved ones over a meal. We enjoyed the wholesome experience as the rain poured down outside.
New York-style pizza is characterised by its large, thin, foldable slices and crispy, chewy crust. The Sharer remained true to these origins. We loved the 'leopard spotting' crust, which is the result of cooking at high temperatures, causing the sugars in the dough to caramelise. Yum. 
The base has been stretched to perfection, allowing for the optimal chew-to-crunch ratio - lovely fluffy clouds of bubbled crust. The dough absorbed the flavours from the sauces without being soggy, which is hard to achieve. 
The Green Peace features a pestomato base, thinly sliced courgette, and spinach, topped with rocket and a flavoursome basil cashew cream. This topping is well-distributed and oh-so-satisfying, as the vegetables' cleanness and brightness complement the cashew cream's buttery smoothness. 
For the other half of the Sharer, we tried the 'meaty' SGT Pepper, not only created so that non-vegans don't feel left out, which is an excellent way of showing that you don't need animal products to enjoy pizza but because vegan food is diverse.
We relished this all-out show-stopper with a tomato base, vegan mozzarella, vegan 'nduja , vegan pepperoni, and chillies, topped with spicy cashew cream and hot maple drizzle. Being on a New York-style base meant we could fold a slice and get a good mouthful of all the hearty flavours. The fresh chillies gave a nice kick and were not overwhelming, and the maple drizzle was a lovely touch of sweetness, accompanying the creamy cashew. 
The half & half combination of two bold toppings created a sophisticated and balanced vegan pizza - the bursting freshness of the green pesto complemented the spicy grounding meatiness - one to order again! 
The sharing pizza is an ample meal for two. We even took a couple of slices home and can confirm it's also delicious cold, and let's face it, a cold slice is nostalgically comforting with a cuppa.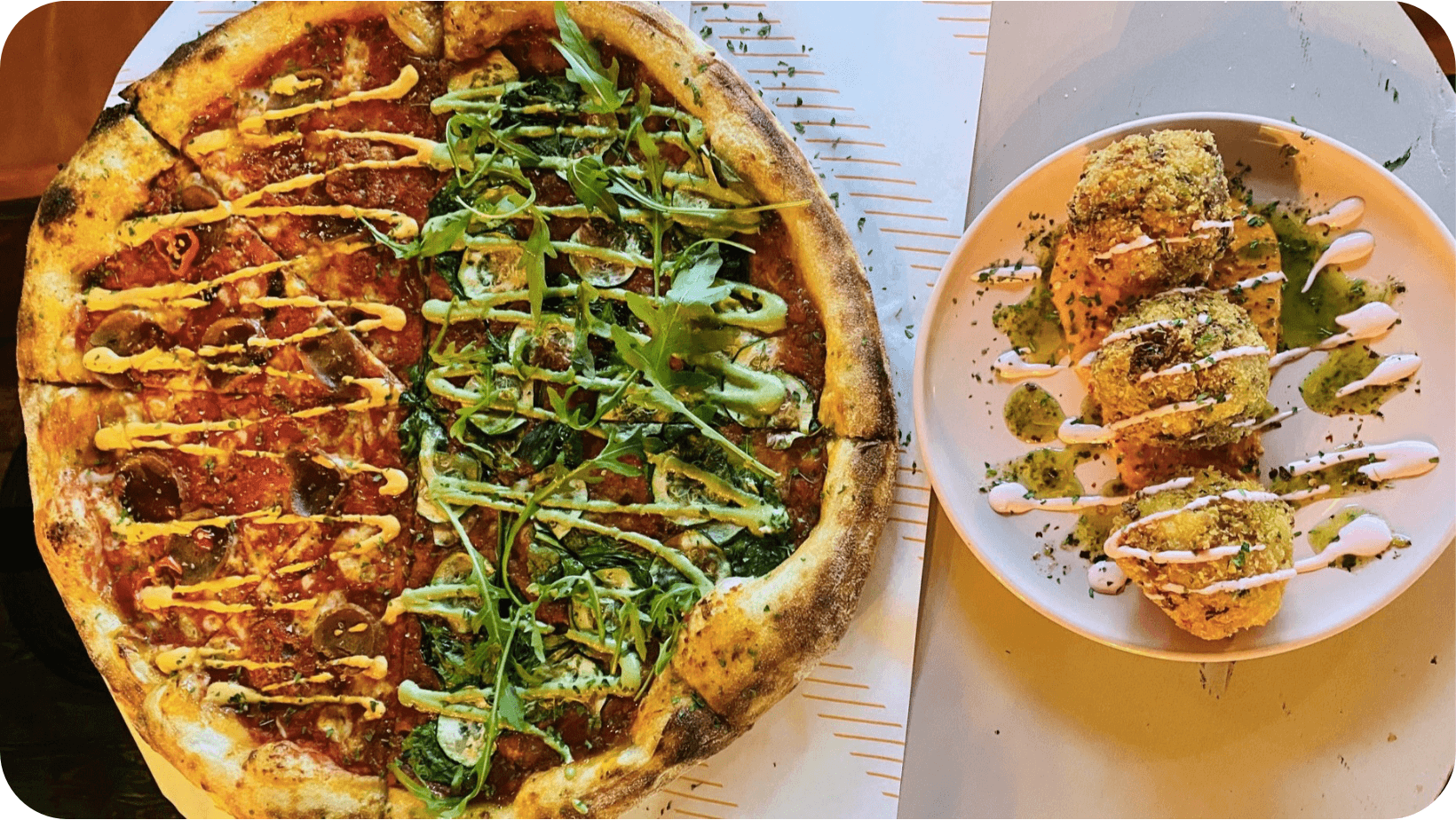 Alia Halstead
Ingredients
One of the striking elements of Flower Power Pizza is that it has its own veg patch, which is the provenance of many of its ingredients, including courgettes, spring onions, chillies and many more organic offerings. As conscious consumers, this is exciting, as we not only expect delicious food but also want to know that the product comes from sustainable sources. This also reinforces Flower Power Pizza's values of composing dishes with compassion. 
Flower Power Pizza features Young Vegans cheese and vegan pepperoni. Young Vegans' ingredients are made from scratch at the Young Vegans' kitchen in Camden Town, London, with a commitment to high-quality vegan products.
The setting
Sitting within Brighton's Fountain Head pub, among the causal opulence of glass-chandelier lampshades, cosy velvet cushions and exposed brickwork of a building with character, we notice a good balance of larger tables for groups to share pizza, as well as smaller, more intimate tables. This would be great for getting friends together or having those quieter moments with a loved one. 
So, if you're in Brighton or lucky enough to find Flower Power Pizza popping up at an event, enjoy a slice! And follow their heartwarming journey on Instagram, as their fun reels and pics (including flower-tastic aprons) will brighten your day! 
Inspired to grow vegetables? Read more on veganic gardening, or tempted by a Shroomin? Find out more about the benefits of mushrooms.