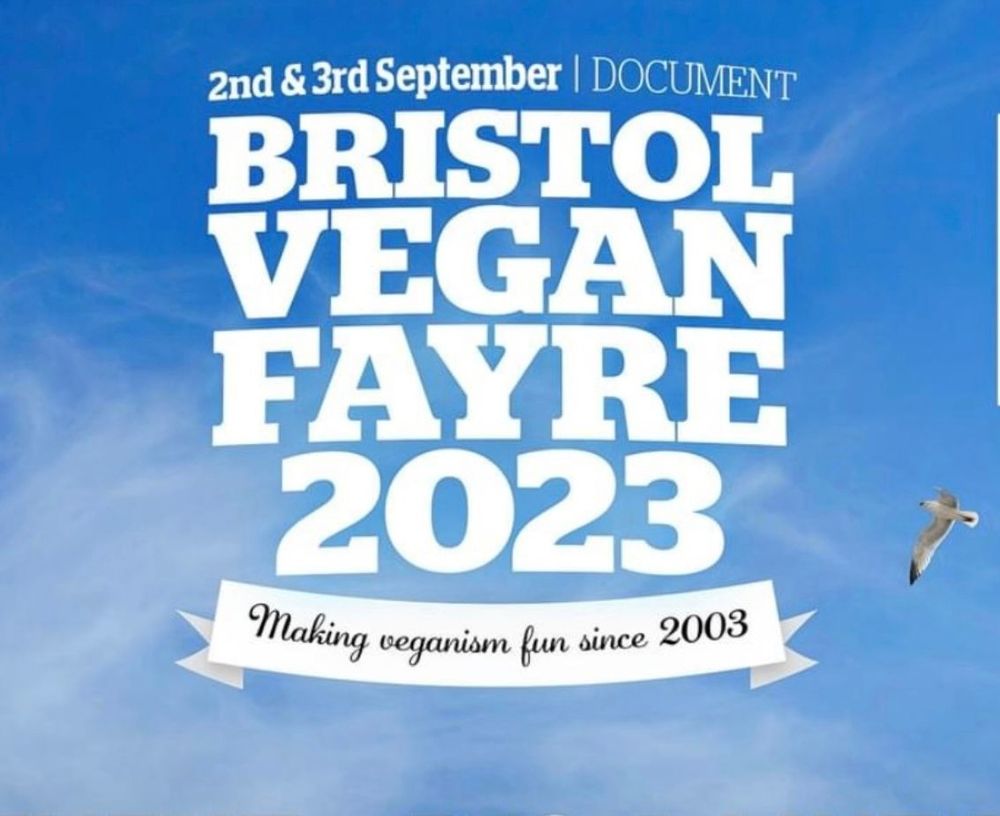 VegfestUK
From mock meats to VR forests: Bristol Vegan Fayre unveiled
Recently we headed to the Bristol Vegan Fayre at DOCUMENT, a restored warehouse in St Jude's that provides a space for artists, workers and events. The two-day event is hosted by VegfestUK, an event management company that combines a Bristolian love of live music with animal and environmental advocacy. 
The Bristol Vegan Fayre hosted an abundance of grassroots activists, independent sellers, local Bristol DJs, comedians and over 20 vegan food vendors from across the UK. The event was free entry and only a five-minute walk from Bristol city centre.
The first stall we came to was Gillie Vegan Foods from Manchester, and it was one of our favourites. They specialise in vegan oriental cuisine and use wheat or soya to create mock meats that are packed with protein and seriously delicious. We were quickly sold by their vegan chicken drumsticks, which were layers of mock meat wrapped inside what seemed to be fried rice paper. We also tried their steamed bao, filled with Omni's plant-based pork strips, fresh lettuce and spring onions. Gillie Vegan Foods were incredibly generous with their portions, and we paid less than £5 for both items.  
We enjoyed some Biscoff doughnuts from Doughnutz, a Birmingham-based company who sell mostly vegan doughnuts. We simply could not miss their bright pink stall, which had rainbow sprinkles, identical to their strawberry doughnuts! We grabbed several of their sugary ring doughnuts, coated in a rich Biscoff spread and crushed biscuits.
It was fantastic to speak to volunteers at the Borneo Orangutan Survival Foundation and learn about the conservation of the Bornean rainforest. We took part in an interactive experience using VR headsets, and through our lenses, we watched volunteers at 'jungle school' care for baby orangutans and teach them how to look after themselves and find food. It felt truly bizarre to be immersed in the thick, green forests of Borneo. 
We even spotted several vegan delis which had baked goods like cheese straws, onion bhajis, samosas, and vegan Italian classics like arancini and orange polenta cake. It has never been easier to be vegan in Bristol. We were spoiled for choice and even treated ourselves to some live music outside in the sunshine. 
Bristol Vegan Fayre is great, whether you're a Bristol local or if you are willing to travel the distance. It is an accessible and community-centred event which brings like-minded people together to learn, share ideas and enjoy a plethora of vegan cuisine. Keep an eye out for VegfestUK London later this year.
VegfestUK grew from a small fayre to the UK's number one indoor vegan exhibition. Check out our interview with the Founder, Tim Barford.