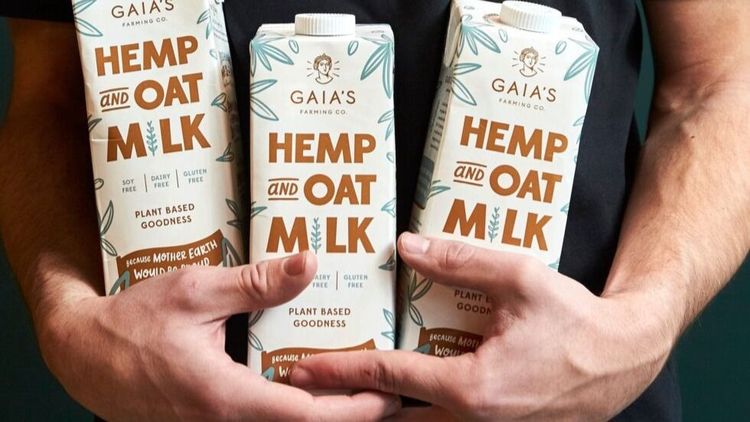 Gaia's Farming Co.
Gaia's Farming Co: Lives up to its name
Veteran vegans grimace when recalling the "good" old days of plant-based milk. The pioneers of dairy alternatives offered soya in powdered form that you had to keep stirring to ensure it didn't settle. Thankfully time has been kind and there are now a plethora of brands and types to choose from. While more choice is positive it can be a little overwhelming when faced with a wall of options. We will therefore try and make it a little easier for you as we have taste tested one of the newest brands to hit the shelves.
Gaia translates to goddess, and we think this perfectly embodies this creamy liquid. Gaia's Farming Co. has blended hemp with oat (Hemp and Oat M*lk) or coconut and chocolate (Hemp and Coco Chocolate M*lk) to wonderful effect.
If you enjoy a deeper, earthier and nuttier taste their m*lk should be your go-to alternative. Their signature blend of hemp and oat combine to elevate the creaminess making it ideal for coffee, tea, or smoothies. For what should feel like a naughtier treat, their chocolate m*lk with hemp and coconut cannot be faulted. With no added refined sugar, who knew healthy could taste so good.
Hemp and Coco Chocolate Milk
Hemp is becoming increasingly popular as a raw material. From fuel to food, it is the superstar of the plant world. Environmentally and nutritionally it is a win. Gaia's Farming Co. sought to leverage these benefits for the good of the planet and the health of its people. They worked with experts in microbiology, farming and the processing industries to create their hemp-based m*lks and to bring them to the masses. And we are pleased they did. Another nod of approval from us at V-Land is their commitment to the 1% Pledge. This is a global movement that encourages corporate philanthropy. With so many social issues still to address it is heartwarming to see businesses who wish to give back and improve outcomes for those who are less fortunate.