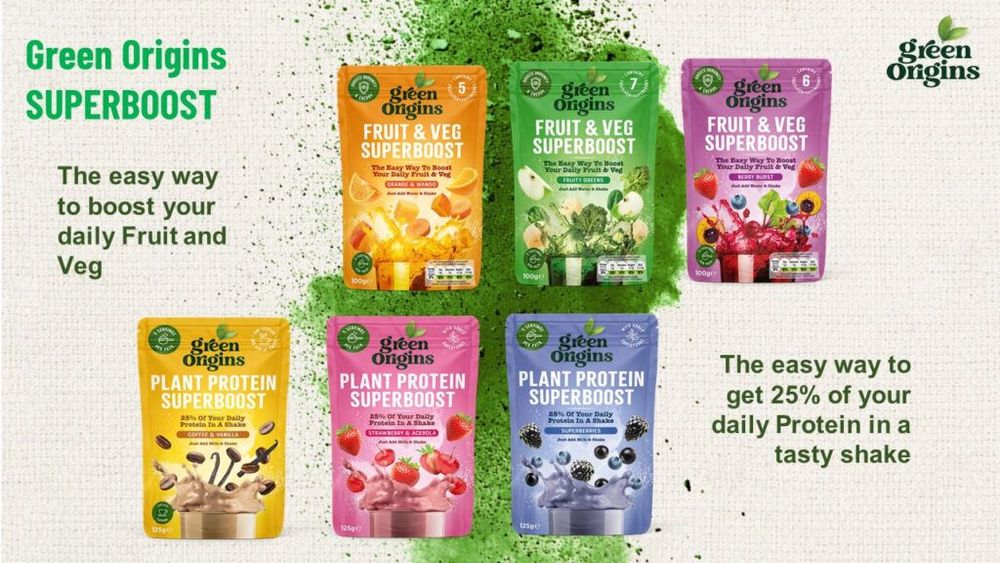 Green Origins Superboost
Green Origins Superboost: Super made simple
In recent years we have seen a major increase in the range of diet choices that aren't just your traditional meat and two veg. With this has come a heightened awareness of good and bad ingredients, adding more nutrients into our diet and the rise of superfoods. To the average consumer, navigating through the world of healthy living to find the best options for you can be confusing to say the least. But that's where Green Origins save the day. 
Green Origins have created a range of Superboost drinks and protein shakes that are easy to use and give no-nonsense advice on healthy living. Celebrating the superpowers of plant-based ingredients, they offer a range of flavours each with their own added benefits – versatile to suit whatever your body may need, whether that be a boost in iron, fibre, vitamin C, calcium or protein.
The Fruit & Veg Superboost range offers an easy way to increase your daily fruit and veg intake with 5-7 superfoods per drink, with delicious flavours including Orange & Mango, Berry Burst and Fruity Greens. We love that these products can be used in various ways, either by mixing with water or even adding into smoothies or smoothie bowls to give an extra boost of nutrients. The Fruit & Veg Superboost range has high fibre levels per serving; as most people don't eat enough fibre this could be an excellent and convenient way to improve your daily fibre intake.
Whether protein shakes are already an integral part of your regime or you've been meaning to give them a try – the Plant Protein Superboost range is for you. Mixed together with a plant milk of your choice, it's a surefire way to get 25% of your daily protein intake. Strawberry & Acerola and Superberries are the perfect flavours if you're after something fresh and fruity, but our favourite is definitely the Coffee & Vanilla flavour. It's a fab alternative to buying your daily iced coffee when out and about, as it even contains the same amount of caffeine as a cup of coffee to keep you going throughout your day. The findings from a recent observational study suggest that each additional 3% of energy (total calories) from plant proteins was associated with a 5% lower risk of death from all causes, which should be a compelling reason to increase the amount of plant-based protein that you eat daily.
We love that Green Origins take care in ensuring their products are not only good for us, but also for the planet too. They only use organic, allergen free, preservative free ingredients and are even certified by the Soil Association, ensuring their entire supply chain adheres to the highest standards; as well as certified vegan by the Vegan Society. They're paving the way to make superfoods easier to understand, demystifying ingredients and giving us honest and simple advice on healthy living, so we can all add a little more super to our diets.
Green Origin's Superboost range is now available to buy on Amazon and Ocado. Soon they will be launching on Dolphin Fitness and Body Kind.