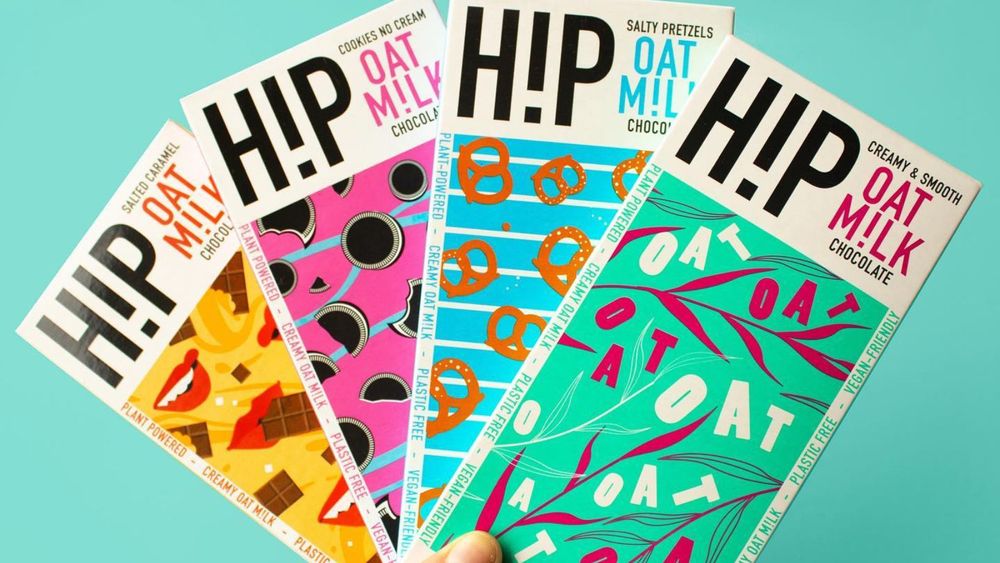 H!P Chocolate
H!P: Creamy oat milk chocolate bars
With the rise of veganism over the past few years the range of plant-based chocolate options have increased. With options starting from niche brands that were somewhat hard to find you can usually now find several vegan chocolate bars in everyday supermarkets. However, while big name brands are now producing their own plant-based chocolate it's important to recognise those that solely produce vegan chocolate alternatives. 
Launched in early 2021, H!P wanted to reinvent the world of chocolate by replacing traditional dairy with a plant-based milk alternative. Created out of the desire to shake up the chocolate market and a desire to eat good quality vegan chocolate, H!P only uses top quality ingredients like single-origin Colombian cacao beans and gluten-free oat milk. H!P has created a delicious and creamy oat milk chocolate bar that comes in a variety of flavours. In addition to this, oat milk beats other plant milks in terms of sustainability and health. 
H!P is Great Taste award-winning, scooping up wins for their Salty Pretzel and Salted Caramel in the main chocolate category. Furthermore, H!P's founder James Cadbury was just named Food & Drink Heroes' Confectionary Entrepreneur of the Year for both H!P and Love Cocoa.
On top of creating a range of vegan oat milk chocolate bars, H!P as a company also supports vegan values. They are committed to following sustainable practices such as ensuring their cocoa is sourced from a family owned business whose products are on the lowest end of cocoa environmental impact spectrum. In trying to create a climate-friendly chocolate bar H!P has calculated their overall carbon footprint and found that, compared to standard dairy chocolate, their footprint was 50% lower, which saves the emissions that would be produced driving 1.35km in a car. 
With a range of flavours available it was hard for us to choose a favourite. If, like us, you find it hard to choose, you can order a Letterbox Tasting Pack which comes with five different bars for you to try, including the Creamy Original, Salted Honeycomb, Cookies NO Cream, Salted Caramel, Salty Pretzel and White Berry Crunch. The White Berry Crunch is especially interesting as it contains raspberries and more unconventionally blueberries for an exciting flavour pallet. When you've picked your own favourite you can order bars individually or even order mini-bars perfect for the busy vegan on the go. 
Chocolate not your thing? Check out these tasty savoury vegan treats, Karen Eats nut selections and Mama Dolce luxury free-from ice cream.