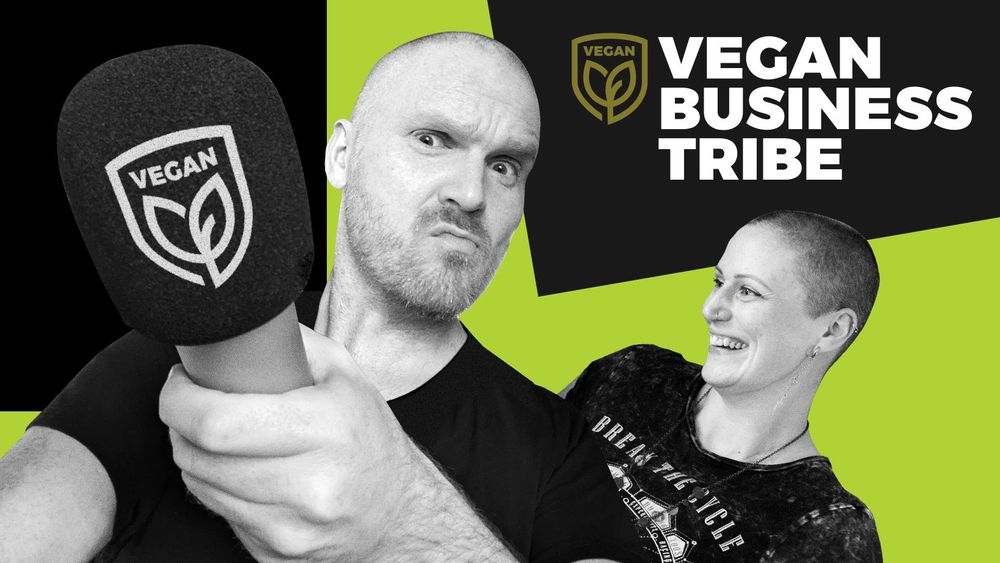 Vegan Business Tribe
Help your business thrive with Vegan Business Tribe
Starting a business, or taking your business to the next level, is an exciting time for any founder, business owner, investor or entrepreneur. And for some, the journey may come complete with a mix of adrenaline-fuelled highs and anxiety-ridden lows. Starting and growing a vegan business, well, that comes with its own set of unique challenges. 
We sat down with Lisa Fox & David Pannell, founders of Vegan Business Tribe, an all vegan platform championing the vegan business scene around the world, helping vegan entrepreneurs and vegan business owners skill-up and scale-up to make a bigger impact.
V-Land UK (V-L): Thanks for chatting with us today David and Lisa - we love everything that Vegan Business Tribe represents, can you tell our readers what the inspiration behind Vegan Business Tribe was?
Vegan Business Tribe (VBT): When you turn vegan, the first thing you think about is the food you eat, because that's the obvious place to start. Then you look at the clothes you wear and what cosmetics you put on your body - but at some point you start to think about how you spend your time. A lot of our members at Vegan Business Tribe join us because they want to align their vegan ethics with how they make a living - and David and I were no different with that. But we'd already built up a lot of 'career capital' helping businesses grow through our business agency and David has run his own businesses since he was in his early twenties. So it made sense to take the skills and knowledge that we already had to help vegan businesses grow instead.
V-L: What have been the highs and lows of your career within the vegan business sector?
VBT: There have genuinely been no lows. The vegan sector is the nicest, most supportive industry we've ever worked in. Even if two vegan companies are in direct competition, they will work together and collaborate because they are both on the same mission, they are both looking to end the use of animals as throw-away commodities. On the other hand, the highs have been too many to mention. Every time we've introduced a company to an investor or helped a vegan business do a crowdfunding campaign, we know that we're literally saving lives.
V-L: What advice would you give any vegan entrepreneurs wanting to start a vegan venture?
VBT: Assume your business is not going to work like you think it will. When you first start a business there are so many unknowns and your job as an entrepreneur is to start getting answers before you go to launch your vegan products or business.
How do you prove there is an audience for what you are providing? 
Do you know how to get someone to buy your product? 
Do you understand the problem that your customers actually need solving? 
You need to make sure you work out the answers to all these questions first before sinking all your time and money into your business venture.
It's now perfectly acceptable to build a company in public, hand-in-hand with your audience, so before you spend thousands on a new website, be budget savvy and prove your idea with a Facebook page first. Before you buy a load of inventory, take some samples along to your local vegan fair, or local vegan events and get real feedback on what people think who are not your friends and family. Before you sign a year-long lease on a shop, run a pop-up for a month instead to see if things go as you expect. Think like an investor: only put your energy and money into something you have proven works to then scale that thing up to make it work even better.
V-L: What are the main challenges to look out for within the vegan business industry?
VBT: A lot of people think that the vegan market is getting crowded and worry about how they can compete against the big corporate brands bringing out vegan options. But there is a market for every product and every price point. You can go high and bring out a boutique product or service and just deal with a handful of customers, or you can bring your ethics to the front of your business so that customers know that spending money with you makes a tangible change in the world. We always say that you should never start a business, you should launch a mission - because that will attract other people who believe in that mission. Not just customers, but champions, investors and opportunities.

V-L: Where do you see Vegan Business Tribe in 2030?
VBT: Our journey with Vegan Business Tribe is shaped by our members. Many of them have become good friends over the past couple of years and we listen about what help and support they need and then we evolve Vegan Business Tribe in response. Building a community has been really important and bringing members together has resulted in all sorts of collaborations and joint wins, but what really surprised us is how global that community has become and that's only going to grow. The thing that brings us all together is our ethics, not our geography, so although we're based in the UK it's been great to see so many members join us from around the world. 
So for where we'll be in 2030, that all depends on where our members take us! There's a lot of knowledge and experience amongst our members beyond just myself and David, and when you bring all that experience and enthusiasm together in one space with the mission to move the vegan cause forwards, the sky's the limit. If anyone reading this wants to link up to collaborate and talk about new ideas in the vegan business scene, the door is always open.
V-L: Are there any words of wisdom you'd like to share with our readers?
VBT: If you want to grow a successful vegan business then don't think you are doing this on your own. If you surround yourself with other people who are on the same journey as you are, then you are far more likely to succeed. Every problem you come up against, everything you don't know how to do hundreds of other people have already had the same experience and solved that problem - so don't waste your time trying to reinvent the wheel. 
We don't understand why vegan businesses and vegan products should be the ones with a label, surely it's the companies who are causing harm to animals that should carry a warning. But the only way we can get to that place is if we make vegan business the new normal, meaning we need to help more vegan businesses skill-up and scale-up to make a bigger impact on the world. That's why we started Vegan Business Tribe, and if you agree with this mission then we really want to have you on board.
Thank you for such great advice, I'm sure many of our readers have a vegan business idea that they'd love to bring to life and with the support of communities such as yours, it won't be long until vegan businesses are the new norm. 
Want more access to Vegan Business Tribe advice, networking sessions, mentorship and more? Membership is available at £12.99 per month and also comes with access to virtual coworking sessions, make it happen goal setting workshops, weekly group business clinics, and member networking meet-ups. We also recommend checking out the Vegan Business Tribe Podcast for insightful conversations with a diverse range of vegan business experts, or check out the VBT Linked In page.
For more vegan business insights, check out our recent interview with Mike Hill, co- founder of One Planet Pizza. 
Have a vegan business you want our readers to know about? Reach out on Instagram, LinkedIn or Twitter, we'd love to hear from you.