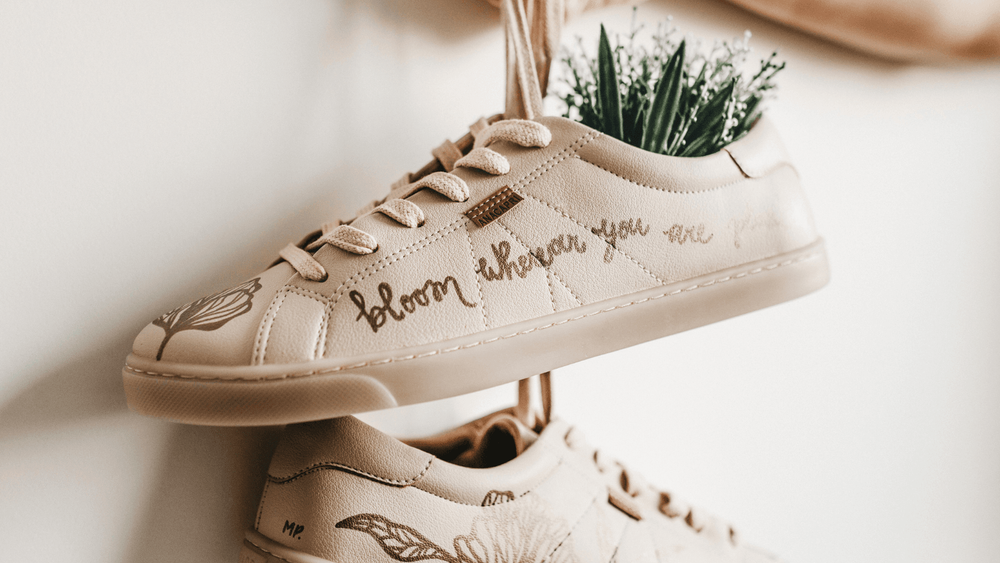 Jonathan Barba/Pexels via Canva Pro
How sustainable are vegan shoes? My guilty purchase
Brands are marketing vegan shoe ranges in light of consumers wanting ethical products, but is that enough? 
Shoes comprise one-tenth of the revenue of the fashion industry and, according to Greensole, account for a "tremendous one-fifth of the industry's environmental impact. Twenty million shoes are manufactured annually around the world."
Capitalising on the term "vegan" doesn't mean a product is sustainable. Often these shoes contain plastics and other harmfully sourced materials that have a negative environmental impact. "Fake leather" usually means synthetic materials such as polyvinyl chloride (PVC) are used. PVC emits toxic pollutants. 
My guilty purchase? 
Last November, I bought some vegan Dr. Martens (DMs) boots because in my leather-purchasing days, I equated Dr. Marten with long-lasting quality; however, it was only after purchasing these that I worried about the environmental impact of manufacturing that these shoes had already caused. 
I got swept up in the frenzy of being able to buy a brand I have always liked as a vegan.
DM's use PVC but Dr. Martens' Strategic Sustainability Report commits to removing fossil-based products by 2030. Currently regrounding PVC waste and putting it "back into the production" of outsoles and partnering with "a local wellies and jelly sandals manufacturer, which recycles our PVC manufacturing waste into new footwear." 
Ideally, they would already be fully sustainable and we'd all buy everything second-hand, but let's be realistic, most of us won't anytime soon. If that were the case, most brands wouldn't exist today. 
So, can big brands transform? Take Burger King as an example; a few years ago, the idea that this enormous meat machine would transform their flagship Leicester Square branch into a vegan-only food establishment would have been unfathomable. Yet, they have successfully done so.
When acquiring my new boots, excitement filled me: my old "retail therapy" habits lit up my serotonin pathways, and I ignored that this brand still uses leather - why wasn't I buying a fully vegan brand? Additionally, I'd committed to buying second-hand clothes, and now the deep-rooted carnage of "treat yourself" engulfed me.
Am I wishfully thinking that my plant-based purchase can influence a brand into going fully vegan and sustainable? Am I hoping this will absolve me from some guilt? Please, Dr. Martens, help this human out and go fully vegan!
Hopefully, you're not as flawed as me, but if you are human, let's transmute some guilt into exploring some options…
Investment pieces 
Many sustainable / upcycled vegan shoes are not particularly cheap to buy; however, fast fashion is costing our planet its precious resources, destroying wildlife that inhabits delicate ecosystems and eroding the health and human rights of people working in factories across the world. 
To consume ethically, if you can afford to do so, consider buying less by investing in quality products that are durable and versatile for everyday wear. If you're fashion-conscious, you'll already know that no one cool wears flimsy heels anymore.
Vegan and sustainable shoes 
I wish I had a long list of fully sustainable, vegan, ethical shoe companies, but it appears to be early days. More prominent brands are beginning to enhance and produce vegan and eco-friendly lines, which, if the demand is strong enough, could encourage them to go fully vegan. 
Here are a few lines to check out: 
Trash Planet: lead the way with über fun unisex vegan sneakers, all made from recycled post-consumer fabrics, including ocean plastics. To reduce their carbon footprint only locally sourced materials are acquired. Plus they plant 15 trees for every Trash Planet footwear purchased. 
Matt & Nat: vegan leather that "looks and feels just like real leather". The name stands for Material + Nature. Made from vegan and sustainable materials. Their faux leather is made from PU, arguably a more eco-friendly version than PVC. 
Vivobarefoot: vegan collection uses plastic bottles into high performance, durable shoes, aiming to "reconnect people to the natural world" by designing minimalist footwear that "improves balance and stability". Claiming that their "plant-based shoes are the least petroleum-reliant performance shoes on the market."
Dr. Martens: vegan range has "kept all of the attitude" of the originals. Tough, durable, and recognises that they are "still evolving". I must admit, I do love my Vegan Sinclair Platform boots - perfect for stomping into the distant future… 
Let us know your favourite sustainable plant-based footwear brand over on our Instagram or Twitter, and for more sustainable fashion choices, check out five eco-friendly alternatives to leather here.