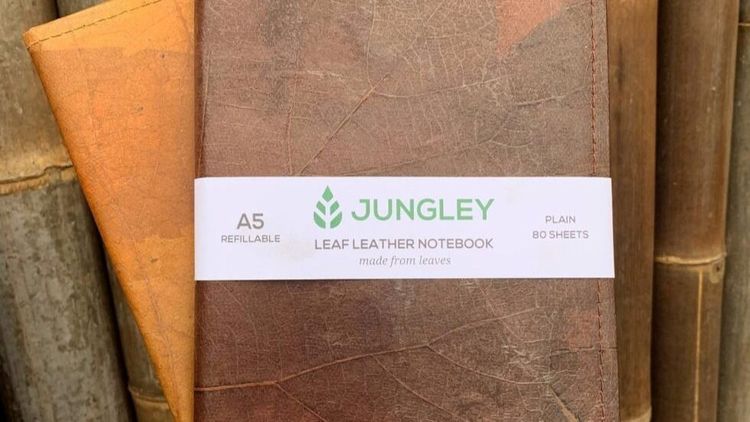 Jungley
Jungley: Lovely leaf leather
Making more eco-conscious choices in our everyday lives is just another step towards leaving a positive impact on the world around us. It's not all about diet, we can also make more sustainable choices with the lifestyle products and materials we use too. And that's exactly what Jungley's goal is; to create sustainable vegan accessories that give back to the planet, made in harmony with nature. 
We were really excited to be gifted 2 products from their teak leaf range, including the A5 Refillable Leaf Leather Journal and Make Up Bag. What we love at first glance is that every product is totally unique in pattern and texture, as the leaves used in their leaf leather have fallen naturally. There is also a gorgeous range of colours to choose from, all of which use natural dyes. 
A recent trip to Scotland was the perfect time to try out Jungley's Leaf Leather Make Up Bag. The medium size was perfect for fitting my everyday makeup and brushes (with room to spare!) whilst its slim design allowed it to fit perfectly neatly in my suitcase. What's great is that leaf leather has all the same benefits as traditional hide leather, meaning they're wipe clean, waterproof and durable, so this product is particularly great for travelling. 
If like me, you're a bit of a stationery obsessive, then you'll know how important it is to find notebooks that not only look fabulous, but feel a little bit luxurious too. Jungley's Leaf Leather Journal delivers on that and more - not only are their materials sustainable, they're also made to last forever. We absolutely love that they offer versatile refills that easily slip into the leaf leather cover, so you can mix and match between ruled, dotted, plain and square notebooks to match your needs of the day! As an illustrator, I love to find sketchbooks that have a smooth paper texture, are lightweight and work really well with the materials I use.
Jungley also offers a range of products such as bags, wallets, coasters and lunch boxes made from all kinds of sustainable materials including recycled truck tyres, bamboo and lotus leaves.
And as if they weren't doing enough already, for every item bought from Jungley, they'll even plant a tree. So, whilst you're enjoying their beautiful products, you're also giving back to the planet and at the same time helping to rebuild the planet's rainforests. 
If you're looking for more sustainable alternatives for your everyday accessories, or even as a gift for someone special, check out Jungley's range of eco-friendly and vegan products!