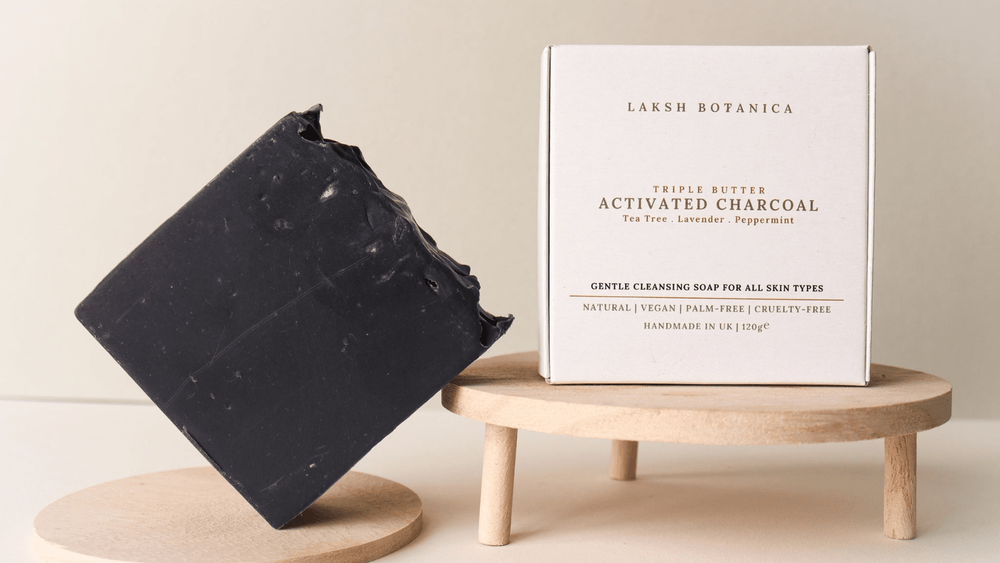 Laksh Botanica
Laksh Botanica: Luxury vegan soap bars handmade in the UK
Skincare that is completely natural, vegan-friendly, cruelty-free, handmade in the UK and uses plastic-free packaging. Sounds like a dream doesn't it? Laksh Botanica have made this a reality, and they're paving the way to create luxury soaps without hurting our planet.
Laksh Botanica creates indulgent handmade soap with a blend of three premium luxury butters; cocoa butter, shea butter and kokum butter, all contributing to the creaminess of each handmade soap bar. Their scented luxury vegan soaps are paired with a blissful blend of pure essential oils, whilst they also offer an unscented option particularly suitable for more sensitive skin. 
We were delighted to try their Triple Butter Activated Charcoal Soap, formulated with tea tree, peppermint and lavender essential oils. This antibacterial soap is perfect for acne/oily prone skin, as it helps to control excess sebum production. The activated charcoal has deep pore cleansing properties, detoxifying and drawing out all the impurities from your skin, whilst the triple butter base ensures none of your natural oils are stripped and help maintain a healthy glow. 
We love to use this luxury soap bar in the mornings as the soft, earthy and minty scent helps us feel fresh and awake, ready to tackle the day. Using this product feels incredibly gentle on the skin, and doesn't leave your face feeling tight and dry like a lot of stripping acne tackling products do.
All of their products are cruelty-free, vegan and palm oil free, with no artificial fragrances or colours added. Not only do they create handmade vegan soap bars that are free from nasties, Laksh Botanica takes pride over their sustainable packaging too. Whilst most commercial bath products come in plastic packaging that are hazardous to many living species, Laksh Botanica offer a neat and stylish box made from recycled materials and is biodegradable. Their minimal and elegant branding along with their passion for sustainability means that even cardboard packaging can feel as utterly elegant as the product inside.
All of their lovingly handmade vegan soaps are available through their website, so be sure to check out their range of scents and skincare benefits to find the perfect one for you.
We love to incorporate this product as part of our self-care routine - check out some of our other favourite brands, Apothecary & Me and The Skin Workshop to make it the perfect pamper. Interested in learning more about vegan skincare? Check out our recipes for body scrubs you can make at home.