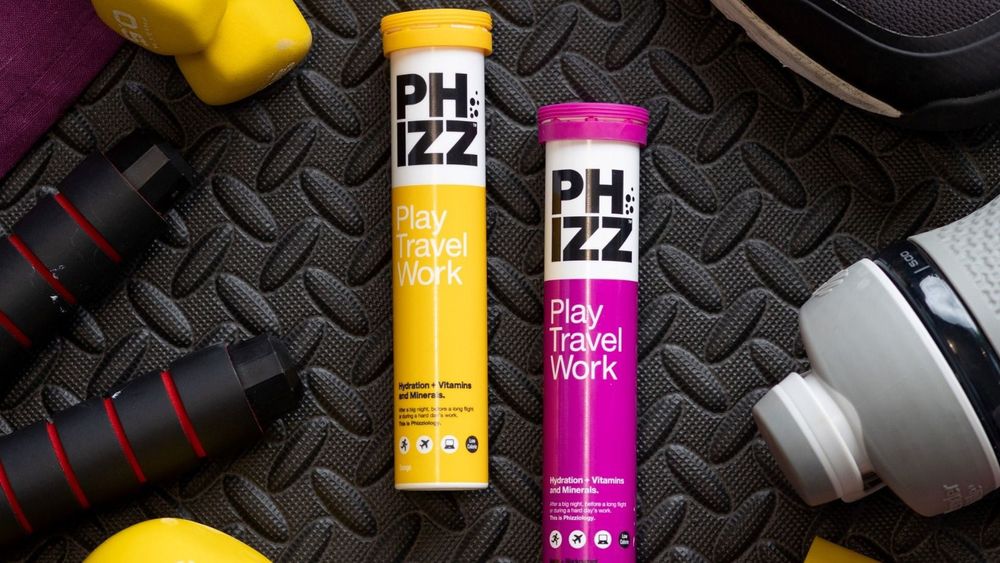 Phizz
Level up your water with Phizz multivitamin tablets
Grounded in science Phizz is on a mission to create and develop products that are designed to simplify wellness and provide us with the everyday essentials that our body needs through multivitamin drinks. 
Designed to triple hydration, one Phizz tablet in a glass of water replenishes 18 essential vitamins and minerals including potassium, calcium and vitamin C. These innovative multivitamin tablets are conveniently packaged and easy to carry on a busy day, Phizz will be there to help beat dehydration. These small but mighty multivitamin tablets can help fight against many everyday issues like headaches and tiredness. 
On top of this, these effervescent capsules are charged with electrolytes. These help our bodies to perform at their best and are often lost during exercise through sweat. Drinking Phizz replenishes those that are lost and prevents cramping and muscle fatigue. This is what makes Phizz a great companion to any workout, providing everything needed from hydration, to energy, to recovery.
While Phizz boasts many health benefits it can also be a great relief for those not-so-great morning afters. All of these premium clean ingredients aren't only good for us but may even help out a hangover!
V-Land got the chance to try out Phizz's Bestseller Bundle which included two flavours of multivitamins. This bundle comes with both the orange flavour and apple and blackcurrant flavour as well as a handy water bottle optimising maximum hydration. Amazingly, each multivitamin tablet contains more vitamin C than three oranges, more potassium than a whole banana and more zinc than three cups of spinach! They're also low-calorie and entirely vegan, ensuring that consumers get guilt-free wellness from each drink. 
Available online and in stockists like Sainsbury's around the UK, Phizz is an easy and healthy option for people who love to exercise as well as those who like to take it easy.
If you're interested in other vitamin supplements then check out Heyoo.