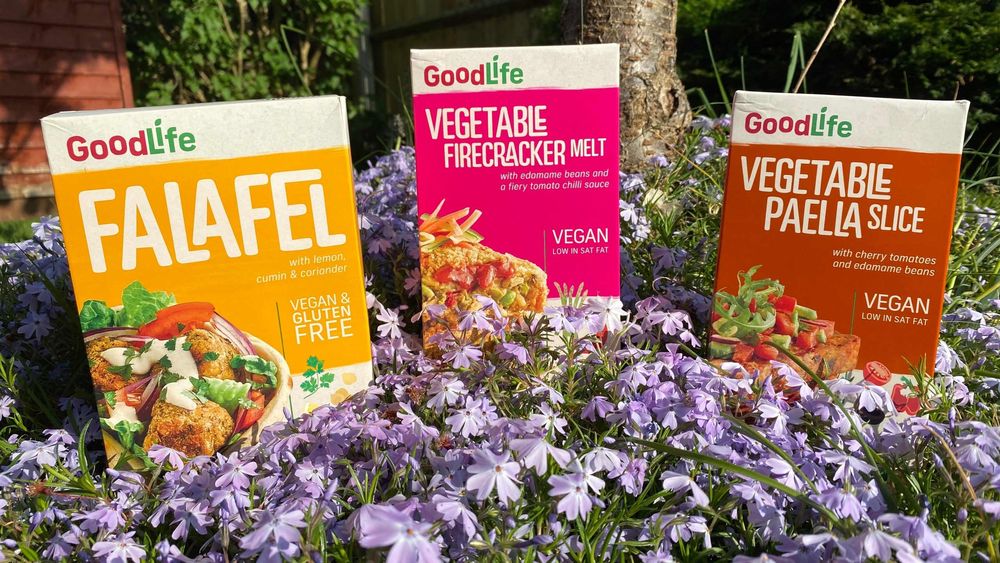 John Lucas
Living life on the veg with GoodLife
Living life on the veg is the best, and it is even better with the range of vegan products from our friends at GoodLife. These gorgeous super-convenient meals are available in the frozen section of Tesco, Morrisons, and Sainsbury's. V-Land UK road-tested some of their vegan range, and we were not disappointed.  
First up, we have Falafel, a traditional Middle Eastern dish that has been a staple vegan dish for many years, and these are up there with the best we have ever eaten. Despite being a frozen product, they tasted as if they had come fresh from the oven! There are infinite accompanying ways to enjoy falafel, we particularly enjoyed these in a flatbread with shredded red cabbage, grated carrot and sriracha mayo. The leftovers were a big hit with our mini V-Landers in their school packed lunches. 
Next up, the Vegetable Paella Slices, these pizza-slice shaped treats are vibrant and packed with edamame beans, tomatoes and peppers. We had these in lieu of hash browns on our cooked breakfast; the smokey paprika taste gave the meal a lift. We also think that these would be a great addition to your next vegan BBQ!
Last but definitely not least, our favourite, Vegetable Firecracker Melt. The market in frozen burgers generally consist of mushy bean burger or imitation meat patties, these melts stood out above these, with their crispy breadcrumb coating, stuffed with edamame beans, mushrooms, asparagus, broccoli and peppers and topped with a warm Asian-inspired spicy sauce, our taste buds exploded! Our serving suggestion is in a vegan brioche bun, with a smoked vegan cheese, like Applewood, and perhaps a bold choice – some kimchi. GoodLife's vegan range also includes Mighty Non-Meaty Sausages, Vegetable Protein Balls, Nut Burgers and Spicy Bean Burgers.