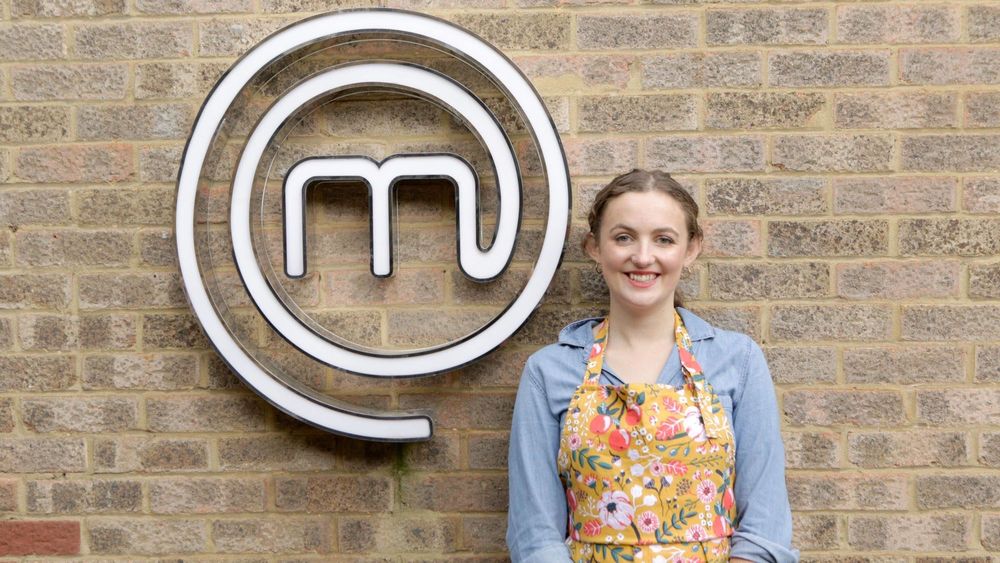 MasterChef/BBC
MasterChef: Veganism and intuitive cooking with Meg Long
Here at V-Land we were so excited to see Meg Long, 24, cooking up a storm as the only vegan contestant to appear on season 18 of MasterChef. 
Meg, known as @OffTheEatenTrack_, is a radio producer from Manchester. Her Instagram is dedicated to "easy vegan recipes that anybody can cook" with easy to follow recipe reels including wild garlic pesto, miso shallot tarte tatin and panang curry. 
Cooking spiced roasted cauliflower on a bed of crushed Bombay potatoes and a piped chocolate ganache with chocolate biscuits and cherry sorbet, Meg sadly didn't make it through to the next round after appearing on the show, but feels proud to have cooked dishes that she loves and to show the nation that vegan cooking can be creative and packed with flavour.
Followers and fans of the show rushed to Instagram to support and congratulate Meg:
@learnervegan Thank you for representing us vegans in the mainstream! Just amazing work.
@izzyeatsvegan So inspiring to see!! Well done.
We had a chat with Meg about her time on MasterChef, intuitive cooking and the best plant-based food in Manchester.
V-Land UK (V-L): Were you a fan of MasterChef before you applied to be on the show?
Meg Long (ML): I'm a big fan. I actually had a Facebook memory appear saying that I couldn't wait for that night's MasterChef in 2011. It's surreal to think I was watching it as a teenager. Typically I don't think many 14-year-olds are big MasterChef fans. My mum is a massive fan of the show too and she encouraged me to apply.
V-L: What was your favourite moment from filming?
ML: The moment that I put my cauliflower dish in front of the judges. Although they had some comments about the texture, they mainly had positive things to say. John Torode and Gregg Wallace really liked the tamarind apples and they said how good I was at working with spices. It was great to show them that vegan food has flavour. It's very different from your friends trying your food! These are people who have tried the best food, so for them to enjoy mine was really cool.
V-L: That must have been a lot of pressure too!
ML: Being in a kitchen without your own equipment can be difficult. For example, I only had a small freezer compartment, the sorbet I made for my dessert took time to set at home, but in the MasterChef kitchen it set straight away and I was worried that it would over freeze. On the whole, it was so much fun. There was pressure but it was exciting! I loved the experience.
V-L: We heard you became a meme!
ML: This weekend someone took a clip of India Fisher saying "Meg is about to serve" and Megan Thee Stallion shared it on her story before she went on stage at Coachella.
V-L: Maybe she watches MasterChef...
ML: Who knows? She's probably too busy for UK MasterChef, but it's surreal to think that she shared an image of me plating up some food.
V-L: You've enjoyed MasterChef and had a love of food from a very young age. When did you go vegan?
ML: I've been vegan for just under 2 years but I've been a vegetarian since I was about 12. It is quite a meat-heavy show. I wanted them to try my food and see that plant-based dishes can be just as delicious as meat dishes.
V-L: What made you decide to go vegan?
ML: When I was younger, I went vegetarian as soon as I was able to voice how I felt. I knew it was what I wanted but didn't know how it would be possible living at home. Since then I gradually transitioned to veganism. Ethically, I knew veganism aligned with how I felt morally about protecting our planet and animal rights. Climate change is a big reason I am vegan so doing more research on how detrimental the meat and dairy industry is to the environment gave me the push I needed to commit to a vegan lifestyle. 
When people ask if it was easy, I can't pretend that giving up your favourite foods and changing your tastes is an easy thing to do, but I'm an advocate for it. It's easier to go vegan now than it was to go vegetarian 10 plus years ago. Then there were only a couple of Linda McCartney substitutes available, but to be honest I don't eat many alternatives, when you love cooking a lot of things are vegetable-based.
V-L: It must take a lot of creativity to make meals just using vegetables!
ML: Alternatives are a great thing for people who like them. I've never found a vegan cheese that works for me, but it isn't necessarily cheese that you want. I'm a very intuitive cook, maybe you want something creamy or something salty or something with a rich deep flavour so being able to cook helps you to satisfy cravings. For example, I might cook smoked tofu, seasoned with salt and paprika. It's like art, you get to be creative and put a vegan spin on established flavour palettes.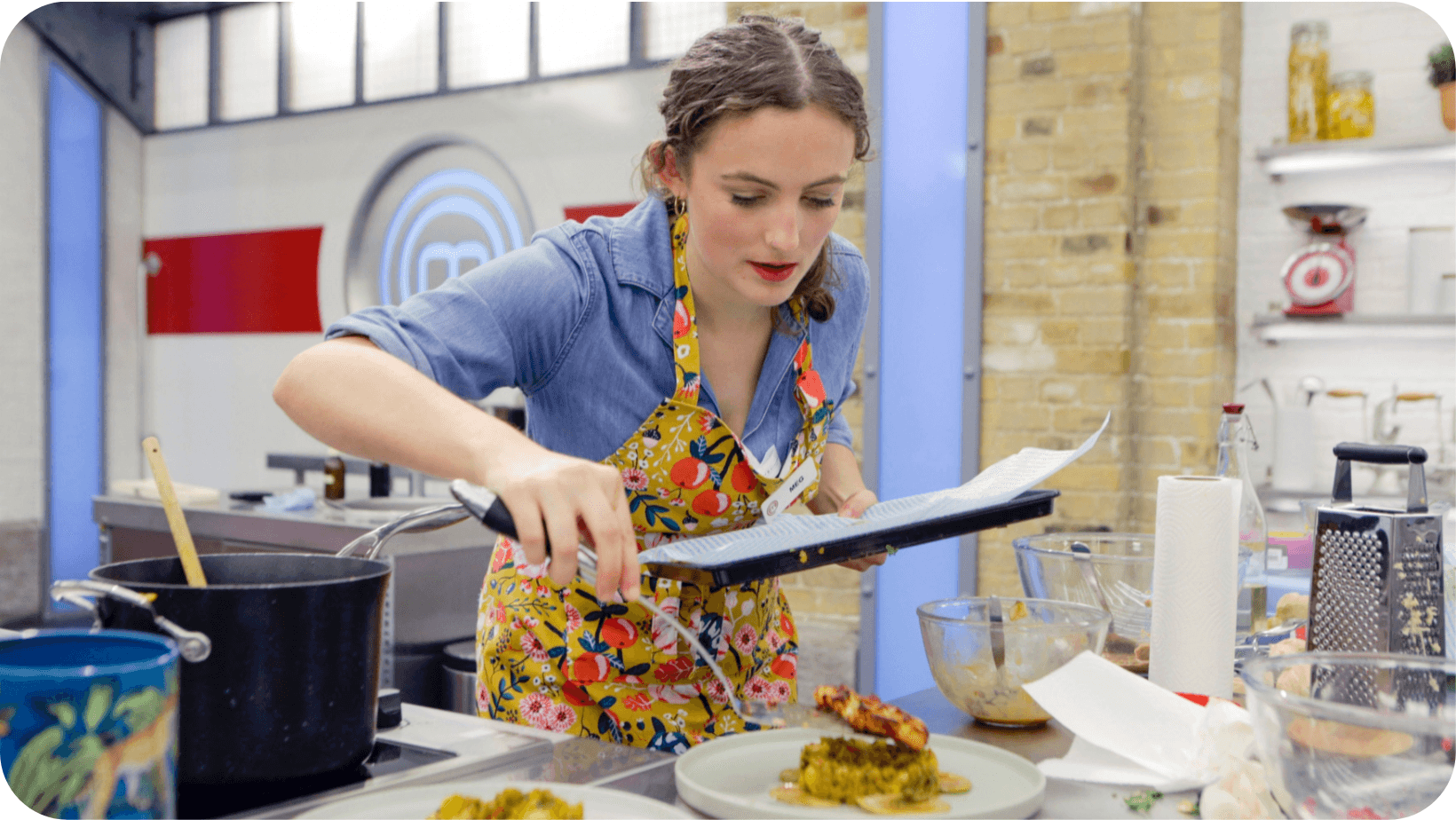 MasterChef/BBC
V-L: Where did you learn to cook?
ML: My mum is a good cook. She enjoys French influences, whereas I prefer spicy food and more Asian influences. I taught myself with a lot of help from the internet when I first went vegetarian. I cooked a lot from quite a young age so I could experiment with foods I enjoy. I always wonder if I hadn't gone veggie, would I have such a passion for cooking?
Before lockdown I spent a month in India, The cuisine there is very vegan/veggie-friendly. Practically everything was vegan. They had restaurants that were called non-veg restaurants, like our vegetarian restaurants here but singled out because they serve meat dishes.
V-L: We love to watch your recipe reels on Instagram. Can we expect a cookbook in the future?
ML: That would be a dream! I'd love to do that one day. I'm going to continue sharing recipes on my Instagram but would love to have my own cookbook. I get so much joy when people message me and say they made a dish for their family and they all loved it. One day I'd love to own a little bar/restaurant somewhere in Manchester.
V-L: Where are your favourite restaurants in Manchester?
ML: I love Bundobust. I actually had COVID last week and went there as soon as I had the all clear! I also love Doner Summer's fried chicken, it's the best chicken substitute I've ever had in my life! Try Thai in Chinatown do such good Thai food, and they're vegan friendly.