Meat Free Monday
Meat Free Monday: Small changes can make a great impact
As it is the start of Meat Free May it felt like a great time to highlight Meat Free Monday. We wholeheartedly encourage you to try Meat Free May, however, we recognise that not everyone will be happy with that challenge, if that is the case it shouldn't be disheartening as small changes like Meat Free Monday are most definitely worthwhile. 
Launched by Paul, Mary and Stella McCartney in 2009, Meat Free Monday is a not-for-profit campaign intended to create a simple and accessible way for everyone beginning the journey to greener and healthier eating. Today Meat Free Monday lives beyond the family – it's an idea, a movement, a weekly moment which thousands of people make their own!
Individuals may feel that due to how complex and pressing an issue the climate emergency is, that making personal changes are so insignificant as to not be worth doing. However, in terms of your annual carbon footprint, skipping meat for one day a week has the same impact as not driving your car for a whole month!
If all of us in the UK did Meat Free Monday for a year, we would collectively:
• Save an area of the world's forests the size of all the national parks in England and Wales combined (16,689 km²). 
• Save the same amount of greenhouse gases as emitted by driving 20 billion km – 134 times the distance to the Sun
• Effectively create a marine reserve twice the size of Wales (41,613 km2)
Meat Free Monday's impact calculator can help measure our planetary impact. With data from The Darwin Challenge, the calculator works out the positive impact on the environment that an individual or household can have by eating meat and dairy-free.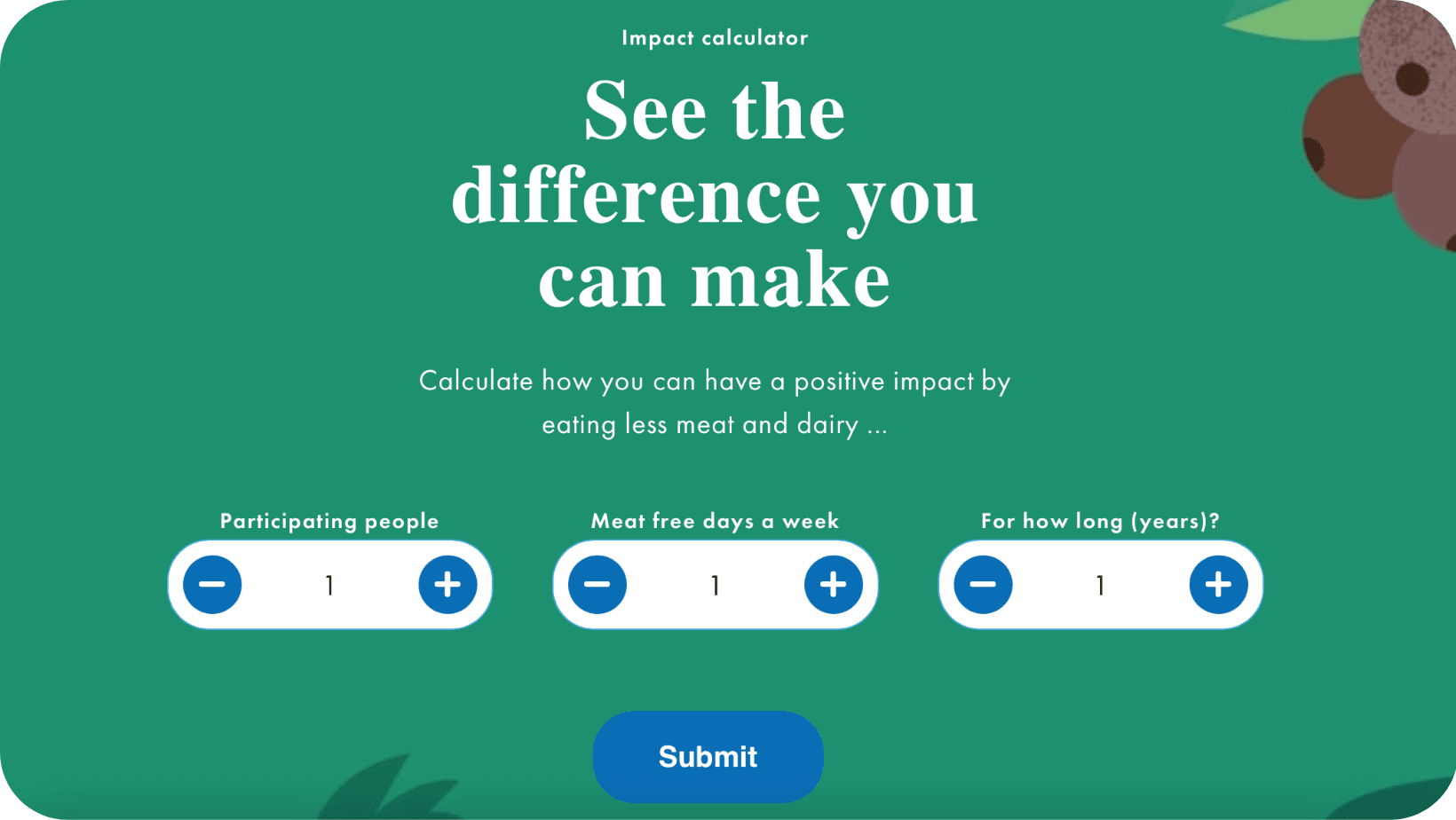 We can help spread Meat Free Monday's message by finding out more on their website; following their Instagram, sharing their posts and campaigns and tagging #MeatFreeMonday on recipes and social media posts.