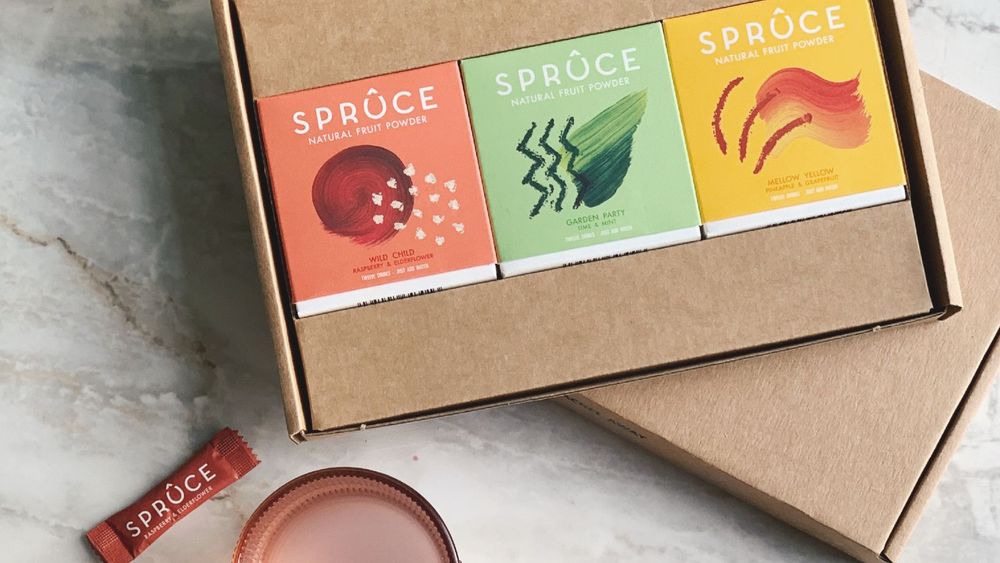 Spruce
Nutritious hydration: Bring water to life with Spruce
Everyone knows that drinking lots of water and keeping up our daily vitamin and mineral intake are key components to keep us healthy and thriving in our everyday lives. Unfortunately, sometimes it can be easy to forget, particularly when water often lacks in the taste department, even if it does quench your thirst. Spruce recognised the need for a more refreshing and exciting drink that retains all the benefits of water, and created a one hundred percent natural, sugar-free, low calorie fruit powder which you simply add to water and enhanced it with even more goodness to enjoy. Spruce is a great alternative to squash or juice to keep us hydrated throughout the day, and it is packed with nutrients: why not spruce up your life with Spruce?
Spruce is the first of its kind to offer compostable packaging that is plastic-free, made from plant-based sachets that break down into compost within weeks - which gets a huge thumbs up from the V-Land team. Their beautifully designed packaging illustrates their current three unique flavour offerings, including; Garden Party (lime & mint), Wild Child (raspberry & elderflower) and Mellow Yellow (pineapple & grapefruit). The flavours are incredibly refreshing and we love that they have a completely natural taste, unlike the overly sweet and strong flavours you find in other water enhancers like squash or cordial. We loved the lime and mint flavour in particular - perfect for starting your morning with a zing.
Their light and functional packaging makes Spruce perfect for taking on the go; to work, on picnics, or even for a weekend away - they're there to spruce up any day. We love how easily they dissolve into water and that you aren't left with a powdery texture, they've got the consistency spot on. And if you prefer a stronger flavour, adding another sachet means gaining even more valuable vitamins in your day. Spruce recommends three to four sachets per day to suit the recommended daily allowance of vitamins: easy nutritious hydration.
Spruce has three bundles to choose from, all available as a one-off purchase or saver subscription, to suit those testing the waters and the well-seasoned hydrators. We love that Spruce has all bases covered - an easy way for us to look after our health and wellbeing through delicious unique flavours, all with sustainability at the forefront. 
Water is one of life's many wonders, without it we would cease to exist, and whilst we truly adore this vital hydrating life source, it is a real tasty treat to quench our thirst with a Spruce fruit booster!