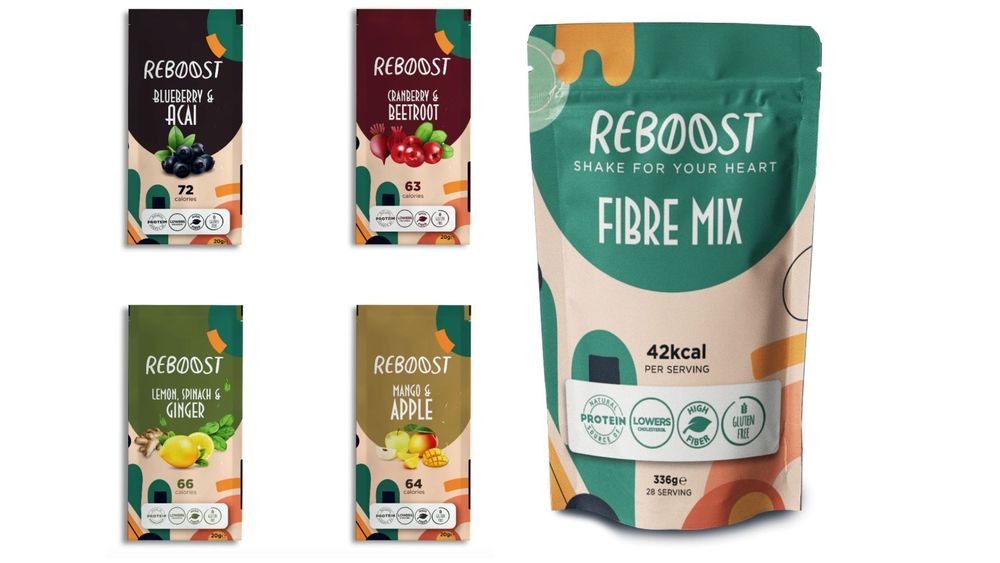 Reboost
Reboost: Delicious quick-fix smoothies packed with fruit and fibre
Reboost is an exciting natural food supplement offering quick-fix smoothies with all of the goodness and flavour, with none of the fuss. The idea to create the innovative smoothie instant-mixes came to Reboost's founder Yuhan after a long day at work during the covid-19 pandemic. As a chemist working in a scientific laboratory, Yuhan worked long hours and had to queue for hours for groceries that often went off before she had a chance to eat them: this was when the idea of Reboost was born. A healthy product that tastes like fresh fruit and retains all of the nutrients but only takes seconds to make. Reboost products are ideal for people on the go and best of all, they're vegan too.
Reboost products are also a simple and tasty way to add more fibre to our diet which gets a big thumbs up from the V-Land tribe. Whilst it's common to look for protein, carbohydrates, vitamins, and minerals in our food choices, the importance of fibre is often overlooked, and fibre is very important when it comes to maintaining a healthy diet. Dietary fibre is found only in plant-based food and works to support digestion and lower cholesterol, and is associated with reducing the risk of heart disease, type 2 diabetes, and bowel cancer. Research shows that eating more fibre as part of a healthy diet can also supplement healthy weight management. Each smoothie also contains the recommended daily serving 3 grams of beta-glucans to help maintain normal cholesterol levels. 
In 2015, it was recommended that adults consume 30g of fibre per day, but since then, there has been no supporting policies to increase intakes, in the UK, it is estimated that only 9% of adults consume the recommended amount of dietary fibre .There are many ways to increase fibre intake, such as wholegrains, fruits, vegetables, legumes and nuts and seeds or enjoying a Reboost smoothie.
We tried some of Reboost's fibre packed oat smoothies, and we will absolutely be ordering more. A personal favourite was the Blueberry & Acai Oat Smoothie which was beautifully balanced and so simple to make. To create a Reboost smoothie simply select the flavour of your choice and mix with 300ml of water in a sealable bottle, then shake for 10 seconds and it's ready to enjoy! With over 5 grams of fibre and only 72 calories per serving, these smoothies are perfect for getting in some extra fibre and fruit-fueled goodness. 
An added bonus to the Reboost range is how small the packages are, making smoothies easily accessible to all. They can fit in your bag, in your desk drawer at work, or even in your jacket pocket, making the health food boost the perfect dietary supplement for someone with a busy lifestyle and/or keeping healthy on the go. Reboost is manufactured in the UK, solely using high-quality natural ingredients and is 100% plant-based, with no added sugars, sweeteners or artificial flavours: their products are also gluten-free.
V-Land tip: try adding the smoothie packs to meals too! We added Blueberry and Acai to make scrumptious blueberry and chocolate chip pancakes, which were utterly delicious.
You can find out more about Reboost and their wonderful products on their website, which also features a blog full of interesting articles about health and sustainability.