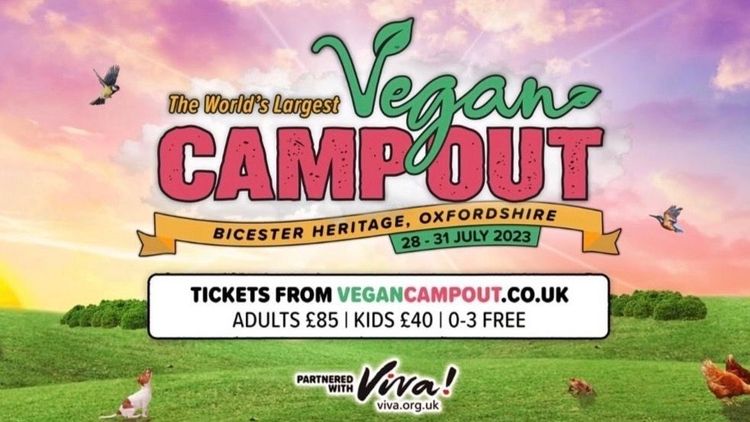 Vegan Camp Out
Release the tent-ion with our ultimate guide to Vegan Camp Out
Tickets: Check. Tent: Checked. Itinerary: Check? Vegan Camp Out 2023 is finally upon us, and we are definitely excited; we've poured over the schedule to give our top picks for the weekend as 10,000 vegans and 'v-curious' people descend on Bicester Heritage for its 7th edition. 
There's so much to do! What should I check out?
Possibly the world's most well-known vegan chefs, Henry Firth, and Ian Theasby, better known as BOSH! will be taking to the stage to talk us through their success, and they will be closing out the night with their legendary BOSH! DJ set. 
Never one to mince his words, Adelaide activist Joey Carbstrong will also be appearing on Saturday. Recently, Joey has appeared alongside the likes of Jeremy Vine and Piers Morgan to debate the truth behind animal agriculture, and the ethics of eating meat.
Vegan comedian and leader of The Ranganation, Romesh Ranganathan will be headlining on Sunday evening. On headlining the festival, Romesh said "Finally a gig where I won't be booed for being vegan". We couldn't ask for anything better than an hour-long set, filled with back-to-back jokes to close out the weekend! 
You may have seen Hogwood or witnessed Matt Pritchard standing outside of Muller HQ during the Viva! 'Killer Muller' campaign, but now you can see Juliet Gellatley live in person. Juliet is the brains behind Viva!, and we are excited to hear both of her must-see talks over the weekend, as well as catching up with our lovely friends at Viva!
What kind of music can I expect?
VCO have provided a musical smörgåsbord and whatever your taste, you will likely find yourself visiting the music stage at some point over the weekend to dance or rock-out to the fine acts.
On Saturday, you will find headliners Mobius Loop providing an eclectic mix of Gypsy Folk music, intertwined with conscious rap and free-form dance. The Preston-founded three-piece operate under the mission "May all beings be free from slavery. May every cage be open & empty". 
Quickly emerging as one of the rising stars of modern British music, Sam Ryder will be the Sunday music headliner. Emerging on TikTok during the pandemic, the Space Man himself has performed with Queen at the Taylor Hawkins tribute concert, for the Queen during the Platinum Jubilee, and for the King at The Coronation Concert! 
Notorious for their energetic stage show and conscious lyricism, grime/rock artist Bob Vylan are our recommended pick for the weekend. Since forming in 2017, Bobbie and Bobby Vylan have been tearing up stages around the world, with no message considered taboo. With songs "Health is Wealth" and "We Live Here" you can expect to find yourself tackling topics such as racism, gentrification, and access to healthy food. 
There's so much food, I'm overwhelmed! What do you recommend?
Have you ever found yourself watching MasterChef and wondering what the food will taste like? 
Well, let your imagination become reality with Yom! Founded by Junior MasterChef finalist, Jordan Pomerance, Yom! aim to provide food with purpose, for the mind, body and soul which is also 100% gluten-free.
Also heading down all the way from Manchester, Wholesome Junkies are bringing their award-winning food to VCO. An absolute must-visit and rumour has it that they may be bringing their incredible Minted 'Lamb' Burger on the Sunday!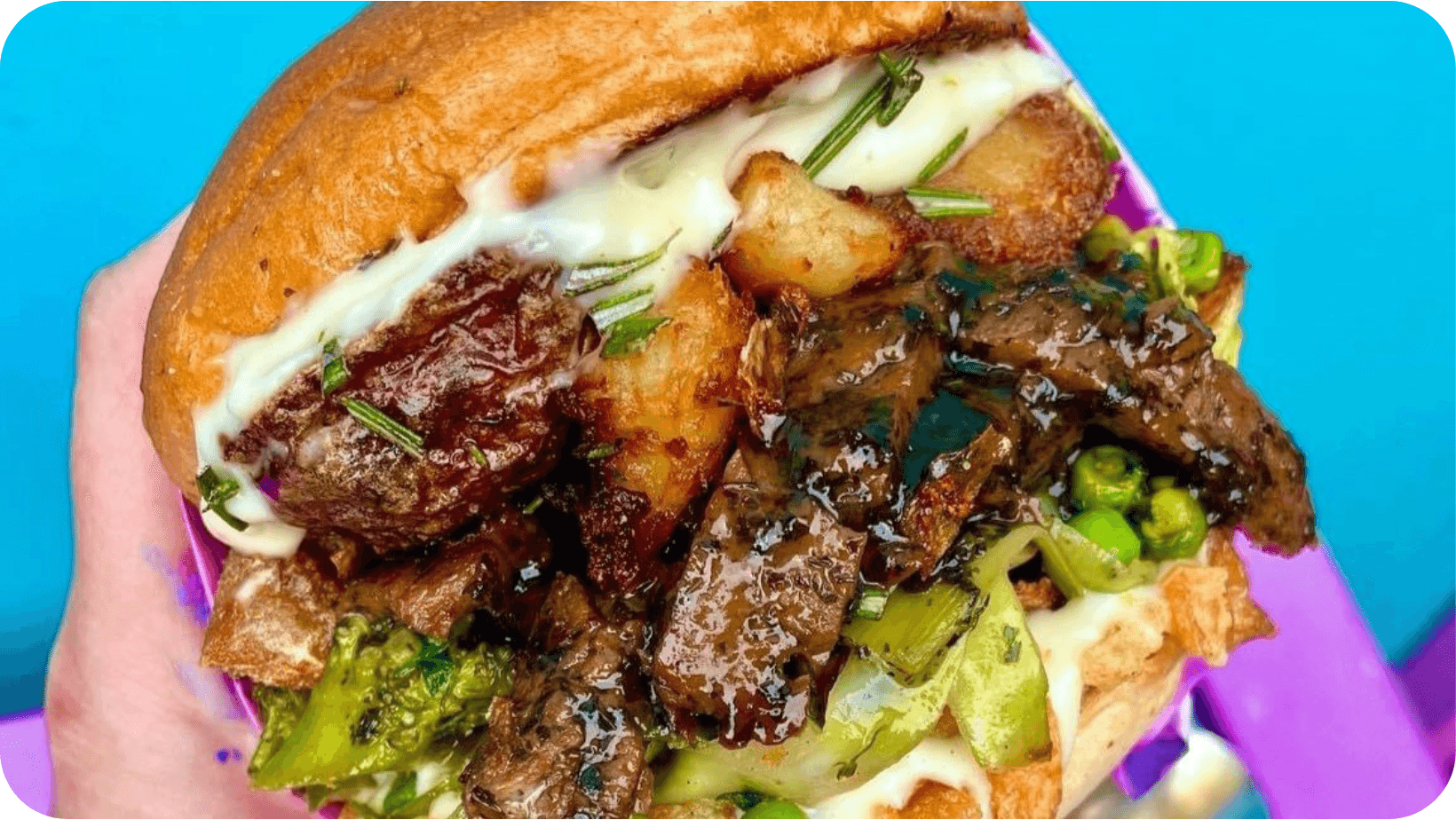 Famous for their mind-boggling Tofish and Chips, Earthling Ed's No Catch Co will also be bringing their van to the festival. We were fortunate enough to find them and try them at Download Festival in June, and we aren't ashamed to admit that we returned every day of that 4-day weekend, sometimes twice a day!
Activites
New for 2023 is the Slipshod Faire, a shipping container village bringing games, shows, workshops and even a steam-powered train to VCO. This entertainment area is the place to be for the whole family. 
Meditation, yoga, or breathwork? Vegan Camp Out has a full line up of mind & body activities to take part in throughout the weekend. Our pick is the Beyonce vs Lady Gaga Yoga taking place on Saturday evening, but if you prefer something a little less strenuous, you can also attend a talk about self-love, manifesting mastermind, or attend Dr Desmond's talk!
Looking for love? Friends? Turned up alone and looking for companions for the weekend? Why not visit the speed-dating events being held on Friday or Saturday? This event is a great way to meet people; fast. The rules are simple, you have one minute to talk to your partner before the bell will ring and you'll be faced with someone completely new. How will you make those seconds count? 
Don't forget to visit Nova Glitter Bar and load up on biodegradable glitter just in time to Shake It Off at the unofficial Taylor Swift afterparty on Saturday night! There are two types of people to never cross; Swifties trying to get Eras tickets, and vegans when asked "but where do you get your protein from?!". 
V-Land UK will be providing coverage of Vegan Camp Out 2023 across the weekend on our social media channels so don't forget to say hi if you see our CEO, El James, around! If you're heading to a festival this year, why not check out the vegan guide to festival drinks, or for more on VCO stars of the past check out our interview with Matt Pritchard: highs, lows and journey to veganism.