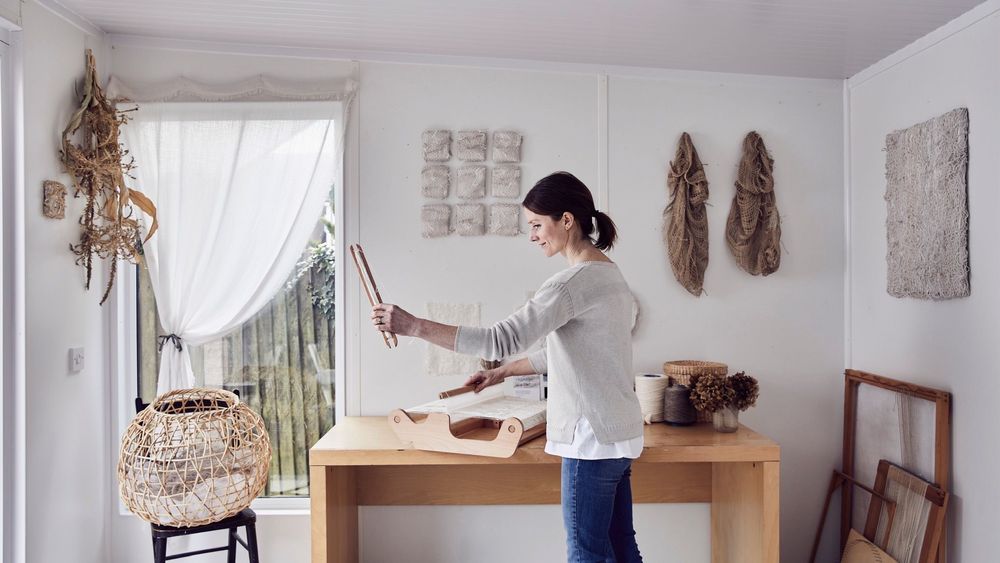 Alun Callender
Saskia Saunders: Powerful vegan art for a sustainable future
Saskia Saunders is a sustainable futures artist, creating vegan art. She weaves a luxurious vision of forest regeneration for sustainability & natural wellbeing pioneers.
By bringing the ancient craft of weaving into contemporary form, her work addresses our need to live more sustainably, in harmony with nature.
V-Land UK (V-L): Hi Saskia, you describe yourself as a sustainable futures artist, what does that mean?
Saskia Saunders (SS): I've been on quite a journey developing my art and the more I found out about climate change, the changes in our world and environment and our personal influence upon this, I was adamant that I wanted to make work that was related to it. So I tried to define what I was doing and realized it was about looking to the future and not dwelling on the things that we couldn't alter in the past. Being able to define it has really helped. It's been a good way to show what I'm doing and what I stand for with my work. 
I think with big issues like climate change and veganism, what we can do as individuals and also as big companies is looking to the future and understanding that our world continues; we just need to investigate how we can find a more sustainable way to do so. We can't stop everything, we can't halt meat or oil production overnight, it's a process.
V-L: Do words have a part to play in your creative process considering they aren't part of your finished pieces?
SS: I work in quite a traditional way by starting new work with a sketchbook and I go out and draw together lots of ideas and visual inspiration and that gets me to the deeper concepts I want to explore. I think I could enjoy producing pretty, beautiful, stunning artworks but for me, as an artist, it's about the underlying topics, and I need to journal to get to the core of what I'm focusing on for that particular collection of work. And then what I usually do is when I name pieces at the end - when the collections all come together - I refer back to the initial words. I must admit it's only quite recently that I felt brave enough to say, this work is about this, and this is what really matters to me, and that being vegan is what this is about. And so it's just slowly drawing that together and getting that positive message across. 
V-L: It's interesting that you used the word brave. What is the reasoning behind that?
SS: I find that mentioning veganism or plant based diets can provoke some big emotions in people. I've only been a vegan for the last six years (I was vegetarian before then). So to take the step to say I want my art to promote a positive message around that was big. Obviously my work is not going to be for everyone, but no artist's work is for everybody; it's also understanding that you can't be for everybody. I'm not going to convince somebody to go vegan just because of my work. I can't change people but I can put a perspective out there which can be enjoyable and thought-provoking for people. I'm definitely not saying that somebody has to be vegan to enjoy my art, it's just that it could evoke something different in them.  
V-L: Can you tell us more about your most recent collection 'Nurture'?
SS: Nurture is a collection of artworks that celebrate plant based positivity in art and interiors. It is a collaboration with Edward Bulmer Natural Paint who were looking to work with others who aligned with their vision. Edward Bulmer himself is a climate activist and it felt like a perfect alignment.
Their colour consultants helped me pick out the colours to paint the canvases with and then I created the weaving that went over the top of them. Prior to this I had only really been using very natural, subtle, muted tones, and it was a lovely chance to be able to utilise different shades of greens, pinks and browns and to bring them all to life. I brought in a huge white woven paper yarn tapestry and placed it over one of their iconic bright greens. If I hadn't worked with them I don't think I would have put that piece against something so bold and brave - I got the most feedback to date from that piece, which is named Light Falls (pictured below).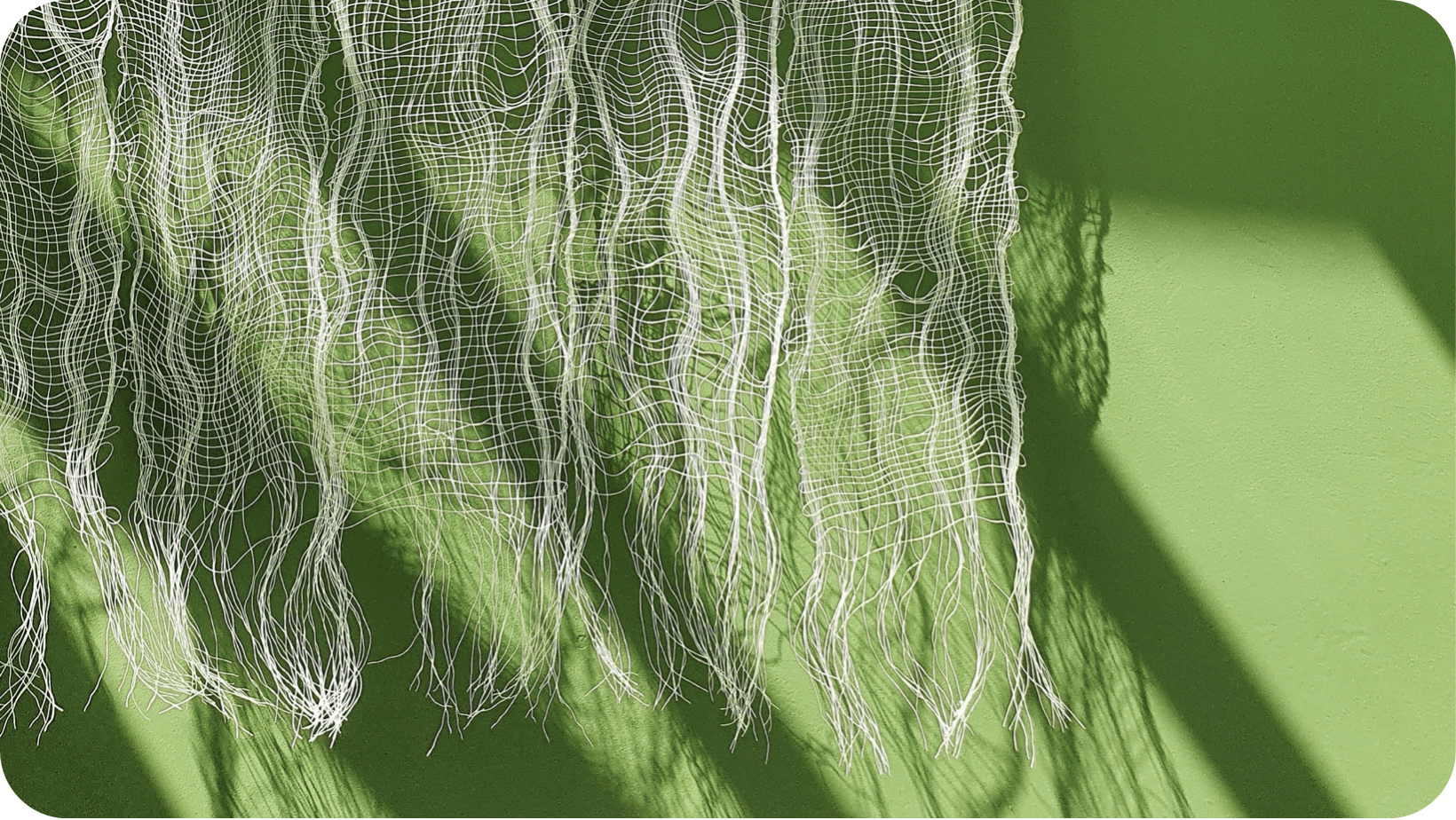 Saskia Saunders
V-L: We heard you hosted your own full show this year, how was that? 
SS: There's an incredible art gallery near us in Henley-on-Thames where artists are able to hire the whole space: it's huge so we were able to show really big pieces. It was a lovely opportunity for family and friends to come, for interior designers, for everybody. We had artwork on the walls, we had a weaving section for the children, I think that just reflects what the sense of art is about; enjoying it and feeling welcome. 
V-L: What materials do you tend to use for your art? 
SS: At the moment, I use hemp, paper and linen and sometimes metal yarns as well but paper and hemp mostly because they are really structural yarns. So if you're making something that's quite sculptural or you want it to keep the shape that you've put in it, it will stay, whereas something like a linen will be more gentle and soft which is why they might be used more commonly for fabrics because they have more of a drape and softness whereas a hemp or paper yarn is not going to have that property. It works for the artwork. 
Have you heard of Steinbiesser? It's a company run by Martin Steinbiesser who organises vegan fine dining experiences in the Netherlands, where he partners up artists and chefs and the artists make really unusual fine dining. They make the plates and the utensils, but they make them exactly as they make their art so they're not like conventional crockery and cutlery, then the chef responds to what's being made and makes the food. So the artist gets to define the show. They approached me and I am going to create a collection for them for next year. So I'm trying to figure out how to weave plates! People will actually eat off them.
V-L: Good luck with woven plates! Do you have any favourite pieces of art you have created?
SS: I probably have two favourite pieces. One was the commission I did last year for a gallery in Paris and it was the first large-scale tapestry piece I wove purely out of hemp. And it was really sculptural and billowing. The title of that piece is True Strength is Gentle. It demonstrated that nothing has to be forceful and that power and progress and movement can come from a gentle and sustainable place. My other favourite is my upcoming collection Their Bravery Knew No End – a homage to people that are the forerunners in their industries whether it's vegan food, electric cars, any way of really changing how we live. For a long time I've worked in really neutral, subtle colours but when I started working on it this year I just followed a really strong impulse that I needed to use this really beautiful black linen yarn. Collectors and other people often said, all my work was white and I felt a little bit pigeonholed so I stepped away from that. It's been really fun and I think it made me realize that you need to keep things fresh and keep making different things as well. 
V-L: So the two pieces you chose both have the same underlying theme of gentle power? 
SS: I think the pieces reflect my belief that the future will consist of gentle power but also that gentle people can have power. Even if they're not a fantastic activist like Greta Thunberg they can still do these really bold, brave, extroverted activities. You can still make a change and make a difference. I know that can sound very cliché, but I think sometimes you need to have that reminder and reassurance that whatever you can do is still going to be helpful and not everyone can or actually wants to be Greta Thunberg. There are lots of different forms of activism and if all of them are happening simultaneously, it adds up and can have a huge impact not only for the environment but for our health and for animal welfare. People often ask me if I feel I'm missing out and I say, "No, it simplifies your life". Things are simpler, clearer and better because you haven't got all these extra bits in it. I used to use different animal based yarns in my weaving and understanding what impacts that would have had, how they would have been created and manufactured, it became simple to not use them. It's fine, we just use plants. It feels really simple, which is really nice. 
V-L: Do you have any tips on how to keep your creativity flowing and get over blocks or a period of lack of inspiration?
SS: What really helped me was doing the 365 daily art project; it meant that every day I had to create art. By the end of the month you have 30 pieces of art, if some aren't your best it doesn't matter. Another aspect that I found helpful is letting go of my work needing to be 'perfect' or a finished piece. A final tip which could be useful for some is to temporarily come off social media during a creative block and get that sketchbook back out and do something every day and build and/or refresh your own style and confidence in that way.
Saskia Saunders ended our chat by saying that she is looking for more interesting collaborations. You can find her on Instagram and on her website.
Saskia also said that "Art shouldn't just be in art circles" and we totally agree. If you would like to see more vegan art content at V-Land please let us know on our Instagram or Twitter.