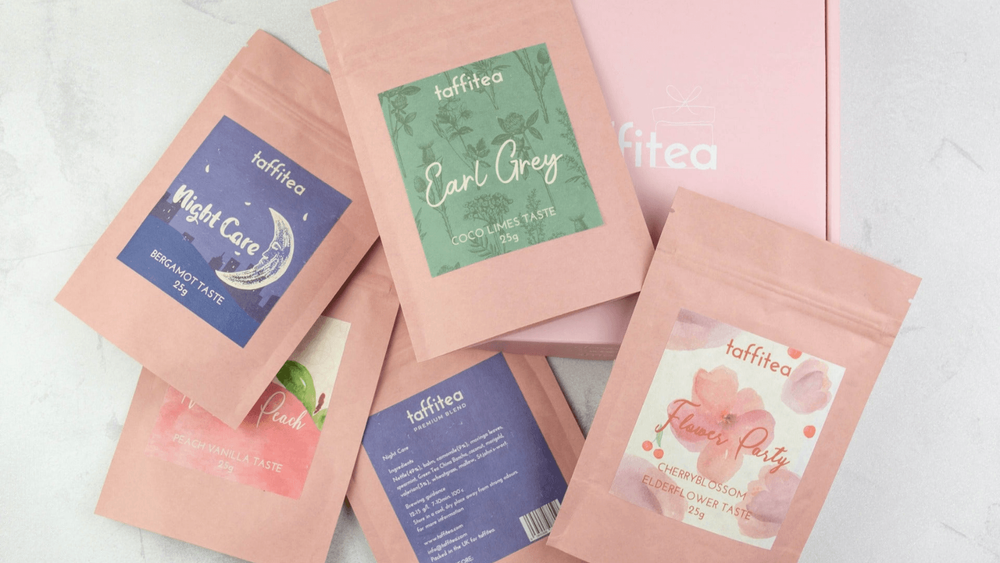 Taffitea
Sip away your troubles with Taffitea
A relaxing herbal tea is perfect for those times when you want something a little more luxurious than your go-to English breakfast tea. We were thrilled to try some of Taffitea's healthy and delicious tea blends, and felt really rather fancy with their loose leaf concoctions.
Taffitea creates a range of diverse and exciting flavours to tantalise your tastebuds at any time of day. We tried 3 flavours from the range; Naughty Peach, Earl Grey and Night Care, all of which arrived in beautiful pink bags with the freshest loose tea ingredients inside. Crafting the perfect brew is made even more therapeutic through the process of pouring loose tea into a teapot or tea strainer, and taking this time to sip away the troubles of the day as the water is infused with floral and fruity notes. 
We particularly loved the Naughty Peach tea, which had the refreshing undertones of green tea with a sweet kick of peach and ginger to energise you throughout the day. Their no-nonsense ingredients ensure they offer a wide range of health benefits, whilst still maintaining those fabulous flavours. 
The range is also available as a gift box, so you can share the perfectly elegant blends with your tea-loving friends or family to try for themselves, as there's something for everyone. We think this would make an amazing gift to encourage someone to take a little time for themselves, to rejuvenate their mind and body.
Taffitea is organic: tea producers that follow organic standards significantly reduce the impact of their tea manufacturing process upon our planet. Furthermore, they're passionate about ensuring their workers are given a safe working environment and are paid fairly. They're an ethical company ensuring quality and love goes into every product, whilst blending the best aromas and flavours, making a tip-top cup of tea.