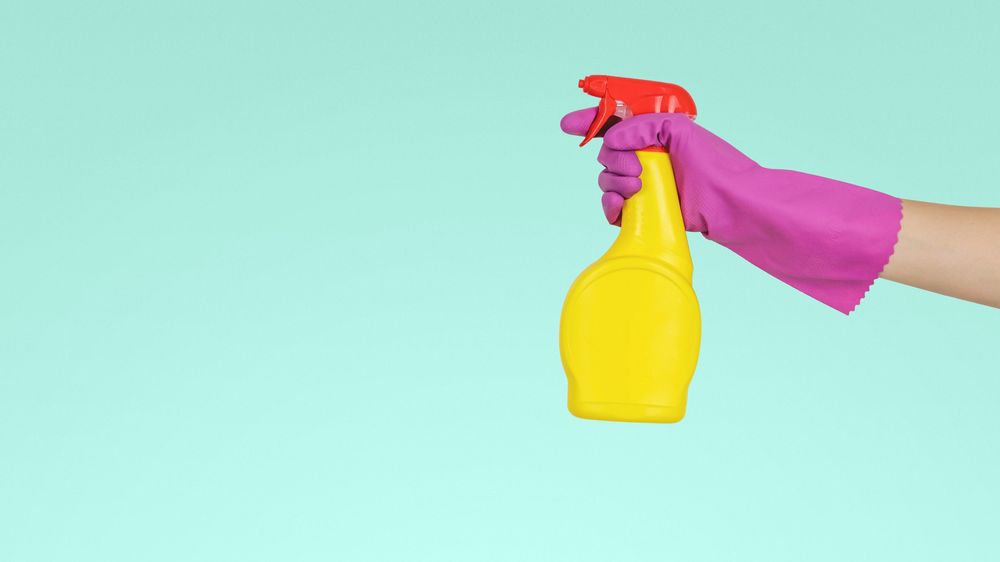 Jan Vasek/Unsplash
Spruce up your home with our spring cleaning checklist
Spring is here, we're looking forward to longer days, flowers blooming and outdoor adventures. While we can't wait for more sunshine, it's important not to neglect our homes. It's time to let in some fresh air, bring some nature indoors and start cleaning. Here's V-Land's spring cleaning checklist, put on your eco-friendly rubber gloves, your favourite cleaning playlist and let's get started. 
Cleaning your home
The first thing on our spring cleaning checklist is a good top to bottom clean. Many vegan cleaning products are available in supermarkets to tackle your bathroom and kitchen or refresh fabrics, including your carpets. Where we can, we like to use bicarbonate of soda and vinegar as they are natural, non-toxic and budget-friendly, making them staple eco-friendly cleaning products and we often have them to hand. The mixture foams up to become an effective cleaning agent, perfect to scrub your shower, sinks and even the loo! Marks and Spencer's cleaning range is vegan, cruelty-free and smells great. The sprays include kitchen, bathroom, antibacterial, a multi-purpose cleaner and a glass cleaner for your windows. Marks and Spencer also sell vegan and cruelty-free laundry liquid and fabric softener, perfect for everyday cleaning, and perhaps now is the perfect time to wash throws, blankets and cushion covers. 
It's time to declutter
We love Marie Kondo's decluttering system. Starting with your clothes, clear out items that no longer "spark joy". Many of us have clothes in our wardrobes that we don't wear anymore, why not give them a second lease of life? Reusing and recycling neglected clothing items by selling them on apps such as Depop or Vinted or donating them to a charity shop can give you more space and help someone else find a bargain. The system then moves on to books, papers, komono (which are your miscellaneous items), and sentimental items. Many items that you don't use anymore such as books, DVDs, ornaments and even old furniture could be exactly what someone else is looking for. More great places to sell or donate unwanted items are car boot sales, Facebook Marketplace and baby banks and hospitals often take donations of baby clothes.
Eco-friendly storage
Now that you've cleared out your unwanted belongings, you'll want to reorganise your space. Firstly you need to begin to put things away. Clutter often appears on surfaces when we're busy and forget to tidy up after ourselves, or perhaps clothes pile up on the dreaded 'chair'. Give your possessions a sense of belonging by creating tidy, accessible storage using plastic-free and eco-friendly boxes, baskets, jars and more. We love the use of wooden crates and woven baskets to help create a more eco-friendly home which you can pick up from independent traders on Etsy. Recycling glass jars is a great way to store dry foods, herbs, spices and leftovers; they also make cute vases for daffodils in the spring. 
Plants and flowers
Speaking of daffodils, other flowers that are seasonal in spring include lilacs, bluebells, forget-me-nots and tulips, which all brighten up your eco-friendly home in recycled containers such as glass jars, tin cans and bottles. Remember that your houseplants will need to be watered more frequently now that we have more sunshine, dust off their leaves, prune them to remove dead leaves or branches and repot them where necessary. Check out This Is A Plant's Beginners Guide to Repotting.
The great outdoors
First of all, we like to be able to see the great outdoors. It's important to clean the outside of your windows too! Rinse your windows with a hose, you can use a watering can or bucket, for the best eco-friendly and vegan window cleaning products, combine two parts water with one part white vinegar or water with a few drops of washing up liquid to clean your windows until they sparkle. Finish with a dry microfibre cloth to avoid streaks and watermarks. Prepare your garden for spring by tidying up flower beds and borders, removing any dead plants and debris. If you don't already have one, now would be the perfect time to introduce a composting area to your eco-friendly home. A composting area is the perfect place to put your organic waste, such as grass clippings, vegetable peelings and garden prunings. You can buy ready made compost bins from Wilko.
We hope we've inspired you to start some eco-friendly cleaning with our spring cleaning checklist. 
If you're feeling green fingered you might want to check out veganic gardening: save the planet with green manure. While you're reorganising your cupboards you may also want to read 8 cupboard staples every vegan should have.