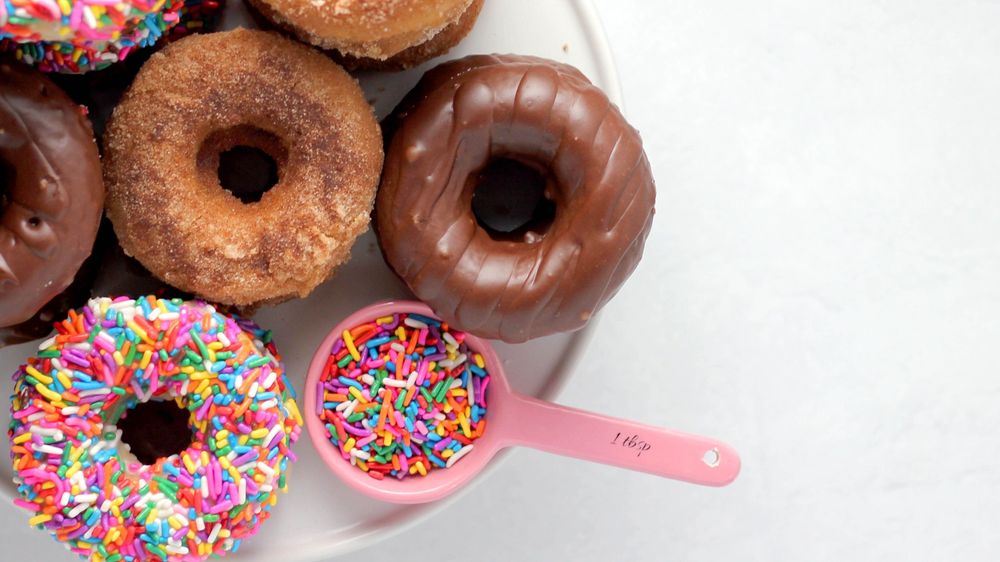 Sheri Silver/Unsplash
5 best vegan doughnuts from across the UK
From the decadent to the everyday, there is a vegan doughnut to satisfy everyone's doughnut desires. This week is National Doughnut Week so there is no better time to consider the best vegan doughnuts from across the UK.
National Doughnut Week is a charity initiative that leverages the love so many of us have for this sweet treat. A multitude of businesses take part and sell lots of delicious doughnuts over the cause of the week to raise funds for The Children's Trust. A very worthy cause and a shout out to The Vegan Scullery who registered to take part this year. This bakery is based in Southampton and their garden is shared with many chickens and other birds who they have rescued and given a forever home to. Their doughnuts and cakes speak for themselves but what about our other finds?
Crosstown 
If you are looking for a decadent doughnut experience Crosstown ought to be your doughnut of choice. They created their own signature sourdough and veganised it a few years later. The dough is rolled by hand and all their toppings and fillings are made from scratch in their premises.
Despite new additions, we continue to highly recommend their dark chocolate truffle doughnut with a dark chocolate ganache and indulgent dark chocolate truffle filling. Do not miss out on their lime & coconut doughnut either. The dough is greened with spirulina and the doughnut is filled with a generous dose of coconut custard which is then topped off with a zesty lime glaze and vanilla crumble topping. Sublime does not do it justice.
Doughnut Time
Also featured was Doughnut Time. If you're looking for a brassy, down to earth doughnut, they are your jam. Doughnut Time doughnuts are larger than average, are hand-crafted in small batches and have plenty of kerb appeal. 
They have a variety of flavours which are vegan but their red velvet offer remains a firm favourite. This is a new incarnation since our last review and is now known as the Liam Hemsworthy. This is a red velvet ring doughnut piped with whipped buttercream but it is now topped with chocolate cookie pieces and chocolate drizzle. The dough is soft and the red velvet and buttercream make for a decadent fusion that is significantly elevated by the chocolate. A beguiling combination if ever there was one.
Krispy Kreme
Are any Krispy Kreme doughnuts really vegan? Krispy Kreme arrived fashionably late to the vegan doughnut party. They are a popular and well known North Carolinian brand dating back to 1937. Their green dots on a white background is instantly recognisable. They didn't launch their first vegan doughnut until January 2021 to coincide with Veganuary – an annual campaign to inspire and support people to try plant-based for the month of January. Despite the wait, they did not disappoint when they launched their signature Original Glazed ring doughnut with a new bespoke vegan-friendly recipe. They have gone on to extend this range to include Fudge Brownie Bliss, Caramel Choc Delight and Apple Crumble. So, whether you like a classic or a more indulgent topping and filling, Krispy Kreme has it covered. V-Land eagerly anticipates any and all new additions from this iconic brand.
Greggs
Greggs kicked up a plant-based storm when they brought us their vegan sausage roll in early 2019 but they didn't stop there. Their lesser well known classic Glazed Ring Doughnut is also vegan-friendly. These doughnuts are standard fayre but are so light and fluffy it is like biting into a cloud, one imagines. Simply heavenly.
Co-op
The Co-op have been going strong with their everyday vegan doughnuts for many years. They can be found in the fresh produce section and are simply sugar-dusted and filled with jam or custard. For a pack of 5 they cost just one pound so at this price they are hard to beat. We can't get enough of these humble but satisfying dough marvels. 
We hope you enjoy our suggestions for some of the best vegan doughnuts in the UK, let us know your favourite on Instagram or Twitter. If you have a sweet tooth - we assume you do if you have read this far - you may like to try our recipes for brownies or melt-in-your-mouth chocolate cake.