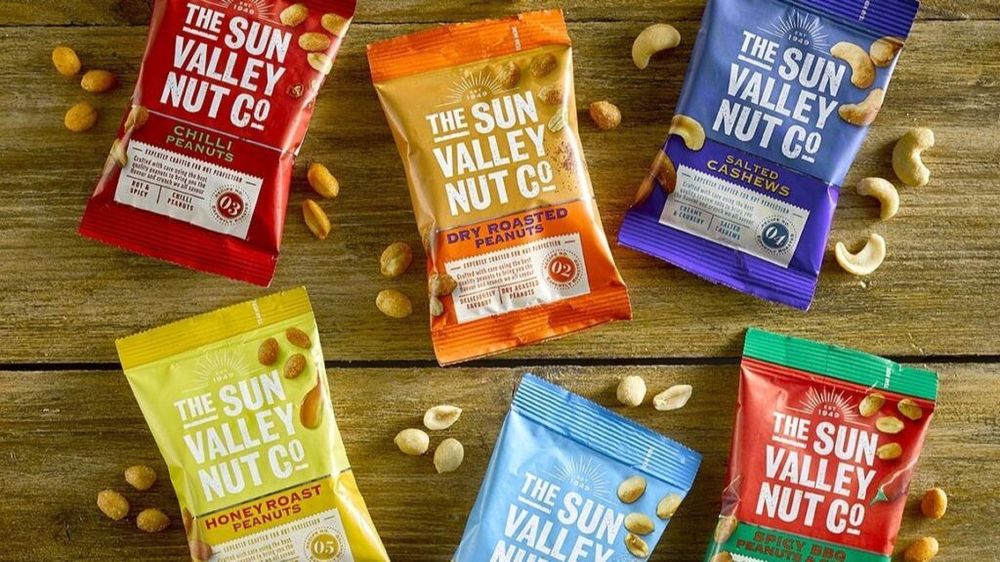 The Sun Valley Nut Co
The Sun Valley Nut Co: Quality nuts since 1949
The Sun Valley Nut Co are nut experts, they pour their expertise and passion for nuts into every one of their products. With over 70 years of experience in sourcing, processing and packaging, they have perfected the craft of producing excellent nut snacks.
Nuts - and peanuts which are actually legumes, not nuts - are amongst the most nutritionally rich crops around. They have been planted, nurtured and harvested around the world for thousands of years. The Sun Valley Nut Co are hands-on with selecting the best quality nuts for their products. They source top quality ingredients from Europe, to Asia, and the Americas - regularly visiting their suppliers and farms to ensure top quality ingredients. 
Alongside top quality nuts, they have an eye for creating fun and interesting snacks. These include a range of ingredients to enhance their snacks, including dried fruits, fruit jellies, herbs, spices, chocolate and honey. Sun Valley's innovation team works hard to keep ahead of trends: they are always looking for exciting new tastes and flavours to enhance their nuts. So whether you're a fan of the classic salted peanut, or looking for something more adventurous, Sun Valley are sure to have a product for you.
Here at V-Land, we were lucky enough to sample some of Sun Valley's products - and to say we were impressed is an understatement.
First of all, the Natural Fruit & Nuts big jar - a generous 1.1kg mix of high-quality natural mixed nuts and juicy cranberries, jumbo raisins and golden raisins. The jar includes a blend of almonds, cashews, whole brazil nuts, pecan and pistachios. You can really taste the care that went into the selection of the ingredients. This big jar is perfect for a morning snack, or to have on your desk whilst you're working at home - who isn't nowadays?
Next, Sun Valley's delicious Peanut Butter, 100% vegan, and a great source of protein. You have the choice of smooth or crunchy, we really enjoyed this topped on slices of warm toast, and mixed into porridge - or you could just eat it straight from the jar, we won't judge. They sell jars of 340g, or if you're nuts about peanut butter, they offer a sizeable 1kg tub. Your pooch doesn't have to miss out either, they sell a 340g jar of Pawnutts, peanut butter for dogs.
They also sell bundles so you can try out their tasty range of nut snacks, such as their Sun Valley Taster Box which includes 30-50 gram snack packs of salted peanuts, dry roasted peanuts, chilli peanuts, honey roasted peanuts, salted cashews and spicy BBQ peanuts and corn. These packs are perfect for your lunch on the go, or as a mid-day energy booster. You can pick up some delicious nut snacks from The Sun Valley Nut Co on their website, or find them in stores like CostCo.