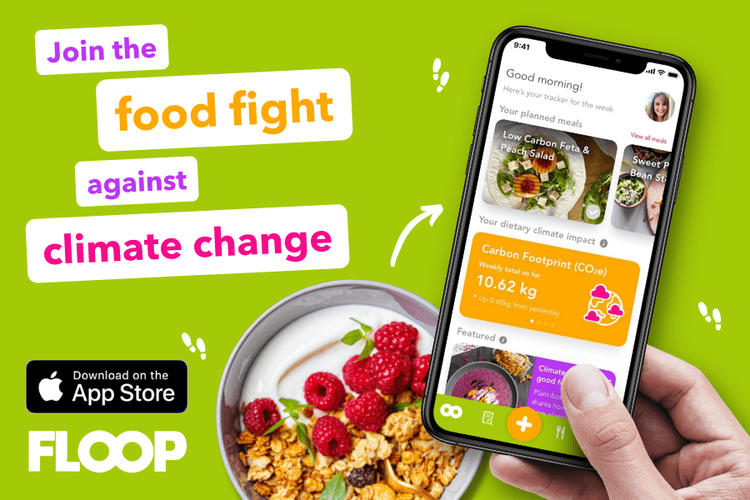 The Floop App
Unearth the carbon footprint of your dinner with The Floop app
Forget low carb, eat low carbon. That is the motto behind Floop, an innovative new mobile meal planner app launching this Earth Day that accurately calculates the carbon footprint of our food. Our current agricultural systems create a third of all human-made greenhouse gases, and this ground-breaking app is a simple and effective tool enabling us to dramatically lower our food-based carbon footprints.​
The technology behind The Floop App enables users to log meals and then see the carbon footprint of that meal in real-life data, using advanced life-cycle assessment analytics to establish the CO₂ equivalents (CO₂e) produced by the selected ingredients. What's great about this, is that it means the footprint of the ingredients will be analysed from farm-to-shop, allowing for the most accurate results.
Along with breaking down the sustainability of our food choice in real-time data, the app provides a sustainable recipe guide with a focus on vegan-friendly options and using locally grown in season produce. It also highlights accurately that animal-based foods are significantly less eco-friendly with a 'high emissions' alert on recipes with a large carbon footprint which are primarily animal-based foods. That being said, there are many vegan-friendly foods that have a high environmental impact and this app is a simplistic way to help us identify which ingredients contribute the most to climate change.
Small changes to our meals can make all the difference when it comes
to lowering our individual impact on the environment, or if cooking for a partner or friends and/or family – multiplying that impact and in turn creating a demand for sustainable food. What we eat could avert the climate crisis, and help restore the rapidly deteriorating natural world around us. Join the food-fight against climate change and download Floop today!
We caught up with Kayleigh from the team behind the app to find out more about how Floop works, and the inspirations behind this amazing new app: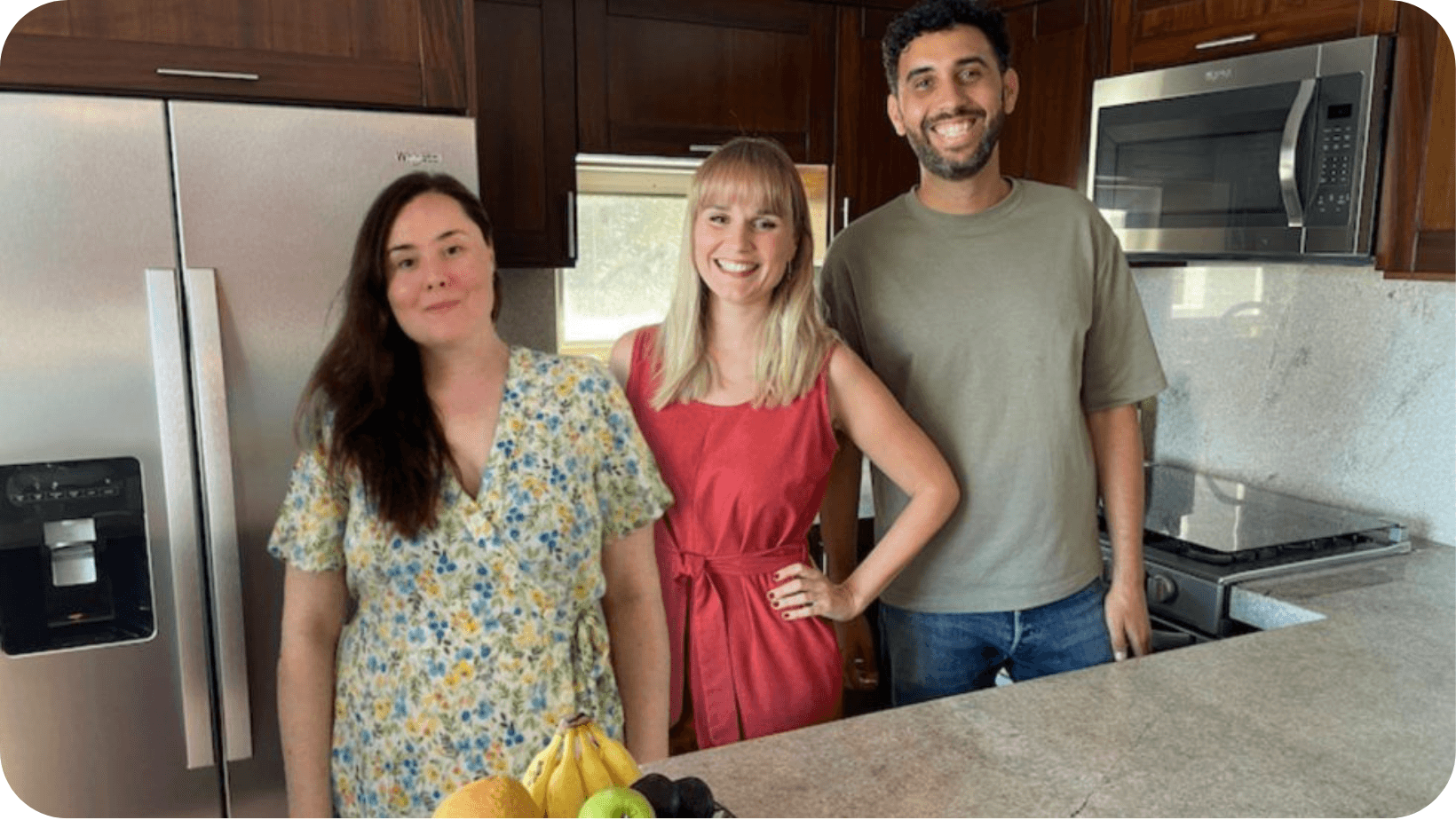 V-Land (V-L): What was the inspiration behind The Floop App?
Floop (FL): Lockdown 1.0 put me back in my hometown in south Lincolnshire. I'd just flown back from Australia, which had been ravaged by wildfires, and the climate discussion was fresh in my mind. At the same time, we were experiencing that unusually warm Spring. Local farmers were grumbling about the lack of rain for crops and the coming summer harvest.
I realised that I'd grown up close to farms, but I had no idea how our food impacts the environment and our climate. Yet, being from south Lincolnshire, which lies only a couple of metres above sea level, I was acutely aware of the risk of rising sea levels caused by climate change. I'd read broad-stroke articles proclaiming that cutting out meat and dairy was the way to cut climate change. However, when I looked for data and accessible information on the impacts of what I was eating day-to-day, I couldn't find anything in one place. There were sweeping statements about the average effects of pescatarian or vegetarian or vegan diets, but minimal breakdown beyond that.
I had tracked calories and macronutrients in the past and started wondering: 
"What if you could track the carbon footprint of meals and ingredients, too?" 
And so, the idea for Floop was born.
V-L: How does it work?
FL: We created Floop to make learning about the climate impact of food easy. When you eat a meal, add it to Floop, and the app calculates the carbon footprint of the dish. Simply select the ingredients for your meal from an ever-growing list in the Floop app. Each ingredient has gone through a scientific analysis called a life cycle assessment. This process involves looking at each stage of an ingredient's life and understanding the greenhouse gas emissions produced.
For example, with a carrot, we look at the emissions from growing and farming the carrot in the field – including the tractor that needs to plant, fertilise, and water it – to the processing in a factory, being packaged up and finally transported to the supermarket.
The app calculates the total greenhouse gas emissions from all ingredients in your recipe. And because we know that 1kg of CO2e (the equivalent CO2 emissions of all greenhouse gases) is tough to grasp, we equate the values to something people know, such as miles driven in a car or boiling a kettle. As well as saving your own recipes, Floop also has a continually expanding list of in-app recipes that you can cook or be inspired by to create your own meals with more sustainable ingredients.
Over the week, you can add all food you eat to Floop and track your dietary carbon footprint. You'll learn which meals are more sustainable, and it will help you identify more sustainable ingredients that reduce your personal climate impact. You can use Floop to plan your week's meals, too. Not only does this help you to organise your weekly shop, but it also fights food waste and will save money on your grocery bill.
V-L: How did you come up with the fantastic name 'Floop'?
FL: The idea for the app came from wanting to understand the relationship between the food we choose to eat and our climate. 
Our current global food systems have a massive impact on the environment, producing around a third of human-made greenhouse gas emissions. These emissions cause global warming, which makes growing crops and food more difficult everywhere in the world.
On the other hand, if we could see the impact of the food systems, we would change our attitudes toward it. For example, eating low carbon food, understanding what you like and don't like, and refining that further would help reduce the emissions and thus ease the pressure on growing food. You could call this a feedback loop. But instead, we started calling it a food-back loop… which we eventually shortened to Floop.
V-L: What challenges did you find along the way?
FL: When I came up with the idea for Floop, I had no idea how to make it a reality. I'm always trying to find ways to live more sustainably, but I'm not a climate expert. Thankfully, I was able to bring together a small but incredible team to help turn Floop into the working app it is today. Blaze, our sustainability lead, has a research background in sustainable business and food security, which made understanding the data from our partners much easier.
And then, to help guide me on the technical side, Jim had experience in the app world and could navigate the very confusing waters of turning code into something that you can touch and tap on your smartphone.
V-L: Where do you see The Floop App in ten years time?
FL: Science and technology are constantly evolving, and ten years can be transformative in both worlds! Floop brings science and tech together, so it's challenging to predict exactly where the app will be then. Our vision is to empower this generation to create demand for a more sustainable food future through their food choices. Right now, there's nothing out there that enables that on such a personal level. We're changing that.
Considering that an iPhone didn't exist 15 years ago, there's no saying where the world will be technology-wise in a decade. But I see Floop as embracing new technologies, whatever they may be, to help anyone who wants to do their part in saving the planet to have access to the tools to do so. If that means inspiring others to take the idea and improve it, that's fine with me – we're here to help kick start the conversation about food's climate impact, not control it.
V-L: Anything extra you want to tell our readers?
FL: Yes! Two things, actually. Floop is currently available on the Apple App Store, but we haven't forgotten Android users who will have a version of the app released later this year.
Also, I'm fully aware that many passionate vegans can find it challenging to talk about the benefits of veganism without feeling they sound "preachy" – myself included. I believe Floop can help with that, mainly because it's not a vegan app. We don't force our users to go vegan but instead make it easy to show that, generally speaking, eating plant-based food has a lower climate impact than non-vegan food.
In fact, the Easy Black Bean Burger recipe you can find in the Floop app only produces 358g CO2e – that's the same as boiling your kettle five times. For comparison, the equivalent recipe that uses beef instead of beans creates 8.854kg CO2e – 24.7x more!
Thanks for chatting with us Kayleigh, we think our readers will be as excited to download Floop as we are. You can find Floop on Twitter, Instagram and Facebook too.