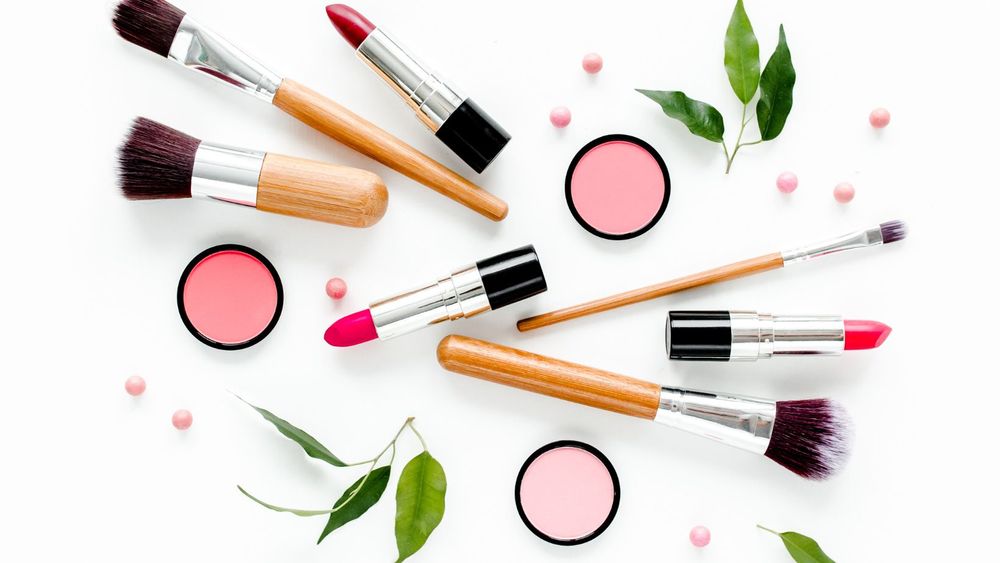 K.Decor via Canva Pro
Vegan and cruelty free makeup for your travel bag
According to a recent study, there's a "spiralling demand for cruelty-free and vegan" cosmetics. "Clean Beauty" trends demand vegan and cruelty free makeup. 100% vegan makeup brands don't use any animal-derived ingredients or by-products, but vegan labelling doesn't automatically mean certified organic, ethically-sourced, fair trade, or toxin free.
Cruelty free equates to not conducting tests on animals, not using ingredients tested on animals, and not outsourcing cruelty to third parties. It's best to check that brands are certified, and it's worth considering that some vegan companies have parent companies that are not certified cruelty free. Sustainability is also a factor, but finding brands with these attributes can feel like searching for an honest politician. 
Here are some vegan, cruelty free and sustainable essentials for your travelbag!*  
Foundations and concealers
Gone are the days of anxiously covering up perceived imperfection with slabs of paste or lead. Even the fashion industry has glamorised acne with "Beauty 'mishaps' being repurposed as runway trends." If you do fancy facial nakedness, remember to use sun protection. Makeup that contains SPF is no substitute for using a dedicated suncream. Green People have a comprehensive suncream collection. 
Regarding foundations and concealers, not only are vegan and cruelty free makeup brands important but so are inclusive brands: e.l.f Cosmetics' Flawless Satin Foundation has 39 shades. And if you need a bit of staying power for that all-nighter, try their 16HR Camo Concealer.
Peace with the Wild stocks ethical beauty products, including numerous foundations and concealers. If your skin needs extra prepping based on skin type, such as mature, acne, or sensitive, WearthLondon has a comprehensive range of creams, facial oils and balms.
Blusher 
Ever feel a bit flat? A little blusher can make your face freshly pop. Cruelty-free brand Ciate London has created a glass-like balm, Dewy Blush, which has reached cult status. 
Or if you want something more muted, check out ZAO's eco compact and refillable blushers in Brown-Pink 322 and Golden Coral 325.
Eyeshadow
There are many preferences for eye makeup. If you're after some richly pigmented "impossibly sensuous textures" Love the Planet's eyeshadows come in individual pots for carrying ease.
For versatility, Odylique's Organic Mineral Eyeshadow in gold is a must-have eyeshadow to brighten eyes, especially when combined with smoky tones for glamour, and doubles as a highlighter to sweep over cheekbones. Also suitable for sensitive skin and includes organic plant oils which take care of delicate skin around the eyes. 
If you yearn for variety, makeup artist Jamie Genevieve has developed VIEVE's extensive collection of eye makeup. The Muse Eyeshadow Palette covers ethereal shimmers, delicate base shades, romantic reds and smoky hues. 
Mascara
For product innovation and robustness for travelling, Bain & Savon's Mascara Cake can be used as "both a lash colour or eyeliner, perfect for those who have sensitive eyes", and comes in a handy recyclable tin. If you want a traditional mascara wand, open your eyes with Dirty Hippy's Lengthening Mineral Mascara which nourishes your lashes with lavender and Jojoba Oil.
Red lipstick
A vibrant red lipstick smacks of iconic confidence. For holiday nights out or playful pouts while visiting your local library. It's often hard to find vegan lipsticks as many use beeswax, but brands such as Lily Lolo prove it is possible with their  Vegan Lipstick range including the intensely red shade, Flirtation.
For everyday deliciousness, try the coffee caramel hues of Organic Sweetness Lip Tint by Nirvana Natural. If you want to save room in your makeup travel bag or forget your blush, a good lippy can double as a smudge of rouge across your cheekbones.
Eyebrows
Enhance the underrated caterpillars above your eyes to frame your face. Vegan makeup brands have excelled in taking your brows to Frieda perfection - from pencils to powders. A go-to for the makeup travel bag is e.l.f Cosmetics' Ultra Precise Brow Pencil. Smudge-proof and comes with a spoolie. This creamy consistency makes it easy to manipulate brows - puffing them out for some drama or utilising the preciseness for neatening. 
Bonus
If you couldn't get Glastonbury tickets and have decided to camp in your grandmother's garden, then you may need a bit of sparkle with eco-friendly Wild Glitter.
*always check products as ingredients and brand ethoses are subject to change.
For more on SPFs, check out vegan SPF and the importance of skincare. For holiday-ready hair colour, check out Tints of Nature: Natural, cruelty-free hair colouring and care.