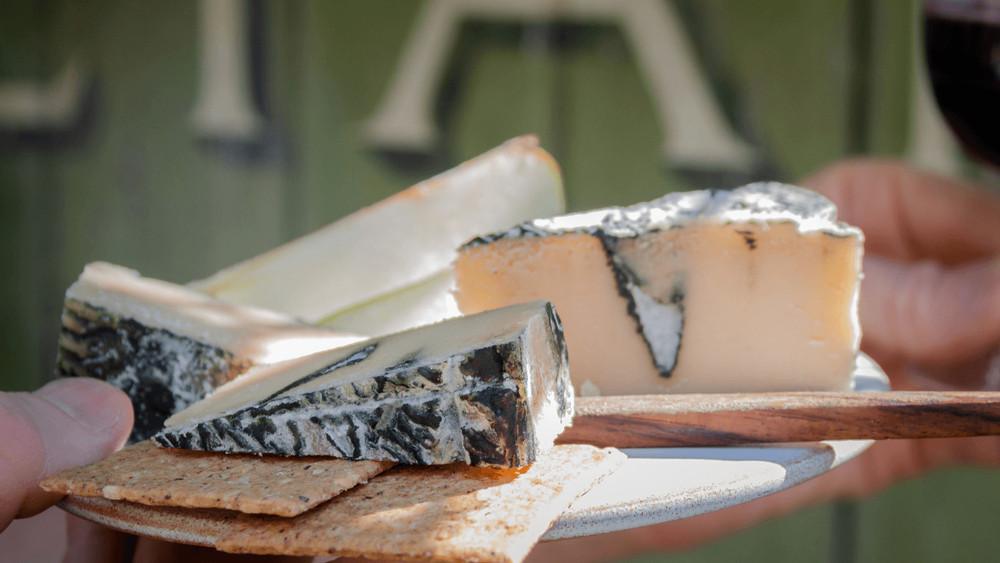 Mouse's Favourite
Vegan artisan cheese worth treating yourself to
Vegan cheeses have come a long way since the early days of dairy alternatives. Options used to be limited and you had to go out of your way to find them. And, if we're honest, most were barely palatable. But not any more. Most chain stores and supermarkets now offer a selection and the types and styles of vegan cheese alternatives continue to expand. 
In addition to commercially available cheeses, there are many independent rising stars in the vegan artisan cheese world that also deserve to be savoured and appreciated. Such cheeses are made in a traditional way, replicating the techniques adopted by dairy and tend to be made by hand using high-quality ingredients. Unfortunately, artisanal means they don't come cheap but they are definitely worth the splurge when you are able to treat yourself. So, as the summer draws to a close, why not treat yourself to a block (or three) of these vegan cheese brands to enjoy on the patio or in the park?
Kinda Co.
Parents often say they don't have a favourite child but if one of them was Kinda Co., they definitely wouldn't be so reluctant. Their classic block bundle includes Smoked Chilli which is hard to beat. Like most vegan artisan cheese, Kinda Co. cheeses are cashew nut-based. This smooth creamy base is complemented with flavours like garlic and herb as well as the subtler tasting spirulina blue. They have also created jars so if you prefer a softer cheese then do try their sour cream and chive spread.
Ellie Phoebe, the founder, says she is obsessed with all things vegan cheese and this is clearly demonstrated through her online vegan cheesemaking course. If you have ever wanted to try making your own vegan cheese alternative at home then the KindAcademy can help. With such expert guidance on hand, you're sure to become a vegan cheese master.
Mouse's Favourite
Mouse's Favourite came to fruition in 2016 after years of experimentation. The founder grew up in Jersey, an area best known for its cows and dairy. Their ambition was to create a vegan alternative for a classic cheese board and they sure delivered.
If you buy just one of their cheeses, it has to be their Camembert.  
If you are more adventurous and like a stronger, more intense cheese, then go for the True Blue. With a vegan cheese selection ranging from mild to strong, there will be something to everyone's taste.
I AM NUT OK
I AM NUT OK is an East London-based business. This is a thriving part of the country for vegan businesses, so it makes sense to set up operations there. The founders are an American and Italian couple and they used their love of cheese to create I AM NUT OK. And we are very pleased they did.
They don't see themselves as a dairy cheese replacement but as an option to satisfy your palate. Their range is extensive and varied too. Want melty cheese? Their Meltdown Smoky is for you. How about a Buffalo Mozzarella, Grated Italian, Ricotta in garlic oil or a marinated Feta? It's hard to choose.  
They also make clear their values around sustainability as they focus on packaging with minimal environmental impact.
Honestly Tasty
Honestly Tasty is a London-based brand. The founder quit his job in banking to follow his vegan cheese passion. It started with Veganzola – an award winning blue gorgonzola style cheese. They also do a Camembert alternative called Shamembert, as well as the more spreadable Herbi and Ched Spred.
As an added incentive to support Honestly Tasty, two percent of their sales are donated to charities like the Welsh animal sanctuary, The Dean Farm Trust, Plant-based cheese and sanctuary donations – a double win for the animals.
Strictly Roots  
Strictly Roots tries to balance affordability with organic ingredients and sustainability. They also run their kitchen off energy from the only vegan approved electricity supplier in the UK. 
Unusual for artisan cheese, their relatively new edition, Goat-ee, is soy-based. This creates a creamy crumbly cheese which is dusted with nettles and it's all organic. 
Another worthy of a shout-out is their Bluffala Classic. This creamy mozzarella style cheese is cashew and almond based. It works great just torn up on salad, pasta or pizza. There is more to choose from so do get exploring and look for something you will like.
La Fauxmagerie
Finally, do visit La Fauxmagerie – the UK's first plant-based cheesemonger. They stock many different vegan cheese brands and take online orders. This means you have a large vegan cheese selection to pick and choose from if you want a variety of brands to try. They also offer other accompaniments so you can really up your cheeseboard game.
If you do decide to enjoy your summer with vegan artisan cheese in the park, it might be beneficial to also check out our vegan picnic essentials list. Don't forget you'll want to quench your thirst and any of the best kombucha drinks money can buy will certainly do that.